« New SG Tells CAN Climate Change Must be Top Andean Priority | Home | Colombia Insists: We're Serious About Climate Change »
By Keith R | March 17, 2007
Topics: Corporate Social Responsibility, Economics & the Environment, Electronic/Electrical Equipment, Environmental Protection, Waste & Recycling | No Comments »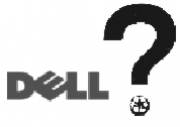 In mid-December I saw headlines in the US and Latin America announcing that Dell's computer recycling program had been expanded to become global. A 12 December Dell press release proclaimed "Dell Completes Implementation of Global Free Recycling" and this release was echoed faithfully by GreenBiz, for example. "With today's announcement, our efforts to make recycling free and easy are global," declared Eric Gates, Dell's worldwide manager of asset recovery services.
This excited me greatly, since I recalled what Dell's own "Dell Commitment News" said in June 2006, echoing the Dell press release on the subject issued then:
Dell recently announced plans to provide free recycling of any Dell-branded product for consumers around the world as part of a new global recycling policy…. The new recycling service, already available in Europe, is slated to launch in the U.S. in September and globally by November.
So this was the commitment fulfilled! A few weeks late, maybe, but fulfilled nonetheless!
I wondered, though, about some of the important little details, so I saved portions of the press release's text, along with a short list of questions I had (if you've followed this blog long, you know I always have questions!), in a draft post. I figured I could quiz Dell about it after the holidays. And then promptly moved on to other issues.
Lord knows how long that draft would have languished in "the backlog queue" if not for running across Dell's "plant a tree for me" program while preparing an article on carbon offsets (coming soon!). That jogged my memory. I went back and re-read the press release closely, plus all the follow-up media reports on it in English, Spanish and Portuguese I had placed in my WEEE folder. I also started digging around the internet again.
I discovered that I had misinterpreted the December announcement to be far more than it was. I suspect many people, perhaps even some well-known NGOs and journalists, had done likewise.
First there's that "global" claim. I'm sorry, but to me "global" means "all around the world" (a phrase Dell's press release actually used — re-read the quote above), or at the very least, "wherever we do business."
No matter how you cut it, the Dell recycling program is not yet "global" in that sense. Dell is doing business in many dozens of nations, yet its two recycling programs — "consumer" and "institutional" (primarily business) — are not. In Europe, North America, much of the Middle East, and large portions of Asia and Northern Africa, yes. But not so in Latin America and the Caribbean (LAC) — in fact, it is not a stretch to say that LAC is the most poorly represented region in Dell's "global" recycling program. Dell does business in most LAC nations — select any LAC nation on their website and go through the motions of buying a Dell desktop online, and you'll be presented plenty of "can-do" options. But attempt to find out how to recycle your Dell computer or peripheral from LAC, and you find it is only possible in two: Brazil and Mexico.
Why is that?
Why can recycling already be offered fully to Egypt, Angola, Nigeria, even Cambodia, but not in Argentina, Chile, Colombia, the Dominican Republic, Peru, Uruguay or Venezuela? Please do not try to tell me that the logistics are better in Cambodia than Chile, or in Angola than in Argentina.

Don't get me wrong: I applaud that Dell offers computer and peripherals recycling at all in LAC, since few other electronics firms are doing it yet. I wish others would get around to offering it, even if they start out modestly by only doing so in 2-3 nations in the first months. Brazil and Mexico are logical places to start, as they have the biggest electronics markets in LAC and probably the biggest market potential (for those firms hoping to use such programs to cultivate good will and brand loyalty among current and potential customers).
Which leads me to my second realization about Dell's December "global" announcement as it applies to LAC: it is limited only to the "consumer" side of Dell's business. In Europe, North America, even large portions of Asia, Africa and the Middle East, Dell offers the free recycling program for ordinary consumers and "asset recovery" service (sometimes for a small fee), but in LAC, only to the consumer segment and only in Brazil and Mexico, no asset recovery service.
As my teenage daughter might exclaim, Say what?!!!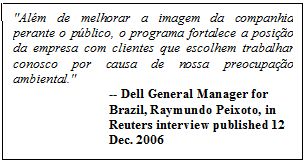 Why does that matter to me so much? Perhaps because the overwhelming majority of Dell's sales to Brazil and Mexico involve those to businesses. In Brazil, for example, Dell's General Director, Raymundo Peixoto, told Reuters that 15% of Dell's sales are to ordinary consumers. So, folks, this means Dell's "global" recycling initiative only applies to about 15% of its market in only two of the many nations it sells to in LAC.
That makes no sense. Dell sells alot of computers in Brazil, primarily to small, medium and large businesses. Dell has a regional office there. Dell even has a manufacturing facility in Brazil (Eldorado do Sul). Dell seems to have no problem getting those computers and peripherals to Brazilian customers, so why would the reverse logistics in Brazilian asset recovery be difficult? This, when Brazilian officials are eager to get companies to take action on waste electronics? What is wrong with this picture?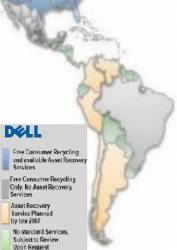 I'd feel better if Dell's publicized plans for 2007 included extending the recycling to the business side ("asset recovery") in those two nations as well. But they appear not to (see the map – click to enlarge).
I'm also puzzled why Dell's announced plans for expanding their "asset recovery" program during 2007 only extend to Argentina, Chile, Colombia, Peru and Venezuela. Yes, that's good news, very good news, and again, I applaud this initiative and hope other firms follow their lead. But why not elsewhere else in LAC, even if for a fee? Why can it be done in Namibia and South Africa, but not the Dominican Republic, close to US shores? Or Uruguay, which has good logistical links to Brazil, Dell's South American hub?
And why not offer recycling on the consumer side in those five countries? For example, doesn't Dell claim to have a fast-growing consumer PC business in Argentina and Chile? Doesn't it have regional offices in both countries? There are potential electronic recycling partners already in those two markets, such as Recycla in Chile. So what's the reservation?
Dell tells us repeatedly that they are "committed" to "free recycling of any Dell-branded product for consumers around the world." They originally suggested this would happen "globally" by November 2006. Now it appears that it won't even be fully global by end-2007 — for the rest of the world, perhaps, but not LAC.
I hope that they prove otherwise, do so in 2007 and particularly focus on improving their recycling track record in LAC. If there is some way I can help make that happen, I will. In any case, I will be among the first to praise any further expansion of their recycling program in the region, but will not be fully satisfied until it becomes truly "global" in my beloved LAC.
— Keith R
Tags: Africa, América Latina, Angola, Asia, asset recovery, Brasil, Brazil, Cambodia, computadoras, computers, Dell, e-lixo, e-scrap, e-waste, Egypt, Eldorado do Sul, electronic waste, Europe, Latin America, lixo tecnologico, Mexico, Nigeria, peripherals, RAEE, reciclagem, reciclaje, Recycla, recycling, residuos tecnologicos, scrap electronics, WEEE
Subscribe to My Comments Feed
Leave a Reply