« Cidadania Ambiental | Home | Mandatory Independent Monitoring of Ecopetrol's Discharges »
By Keith R | September 21, 2007
Topics: Air Quality, Environmental Protection | No Comments »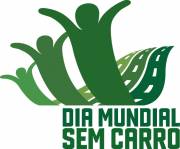 Tomorrow, Saturday 22 September, is World Carfree Day.
The annual event begun in France in 1998 and now worldwide, is intended as a day when everyone leaves their car at home and utilizes public transport, walks or rides a bicycle.
The resulting quiet, lack of traffic congestion and cleaner air is intended to make people reflect on the air pollution, sound pollution, stress levels, safety hazards and greenhouse gas emissions that come with the proliferation of cars in urban areas.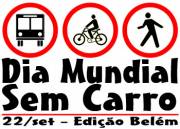 The event will be celebrated tomorrow in Latin America and the Caribbean (LAC) primarily in Brazil and in Quito, Ecuador.
The capital of Colombia, Bogotá, has had a car-free day for several years, but celebrates it separately earlier in the year. Cali, Colombia, has postponed its car-free day until 20 October, and Chile has elected to hold its car-free day on 28 September. As far as I can tell, Argentina, Mexico and Peru do not have formal plans to observe the event.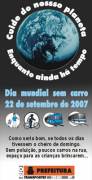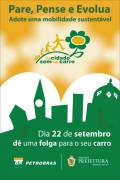 In past years, Brazil has had some 61 municipalities participate. It is hard to confirm just how many will do so tomorrow, although it is certain that events will be held in the following cities in 18 states and the Federal District:
Americana, São Paulo (SP)
Belo Horizonte, Minas Gerais (MG)
Belém, Pará (PA)
Blumenau, Santa Catarina (SC)
Brasília
Camaçari, Bahia (BA)
Campinas, SP
Campo Grande, Mato Grosso do Sul (MS)
Catanduva, SP
Caxias do Sul, Rio Grande do Sul (RS)
Contagem, MG
Criciúma, SC
Cuiabá, Mato Grosso (MT)
Divinópolis, MG
Dois Irmãos, RS
Dourados, MS
Florianópolis, SC
Garibaldi, RS
Guarulhos, SP
João Pessoa, Paraíba (PB)
Juiz de Fora, MG
Lavras, MG
Londrina, Paraná (PR)
Maceió, Alagoas (AL)
Manaus, Amazonas (AM)
Mariana, MG
Monte Carmelo, MG
Montes Claros, MG
Natal, Rio Grande do Norte (RN)
Niteroi, Rio de Janeiro (RJ)
Novo Hamburgo, RS
Osório, RS
Ouro Preto, MG
Pelotas, RS
Piracicaba, SP
Porto Alegre, RS
Recife, Pernambuco (PE)
Resende, RJ
Ribeirão Preto, SP
Rio de Janeiro, RJ
Rio do Sul, RS
Salvador, BA
Santa Luzia, MG
Santa Maria, RS
Santos, SP
São José do Rio Preto, SP
São José dos Campos, SP
São Luiz, Maranhão (MA)
São Paulo, SP
Taquara, RS
Terezina, Piauí (PI)
Ubatuba, SP
Uberaba, MG
Uberlândia, MG
Vitória, Espirito Santo (ES)
Volta Redonda, RJ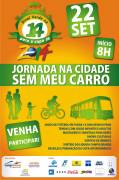 For information on routes and how to participate, check the following city-specific webpages:
Rio: http://www.rio.rj.gov.br/pcrj/destaques/cidade_sem_carro_2.htm
Belém: http://www.diamundialsemcarro.com.br/
Salvador: http://www.amigosdebike.com.br/
São Paulo: http://www.nossasaopaulo.org.br/Programacao.htm
For pretty good general coverage of Dia Sem Carro in Brazil, check out the following blog: http://www.ruaviva.blogspot.com/
Tags: air pollution, Alagoas, Amazonas, Americana, automobiles, Bahia, Belém, Belo Horizonte, Blumenau, Bogotá, Brasil, Brasilia, Brazil, Cali, Camaçari, Campinas, Campo Grande, cars, Catanduva, Caxias do Sul, Colombia, Contagem, contaminación atmosférica, Cuiabá, Dia Mundial Sem Carro, Divinópolis, Ecuador, Espírito Santo, Florianópolis, gases de efecto invernadero, gases de efeito estufa, greenhouse gases, Guarulhos, João Pessoa, Juiz de Fora, Londrina, Maceió, Manaus, Maranhão, Mato Grosso, Mato Grosso do Sul, Minas Gerais, Montes Claros, Natal, Niteroi, Ouro Preto, Pará, Paraíba, Paraná, Pelotas, Pernambuco, Piauí, Porto Alegre, Quito, Recife, Ribeirão Preto, Rio de Janeiro, Rio Grande do Norte, safety hazards, Salvador, Santa Catarina, Santos, São José do Rio Preto, São José dos Campos, São Luiz, São Paulo, sound pollution, stress levels, Terezina, Uberlândia, vehicle emissions, Vitória, Volta Redonda, World Carfree Day
Subscribe to My Comments Feed
Leave a Reply