« Country Profiles of Environmental Burden of Disease for LAC | Home | Colon Cancer Rates Rising in Buenos Aires Province? »
By Keith R | August 4, 2007
Topics: Environmental Governance, Environmental Protection, Government Accountability, Sanitation, Waste & Recycling | No Comments »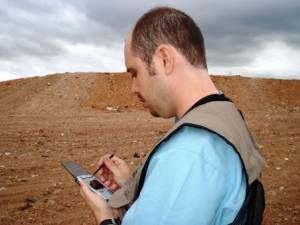 Minas Gerais is moving to accomplish something no other Brazilian state — or probably any Latin American/ Caribbean (LAC) nation, for that matter — has yet done: digitize its environmental inspection and enforcement.
Currently Minas is winding up a pilot project in which its 21 waste and sanitation inspectors do much of their work utilizing palmtop computers. While palmtops are no longer rare in Brazil, they remain mostly used by private sector firms and well-heeled individuals. In the Brazilian public sector, São Paulo State (SP) uses them in field regulatory work involving electrical energy, and Bahia (BA) uses them in monitoring its health care system. But none of the Brazilian states have attempted what Minas is now trying to do — yet. Hopefully, though, if the Minas program is as successful as mineiro officials say it is, others will follow suit.
Minas is Brazil's second most populous state (behind SP), the third biggest contributor to national GDP (behind SP and Rio de Janeiro), and a national leader in agriculture and heavy industry. It also boasts more municipalities than any other state, over 800 — and thus more landfills and water/sewage treatments systems to monitor and inspect than most states have. In recent years Minas has issued new state rules regarding these municipalities to get rid of or convert waste dumps, increase coverage of sewage treatment and upgrade their landfills, in the process increasing the need for monitoring and inspection.
Making Inspections More Complete, Frequent and Timely
Prior to the pilot program, the inspectors associated with the Sanitation Management program of the State Environment Foundation (FEAM) had to visit municipal landfills, composting and recycling stations, and sewage collection and treatment systems and complete a long paper questionnaire covering all aspects of the operations they were to inspect. Sometimes this process would require as much as six hours per inspection, meaning inspectors often only managed a single inspection per workday.
The palmtops have cut this process to around two hours, with much of the information inputed on-site during the actual inspection (hence fresh), and the resulting report sent into a computer at the State Secretary of the Environment and Sustainable Development (SEMAD) by cellular phone connection. This means a single inspector can do two or three inspections a day, depending on distances between sites and the complexity of the inspection. The inspectors become more productive, and sites can be checked more frequently.
The palmtop is also equipped with a camera, so the inspector can document photographically everything he files in his report.
Increasing Transparency
SEMAD's Sub-secretary of Innovation and Logistics says that an additional benefit is that the information on inspections will be available online, to the public, in the State Environmental Information System (SIAM) almost immediately. Currently inspection reports take around 15 days to be inputted into SIAM. How many LAC governments, national or sub-national, do you know that practice that kind of transparency about environmental inspections? I can't think of another off-hand, frankly. For that matter, how many European or North American governments practice that kind of transparency with environmental inspection information?
The digitalization of the inspection data should also facilitate analysis and reporting of trends in environmental compliance in the state. It also means that when an installation applies for renewal or change of status in their environmental license, citizens wishing to question or challenge the request will have available online all the inspection reports to use in making their case.
Not Just for Waste/Sanitation Anymore…
SEMAD plans to extend by the of this year the use of the palmtops to the state's other environmental inspectors in its Management Committee for Integrated Environmental Inspection (CGFAI), the tecnicos of the Minas Institute of Water Management (IGAM) and the State Forestry Institute (IEF), and the FEAM inspectors responsible for checking undertakings in other areas such as mining and infrastructure (road building, etc.).
_____________________________________
Desde Agência Minas:
Fiscalização ambiental em Minas Gerais será automatizada

Um projeto piloto da Gerência de Saneamento da Fundação Estadual de Meio Ambiente (Feam) vai gerar resultados positivos nos procedimentos de vistoria e, o mais importante, permitirá também mensurar avanços na qualidade ambiental, em relação ao saneamento.

Desde outubro de 2006, uma equipe de 21 técnicos está utilizando o palm top (computador de mão) nas vistorias de implantação de aterros sanitários, usinas de compostagem (lixo orgânico para produção de adubo) e sistemas de coleta e tratamento de esgoto, nos municípios mineiros, de acordo com definições das deliberações normativas 52/2001 e 96/2006, do Conselho Estadual de Política Ambiental (Copam).

Com a adoção do equipamento em todo o sistema de fiscalização ambiental, o que deve acontecer até o final do ano, Minas Gerais, mais uma vez, atesta seu caráter pioneiro na gestão ambiental.

Segundo Leonardo Belonia, assessor da subsecretaria de Inovação e Logística da Semad, o primeiro passo foi transformar um questionário de várias páginas em uma única tela do palm top, no qual os técnicos lançam dados sobre o empreendimento vistoriado. Esse processo, que antes durava seis horas, em média, agora leva apenas duas horas, o que permite a realização de um número maior de vistorias diárias.

Antes de ir a campo, o equipamento é carregado com informações dos empreendimentos a serem fiscalizados, como prazos concedidos, dados da última vistoria e identificação do processo de licenciamento.

Os recursos do palm top, que incluem ainda máquina fotográfica e impressora, não beneficiam somente a fiscalização. O equipamento permite a emissão do laudo de vistoria no local, o que agiliza para o empreendedor, que não precisa se deslocar para obter o documento.

Os ajustes para o trabalho de campo já foram feitos e, agora, a equipe que desenvolveu o sistema pesquisa a melhor forma de inserir os dados no Sistema Estadual de Informações Ambientais (Siam). Essa atualização que atualmente demora em média 15 dias será on-line. A transmissão dos dados poderá ser feita do próprio local, via GPRS. O palm top faz a conexão via telefonia celular e transmite os dados diretamente para um computador, localizado na Secretaria de Estado de Meio Ambiente e Desenvolvimento Sustentável , em Belo Horizonte.

Futuramente todos os dados de empreendimentos em processo de licenciamento poderão ser acessados por qualquer cidadão. E esse é o maior ganho para a população mineira: paralelo ao processo de vistoria foi criada uma pontuação que mensura os investimentos dos municípios, bem como os resultados, em relação a destinação correta do lixo, coleta e tratamento de esgoto, como determinam as deliberações do Copam.

A gerente de saneamento da Feam, Denise Bruschi explica que, no momento da vistoria, o técnico tem um sistema de pontuação, que ao ser preenchido, fornece um quadro atualizado dos municípios a respeito da destinação do lixo e esgoto coletado e tratado. "Como a visão não é mais pontual (empreendimentos isolados), será possível apurar que melhorias os sistemas implantados estão trazendo para a população", explica Denise Bruschi.

O projeto tem ainda pela frente 60 dias de testes. Após este período, o equipamento será adotado pelas equipes do Comitê Gestor de Fiscalização Ambiental Integrada (CGFAI), pelos técnicos do Instituto Mineiro de Gestão das Águas (Igam), no processo de outorga, pelos técnicos do Instituto Estadual de Florestas (IEF), nos processos de autorização de supressão de vegetação e transporte de produtos florestais, e, ainda, pelos demais técnicos da Feam, na fiscalização de empreendimentos de infra-estrutura, mineração e outros.

O palm top, associado à transmissão GPRS, é usado no Brasil por grandes empresas e pelo governo do Estado de São Paulo, na área de energia elétrica; na Bahia, para monitorar o sistema de saúde; mas Minas Gerais é o primeiro Estado a adotar a tecnologia na fiscalização ambiental.

Deliberação Normativa 52/2001 – determina a implementação de medidas pelos municípios para dar fim aos lixões. Disposição do lixo em solo de baixa permeabilidade, com declividade inferior a 30%; distância mínima de 300 m de cursos d'água e a 500 m de núcleos populacionais; fora de margens de estradas; implantação de sistema de drenagem pluvial; compactação e recobrimento do lixo com terra ou entulho, no mínimo, três vezes por semana; isolamento do local com cerca e proibição de pessoas no local paralelo à criação de alternativas de geração de renda para os catadores.

Deliberação Normativa 96/2006 – Convoca os municípios para o licenciamento ambiental de sistemas de tratamento de esgotos que, entre outras medidas, devem atender 70% da população urbana até 2010.
Tags: Agência Minas, aterros, Bahia, Brasil, Brazil, cell phones, cellular telephones, celulares, CGFAI, compostagem, compostaje, composting, computador de mão, COPAM, environmental enforcement, environmental inspection, environmental licensing, extractive sectors, FEAM, fiscalização ambiental, IEF, IGAM, infra-estrutura, landfills, licenciamento ambiental, licensamiento ambiental, lixões, Minas Gerais, mineração, minería, mining, palmtops, produtos florestais, rellenos, saneamento, São Paulo, SEMAD, SIAM, transparencia, transparency, tratamento de esgoto
Subscribe to My Comments Feed
Leave a Reply