« An Affordable Anti-Malarial / Um medicamento para malária a preço mais acessível | Home | Update on Paraná Showdown with Long-Neck Beer Bottles »
By Keith R | August 20, 2008
Topics: Conservation, Environmental Protection, Water Issues | No Comments »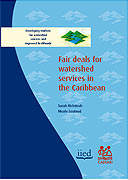 An innovative and increasingly popular policy option in the deforestation and water resources management fields in Latin America and the Caribbean (LAC) is the so-called payment for environment services (PES) approach.  But as these IIED reports show, as it has been applied so far to watershed management does not always bring the hoped-for environmental benefits.  You can download directly the PDFs of the country report for Bolivia and the Caribbean report (which covers Grenada, Jamaica, St. Lucia, St. Vincent and the Grenadines, Trinidad and Tobago).
______________________________
From the International Institute for Environment and Development (IIED):
International Institute for Environment and Development Payments for watershed services: Conservation, development, both or neither?

An innovative approach to managing water resources could bring social, economic and environmental benefits in developing countries, but as major new research shows, all that glitters is not gold.

The research by the International Institute for Environment and Development (IIED) and its partners will be presented today (16 August) in Sweden at World Water Week, a gathering of 2,500 water experts from 130 nations.

The UK Department for International Development funded the four-year study, which focused on 'payments for watershed services' – a way of compensating wise use of land and water upstream that bring benefits to water users downstream.

"Ecosystems provide humanity with important services, such as water supplies, but markets rarely value these benefits," says Ivan Bond, a senior researcher at IIED.

"Payments for watershed services are an attempt to correct this market failure in a way that brings social and environmental benefits. This will become increasingly important as demand for land and water rises and as climate change begins to alter natural systems."

But the researchers found that while there is growing enthusiasm for using payments to encourage sound watershed management and to improve rural livelihoods, there is only patchy evidence for social and environmental benefits to date.

Despite this, the researchers say that new payment schemes could make a difference if they are designed with specific watersheds and social contexts in mind and are led (and partially funded) by water users, particularly those in the private sector.

"While the early payment schemes included small-scale farmers more by accident than design, a new generation of schemes is specifically engaging poor upland communities as providers of watershed services, but it is too early to judge their success says Maryanne Grieg-Gran, director of IIED's environmental economics programme.

The researchers examined the potential of payments in two ways. They reviewed 48 active and 45 planned schemes in 24 developing countries. They also tried to develop and test payments systems in ten watersheds in different countries in Asia, Africa, South America and the Caribbean, that would address both land use and livelihood challenges.

The findings are summarised in two briefing papers published today and on a new website – www.watershedmarkets.org – that presents profiles of active and proposed payment schemes from Africa, Asia, Latin America and the Caribbean.

Most involve rewarding upstream land practices such as organic farming, sustainable forestry or soil conservation that are thought likely to improve the quality and quantity of water available for downstream users. They vary in scale from one in Nicaragua that rewards just 5 families to a Chinese programme that aims to reach 15 million farmers by 2010.

The project's findings will be published in detail in two books later this year, as well as in a series of individual country reports.

The first three country reports – for Bolivia, the Caribbean and Indonesia – are already available. The Caribbean report covers Jamaica, Saint Lucia, Grenada, Trinidad and Tobago, and Saint Vincent and the Grenadines. Reports on China, India and South Africa will follow shortly.
Tags: Bolivia, Caribbean, Caribe, environment, environmental services, Fundación Natura Bolivia, Grenada, IIED, Jamaica, medio ambiente, PES, Saint Lucia, St. Vincent and the Grenadines, St. Vincent y las Granadinas, Trinidad and Tobago, watershed management
Subscribe to My Comments Feed
Leave a Reply