« A Groundbreaking Carbon Deal for Bolivia / Un Convenio Innovador de Créditos de Carbono para Bolivia | Home | Cell Phone Battery Agreement Signed in Colombia »
By Keith R | May 9, 2007
Topics: Biodiversity, Biofuels, Climate Change, Economics & the Environment, Energy & the Environment, Environmental Protection | No Comments »

The United Nations Food and Agriculture Organization (FAO) and the UN Economic Commission for Latin America and the Caribbean (ECLAC, known in Spanish as CEPAL) have just released a joint "study" (actually more of a short analysis with recommendations) on the potential impacts of bioenergy production on food security for consideration by the FAO's Committee on Food Security as it meets in Rome this week. (An advance copy was given to Brazil's President Lula last week.) The report can be downloaded in either English or Spanish versions.
The "study" opens by declaring
The food security implications of bioenergy will be shaped by the scale and speed of change as well as by the type of system under consideration, by the structure of commodity and energy markets and by policy choices in the areas of agriculture, energy, the environment and trade policies.
In other words, it's complex and difficult to assess!
Focussed on Transport Fuel
The "study" says that three types of bioenergy are relevant for analyzing the food security implications of bioenergy systems as a whole: traditional biomass burned directly for cooking and space heating; (2) modern biomass-based technologies for electricity generation; (3) liquid biofuels used primarily in transport, such as ethanol and biodiesel. The study focusses on the third because (1) it is the fastest-growing segment; (2) it is the segment where several LAC nations have conditions favorable to current production and future expansion; (3) they involve agricultural crops that may also be used for food and animal feed, and thus may directly affect food security via commodity prices.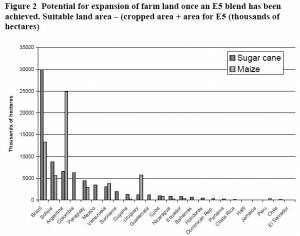 The Four Dimensions of Food Security
The "study" concentrates on the four traditional focuses of food security analysis: availability, access, stability and utilization. The FAO and ECLAC conclude that, unlike other regions and contrary to claims by some biofuel critics, arable land availability not competing with food crops generally is not a problem in LAC. The possible exception may be Central America. As for "agricultural frontier expansion" for sugarcane or maize intended for ethanol production, the countries with the greatest potential are Argentina, Bolivia, Brazil, Colombia, Paraguay and Uruguay, and for soybean or palm oil intended for biodiesel, they are Argentina, Bolivia, Brazil, Colombia and Peru.
"Access" is measured by undernourishment, poverty and extreme poverty, and inequality — all of which remain significant problems in LAC. The "study" concludes that bioenergy programs could actually help on this front if they "target small producers with limited capacity to access markets in order to sell their products." FAO/ECLAC point to the Brazilian castor oil program as possible model.
They note, however, that recent studies suggest that increased biofuel demand may result in (1) an increase in bioenergy crop prices; (2) an increase in traditional crop prices; (3) a reduction in the price of biofuel by-products, such as soybean meal and distilled grain. While this may mean an increase in foodstuff prices for consumers, it may improve income distribution in rural areas, helping reduce rural poverty.
On stability, the report notes that this is a general problem in LAC, where "policies are often transitory, implemented by a single government…Production is often unsustainable, or other crops or activities are destroyed in order to make it viable." This makes proper orientation and design of bioenergy policies all the more important. As to worries about biofuel sensitivity to price swings in the global price for oil, FAO and ECLAC note that while higher oil prices prompt greater demand for biofuels, they also tend to raise the costs of producing it. This, they say, may not be as big an issue for LAC as for the US or Europe, though, given that Brazilian production costs for sugarcane-based ethanol are considerably lower than either corn-based ethanol in the US or European biodiesel. [Temas Observation: This glosses over, however, the fact that Brazilian production costs are likely much lower than will be biofuel production costs in the rest of LAC.]
As for utilization, the "study" notes that sugarcane and palm oil production are water-intensive (between 1,500 and 2,500 mm/yr, respectively), whereas maize, cassava, soybean, castor bean and cotton are less so (500-1,000 mm/yr). FAO and ECLAC flag this as a prime concern — that policies must ensure that biofuel production do not make "intensive use of natural resources" (especially water) that may adversely impact food production.
Conclusions and Recommendations
Before going into their recommendations, FAO and ECLAC make two key points I think bear repeating here. The first is that bioenergy policy development cannot be divorced from, and must work closely with, at least four other policy fields: agriculture, energy, environment and trade. The second point:
If second-generation technologies based on lignocellulosic feedstock became commercially viable, competition for land and other agricultural resources could be reduced. Small-scale biodiesel systems might even improve soil fertility if oilbearing leguminous crops for energy production were grown in rotation with food crops.
To reduce the food security risks of bioenergy production, FAO and ECLAC suggest the following policies be adopted by LAC nations:
Development and land-use policies, beginning with agro-ecological zoning to indicate which land areas are available for biofuel crops, and a system of incentives and penalties for the use of resources such as forests and water;
Technology policies that not only examine the bioenergy potential of the region's raw material, but also focus on technologies that benefit small farmers and small-scale end-users;
Sectoral regulatory framework, clearly defining such issues as biofuel use, commercial rules, incentives and taxes;
Policies that improve contractual relations with members of the production chain, including protections for laborers and small farmers/
They also suggest that FAO launch discussions on a "code of conduct" on bioenergy production and use, which would aim at providing a model framework and set of best practices to guide national policy efforts.
— Keith R
Abajo se encuentra una copia del comunicado de CEPAL sobre el recien emitado informe conjunto (FAO y CEPAL) de las implicaciones para la seguridad alimentaria de América Latina y el Caribe de la producción de bioenergía. Se puede bajar una copia del estudio completo en español en este enlace.
Desde la Comisión Económica para América Latina y el Caribe de las Naciones Unidas (CEPAL):
Estudio conjunto CEPAL/FAO: Oportunidades y riesgos de la bioenergía

Esta semana, un estudio conjunto elaborado por CEPAL y FAO, discute las diversas implicancias que la bioenergía podría tener sobre la seguridad alimentaria de América Latina y el Caribe. Dicha labor surge del pedido que realizó el presidente de Brasil, Luiz Inácio "Lula" da Silva al Director General de la FAO, mediante una carta en la que solicitó el apoyo de dicho organismo para estudiar el posible impacto que el desarrollo de esta nueva energía podría tener sobre los países de la Región.

José Luis Machinea, Secretario Ejecutivo de la Comisión Económica para América Latina y el Caribe de las Naciones Unidas (CEPAL), recalcó que "para un desarrollo rápido y eficiente de los biocombustibles, que maximice además los beneficios para amplios grupos de la población, es necesario coordinar políticas entre las esferas agrícola, energética, medio-ambiental, comercial, financiera y tributaria. Esta coordinación requiere de la constitución de grupos de trabajo multi-ministeriales y también de la participación de la sociedad civil".

Por su parte, el Representante Regional de la FAO, José Graziano da Silva, destacó que toda nueva oportunidad implica riesgos, y que es responsabilidad de los gobiernos implantar políticas para minimizar los riesgos y maximizar los beneficios. "La FAO puede y debe prestar asistencia técnica a los gobiernos de la Región que deseen implantar un programa sustentable de producción de bioenergía, que asegure además la preservación de la biodiversidad y garantice la seguridad alimentaria de los países", señaló.

Una de las conclusiones fundamentales del estudio es que las implicaciones de la bioenergía para la seguridad alimentaria y el medio ambiente dependerán de la escala y velocidad de cambio, así como el tipo de sistema que se considere, la estructura de los mercados de productos y energía, y las decisiones en materia de políticas agrícolas, energéticas, ambientales y comerciales.

Una región excedentaria

En el corto plazo es muy probable que una rápida y fuerte expansión en la producción de biocombustibles a nivel mundial tenga efectos sobre la demanda, las exportaciones, la asignación de hectáreas para cultivos energéticos y no energéticos y en los precios de los cultivos, poniendo en riesgo el acceso a alimentos de los sectores más pobres.

Sin embargo, América Latina y el Caribe tiene una amplia capacidad instalada de producción de alimentos. Además, presenta un mayor crecimiento en la producción de alimentos y una mayor proporción de exportaciones de alimentos respecto al promedio mundial. De los países de la región para el período 1990-1992 y 2002-2004 todos presentan un superávit en la producción de alimentos, salvo Haití y Bolivia. En general los países de Centroamérica, cuya dieta está basada en el maíz, son los que presentan mayores riesgos de disponibilidad de alimentos frente al auge de la bioenergía. En el caso de los países del Caribe, la falta de tierras disponibles y aptas para dedicar a los cultivos energéticos es un freno importante en su capacidad para producir biocombustibles.

Cabe notar que aún se pueden realizar grandes avances en distintas áreas tecnológicas, lo que podría reducir la competencia entre cultivos energéticos y alimenticios. Un ejemplo de esto son los aumentos de la productividad agrícola en la cadena de caña de azúcar-etanol en Brasil, que aumentaron significativamente la productividad de las materias primas utilizadas en la elaboración de dicho biocombustible.

El crecimiento potencial

Existe la percepción generalizada de que la tierra arable está totalmente ocupada o que existe solamente una pequeña cantidad disponible para nuevas tierras de cultivo. Las cifras muestran lo contrario, es decir que existe aun un gran potencial para su aumento. Parte de esta tierra arable disponible podría ser utilizada para cultivos energéticos que si están acompañados de un paquete de políticas y programas bien diseñados, podrían ir en beneficio de millones de pequeños productores rurales que actualmente se encuentran en condiciones de pobreza, sin comprometer los bosques ni la seguridad alimentaria de la región.

Considerando las áreas con condiciones climáticas, ambientales y tecnologías, así como el área necesaria para una obtención de mezcla de 5% de etanol en el combustible, los países con mayor potencial de expansión de la frontera agrícola, en base a caña o maíz, son Brasil, Bolivia, Argentina, Colombia, Paraguay y Uruguay. En biodiesel los países con mayor potencial a partir de soja o palma aceitera, son Brasil, Argentina, Perú, Colombia, y Bolivia.

Los programas de bioenergía podrían representar una gran oportunidad si son focalizados hacia los pequeños productores. Experiencias exitosas en la organización de los productores de ricino en Brasil, que incluyen a más de 30 mil familias en la región semi-árida del nordeste, han demostrado que los programas de producción de aceite para la bioenergía pueden ser poderosos elementos dinamizadores de las economías locales. Estos agricultores siembran fríjol intercalado con los cultivos energéticos, lo que ha aumentado significativamente la producción de alimentos en las mismas áreas utilizadas para la producción de biocombustibles.

Por ultimo es importante señalar que un aumento generalizado en el precio de los cultivos puede tener impactos en la distribución del ingreso. Por ende, es importante que los países diseñen políticas que promuevan y aseguren la rentabilidad de la bioenergía, así como también que los beneficios de la producción alcancen las zonas rurales y garanticen y promuevan el acceso a alimentos de los sectores más desprotegidos.

Políticas necesarias

Para cuidar la seguridad alimentaria de la Región, es indispensable la implementación de un conjunto de políticas que puedan reducir los riesgos, entre los cuales cabe resaltar: (i) políticas de desarrollo y ordenamiento territorial que clasifiquen las tierras disponibles para los cultivos bioenergéticos, ordenen los incentivos y las penalizaciones para el uso de bosques, agua y otros recursos; (ii) políticas tecnológicas que exploren todas las posibilidades de materias primas de la Región y que sean idóneas y accesibles a los pequeños agricultores; (iii) un marco regulatorio del uso de los biocombustibles, normas de comercio, sus incentivos e impuestos; (iv) el mejoramiento de las relaciones contractuales entre los diversos actores de la cadena productiva incluyendo la inserción de la agricultura familiar; y finalmente (v) políticas que tengan en cuenta también la estructura de consumo de los biocombustibles de manera que no se incentive el desperdicio en función de un modelo de consumo creciente de energía.

El estudio concluye con una invitación a los países para que empiecen a discutir un Código de Conducta Voluntario de la Producción y Utilización de Bioenergía, como una forma de implementar un conjunto de políticas y buenas prácticas que orienten la realización de mejores intervenciones público-privadas en la promoción del desarrollo y la reducción de la pobreza.
Tags: agriculture, algodón, alimentos, Argentina, biocombustibles, biocombustiveis, biodiesel, bioenergía, bioenergy, Biofuels, biomass, Bolivia, Brazil, caña, cassava, castor bean, Centroamérica, CEPAL, code of conduct, código de conducta, Colombia, cooking, cotton, dendê, ECLAC, energy, environment, etanol, ethanol, FAO, food, food security, Haiti, land use, maize, ordenamiento territorial, palm oil, palma aceitera, Paraguay, Peru, rural development, rural poverty, seguridad alimentaria, soja, soya, soybean, space heating, sugarcane, trade, Uruguay, zoning
Subscribe to My Comments Feed
Leave a Reply