« Consumer Protection Pages Added to the Temas Toolbox | Home | Chile Opts for Full Speed Ahead on Biofuels »
By Keith R | May 17, 2007
Topics: Environmental Governance, Environmental Justice, Environmental Protection | No Comments »
Earlier this week Colombia's Environment Minister, Juan Lozano Ramírez, told the audience at that country's National Environment Forum that he supported the bill now before the Senate (where the Forum was held) on an environmental sanctions regime. The Ministry, he said, has this dream of "getting the teeth we don't have" so that Colombia can stop being a country with modern environmental legislation that is frequently broken without serious risk of enforcement sanctions.
"The environmental authorities must act more effectively, to invert the burden of proof so that it is not the State in the precarious position of having to prove damage that is obvious to all, and to accelerate the processes to enable [us] to take the objects that were used to cause the environmental damage."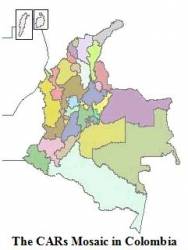 By "environmental authority," the Minister, as well as the bill in question, are not just speaking of the Environment Ministry. In Colombia, while the Ministry sets national environment policy, implementation/enforcement is usually left in the hands of a wide variety of actors, including the 33 "autonomous regional corporations" (corporaciones autónomas regionales – CARs*) and the environmental authorities of the four largest metropoles, Barranquilla, Bogotá, Cali, Medellín.
However, currently the applicable regime has a number of problems, including:
lack of clarity of which institutions can impose sanctions and which can impose preventive enforcement measures (seizure of equipment or goods, work stoppage, suspension of environment or operating license, etc.);
confusion about what exactly is sanctionable conduct, and who can be sanctioned;
lack of clarity regarding what kind of sanctions and preventive measures can be imposed, and under what procedures, timelines and conditions;
lack of clear safeguards there are for those subjected to enforcement proceedings;
lack of clear provision about who pays for costs incurred in imposing preventive measures;
lack of clear provision about what can and cannot impede application of an environment sanction or preventive measure;
no clear statute of limitations for sanctioning an environmental infraction.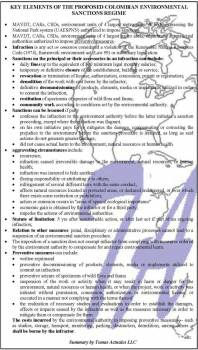 The bill, proposed last year but now under discussion in the Senate, attempts to address these issues. Among other things (click on box to enlarge the list of key provisions) it
differentiates between who can sanction and who can impose preventive measures (example: municipal and departmental (state) authorities can do latter, but most cannot do former);
sets out clear procedures and timelines;
outlines what range of sanctions are available, from fines to permanent plant closure to mandatory community service in environmental projects;
lays out under what circumstances sanctions can be more lenient (attenuating) or harsher (aggravating), with the latter punishing repeat offenders or those acting to hide culpability or impede investigations/enforcement efforts;
sets some tough preventive measures, and allows for charging those committing environment infractions for some of the costs involved (studies, storage, transport, demolition, etc.);
limits the time period after an infraction in which an environmental authority can bring charges;
prevents the subject of enforcement from using court or administrative procedures from impeding the imposition of sanctions or remedial measures, and allows for sanctions in addition to (rather than instead of) remedial or compensatory measures.
— Keith R
Desde el Ministerio de Ambiente, Vivienda y Desarrollo Territorial (MAVDT):
GOBIERNO BUSCA DARLE 'DIENTES' A AUTORIDADES AMBIENTALES PARA MAYORES SANCIONES

Las Corporaciones Autónomas Regionales deben tener la posibilidad de sancionar con mayor rigor y facilitar los procesos de decomisos de los objetos que han causado el daño ambiental.

Así lo dijo este lunes el ministro de Ambiente, Vivienda y Desarrollo Territorial, Juan Lozano Ramírez, al explicar cómo se ve desde su cartera el proyecto de Ley por medio del cual se establece el Procedimiento Sancionatorio Ambiental.

"Tenemos la ilusión, desde el Ministerio, de darle a las autoridades ambientales del país, los dientes que no tenemos, que podamos evitar los quebrantamientos que se han generado para que el país deje de ver cómo se producen violaciones ambientales sin que se apliquen las sanciones debidas", aseguró el Ministro al participar en el Foro Nacional Ambiental que sesionó en el Senado de la República.

El titular de la cartera de ambiente y vivienda destacó que es bueno este estatuto de modernización del régimen sancionatorio ambiental, y pese a que hay profundas discusiones jurídicas se debe sacar adelante.

Lozano Ramírez señaló que hay una amplia gama de funciones y procedimientos para que en presencia de un daño ambiental las autoridades ambientales y el propio Ministerio puedan actuar más rápido.

"Las autoridades ambientales debemos actuar con más eficacia, invertir la carga de la prueba de manera que no esté el Estado en la precariedad de ver cómo demuestra un daño que a todas luces es evidente, y acelerar los procesos para poder tomar los objetos que fueron utilizados para causar el daño ambiental", destacó el Ministro.

El Jefe de la Cartera Ambiental explicó que es un proyecto largo, con un articulado amplio, pero su esencia es la protección del medio ambiente con un medio sancionatorio moderno.

El funcionario señaló que el país debe dar una discusión que permita tener herramientas eficaces y un instrumento realista y vigoroso con el cual se pueda exigir de verdad las responsabilidades y las compensaciones para aplicar las sanciones frente a quienes obtienen lucro y beneficio a partir del quebrantamiento de la normatividad ambiental.
* I like the Humboldt Institute's definition of the CARs: "entes corporativos de carácter público, creados por la Ley, integrados por las entidades territoriales que por sus características constituyen geográficamente un mismo ecosistema o conforman una unidad geopolítica, biogeográfica o hidrogeográfica, dotados de autonomía administrativa y financiera, patrimonio propio y personería jurídica, encargadas por la Ley de administrar dentro del área de jurisdicción, el medio ambiente y los recursos naturales renovables y propender por su desarrollo sostenible, de conformidad con las disposiciones legales y las políticas del Ministerio del Medio Ambiente."
Tags: Barranquilla, Bogotá, Cali, Colombia, compensatory measures, dano ambiental, environmental enforcement, environmental sanctions, Juan Lozano, MAVDT, Medellín, preventive measures, remedial measures
Subscribe to My Comments Feed
Leave a Reply