« WHO to Policymakers: Clear the Air | Home | Will Lima Breathe Easier? »
By Keith R | October 13, 2006
Topics: Environmental Protection, Marine/Coastal Issues, Sanitation, Sustainable Tourism, Waste & Recycling, Water Issues | 4 Comments »
In my friend Jaime's essay on realizing sustainable tourism, he said:
It is necessary to change, tighten and to enforce the parameters of environmental requirements. In addition to sanctions, the creation of an environmental movement should be encouraged, in association with private international organizations like Green Globe or Blue Flag that conduct independent audits and establish regional classifications, categories and awards for hotels that comply with the norms.
In an earlier Temas blog entry, I examined the Green Globe 21 program that is eco-certifying hotels in Latin America and the Caribbean (LAC), and can certify many other tourism-related activities as well.
In this four-part series, I'll examine the growing presence of Blue Flag in LAC nations. Part I will look at Blue Flag's beach criteria and process. Part II will examine the marine criteria and process. Part III will look at what LAC beaches and marinas have already won Blue Flag certification, the impact this has had, and which beaches and marinas are currently in the process of seeking the Blue Flag.
The final part will compare and contrast this program with Costa Rica's confusingly similar Bandera Azul program (created 11 years after Blue Flag began in Europe), which Costa Rica recently agreed to help bring to Panama.
If any reader is aware of other eco-certification programs starting or underway in the LAC tourism sector, please let me know at temasblog@temasactuales.com and I'll take a look them as well.
What is the Blue Flag?
The Blue Flag campaign originated in France in 1985 as an attempt to use a voluntary eco-certification program to get beaches to comply with the European Union's (EU) Bathing Water Directive. It spread to other EU member nations in 1987.
The program succeeded in its original goal and then some. Over the years the program has evolved to address more issues than just the water quality at beaches, a second eco-certification program was launched for marinas, and in 2001 the program spread beyond the confines of the EU to now cover over 3,100 sites in some 36 countries.
In LAC, these include the Bahamas, the Dominican Republic, Jamaica and Puerto Rico, and programs are in the advanced pilot phase in Brazil and Chile (in September 2006 10 beaches in Brazil and one in Chile were given Blue Flag certificates), and early pilot phase in Barbados and the Turks and Caicos. In addition, Argentina and Ecuador have inquired about starting programs in those countries.

Overall coordination of the program is handled by the Foundation for Environmental Education (FEE) based on Copenhagen, Denmark. Until recently the program's implementation in the Caribbean was overseen by "the Caribbean Blue Flag Consortium" created in September 2002 by the Barbados-based Caribbean Tourism Organization (CTO), the Puerto Rico-based Caribbean Alliance for Sustainable Tourism (CAST -I'll examine CAST in a future Temas blog) and the Barbados-based Caribbean Conservation Association (CCA). In 2006 it was decided to devolve responsibility to national organizations communicating directly with FEE.
Usually before a beach can apply for Blue Flag certification, a country must first have a local FEE member to serve as national coordinator. Among other criteria they must meet before being accepted by FEE, the local organization must have environmental education as one of their main goals and must demonstrate that they have the resources to run a Blue Flag program.
Furthermore, they must show how they plan to run their first Blue Flag campaign. They also must present a plan on how, within three years of becoming a FEE associate, they will launch their second Blue Flag campaign – in others words, FEE must be satisfied that the local affiliate will not simply sit on its laurels once it has achieved the first success.
In LAC the current coordinators are:
Bahamas: Ministry of Tourism
Brazil: Instituto Ambiental Ratones (IAR), based in Florianópolis, Santa Catarina
Chile: Instituto de Ecología Política (IEP), based in Santiago
Dominican Republic: the Environmental Law Institute (IDARD) based in Santo Domingo.
Jamaica: National Environment Planning Agency (NEPA), based in Kingston
Puerto Rico: Puerto Rico Tourism Company, based in San Juan
It should be noted, however, that all Blue Flag participating countries are expected to hand over coordination to non-profit NGOs and out of the hands of official agencies (such as the Ministry of Tourism).
What Does It Take for a Beach to Get the Right to Fly the Blue Flag?
Once there is a national FEE affiliate, a workshop must be held in the candidate country to informed possible stakeholders about the program, its rules, procedures and benefits. A Steering Committee is created containing, at a minimum, representatives from the national water, tourism, education and environmental authorities, as well as other relevant experts and groups (such as the local tourism industry association, a local beach association, etc.). This Committee examines the international criteria and how they mesh with the local legislation and situation.
Thereafter the Steering Committee chooses the pilot site for a Blue Flag program. The choice of pilot site is very important — not only because you want one that has an excellent chance of passing and maintaining accreditation, but also because the first site will serve as a model and learning experience and probable training center for subsequent sites.
Each beach interested in gaining Blue Flag status must file an application through the national FEE affiliate. The application is then reviewed by a National Jury that meets at least once a year to review candidates. If the National Jury approves an application, it is sent on to a separate International Jury for review during one of its semiannual meetings. If the latter signs off on the application, the beach is given conditional Blue Flag status for one season.
Once a site has passed a full season demonstrating compliance with the Blue Flag criteria, it can apply for full Blue Flag status.
On What Basis Are Beaches Judged?
During a beach's bathing season, "control visits" are made by national and international auditors to check on compliance with Blue Flag criteria. If a problem is found, the Blue Flag is removed until it is fixed.
If the problem is serious enough, or is not fixed within the time set by the auditors, the flag is withdrawn from that beach for the rest of the season. FEE also reserves the right to refuse or withdraw the Blue Flag from any beach where the beach operator or local authorities are responsible for current violations of national environmental regulations.
Members of the public are encouraged to report any problems or violations they note to national and/or international contacts.
There are three kinds of criteria — "imperative" (mandatory) for all Blue Flag beaches, "guideline" (voluntary, but strongly recommended) and those applicable only to certain regions (such as the Caribbean).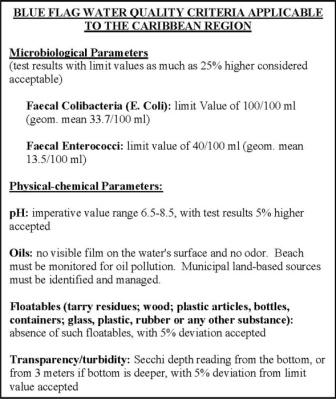 Mandatory for All Blue Flag Beaches
Information relating to coastal zone ecosystems and natural, sensitive areas in the coastal zone must be displayed
Information about bathing water quality must be displayed
Information about the Blue Flag Campaign must be displayed
Code of conduct for the beach area must be displayed and the laws governing beach use must be easily available to the public upon request
A minimum of 5 environmental education activities must be offered
Compliance with standards for excellent bathing water quality
No industrial or sewage related discharges may affect the beach area
Algae or other vegetation should be left to decay on the beach unless it constitutes a nuisance
The beach must comply with all regulations affecting the location and operation of the beach (coastal zone planning and environmental legislation)
The beach must be clean
Waste disposal bins/receptacles must be available on/by the beach in adequate numbers, regularly maintained and emptied
Sanitary facilities should be clean and have controlled sewage disposal
No unauthorized camping or driving on the beach and no dumping
A minimum of one Blue Flag beach in each municipality must have access and sanitary facilities for disabled persons
Map of the beach indicating different facilities must be displayed
Regulations concerning domestic animals on the beach must be strictly enforced
Mandatory for the Caribbean Blue Flag beaches
:
Monitoring of the health of coral reefs located in the vicinity of the beach, using the "Reef Check" Coral Reef Monitoring Program
A beach management committee must be established to be in charge of instituting environmental management systems and conducting regular environmental audits of the beach facility
All buildings and equipment on the beach must be properly maintained
First aid and adequate number of lifeguards and/or lifesaving is present
There must be management of different users and uses of the beach
Emergency plans to cope with pollution safety risks (oil spills, toxic waste spills, stormwater discharges, algal blooms that might be dangerous, etc.) must be in place
There must be safe access to the beach
"Guideline Criteria" for Caribbean Blue Flag beaches
:
Compliance of the community with requirements for sewage treatment and effluent quality
Facilities for receiving recyclable waste materials must be available on/by the beach
Sustainable means of transportation (public/collective transport, bicycling, pedestrian streets) must be promoted in the beach area
A supply of potable drinking water must be available on the beach
Why Should Beaches Seek the Blue Flag?
There are a number of benefits for a beach community seeking certification under the Blue Flag program:
encourages tourism by ensuring tourists that the beaches flying the Blue Flag meet the highest environmental standards and the beach ecosystem is protected
encourages compliance with national environmental, health and safety regulations
creates an ongoing environmental management system for beach ecosystems and promotes environmental stewardship of surrounding ecosystems (such as reefs)
promotes community stewardship
encourages improvements to water quality, while supporting regular water quality monitoring and reporting
promotes cooperation between health, environmental, water, tourism and education sectors
creates environmental education opportunities
Tags: Argentina, audits, Bahamas, Bandera Azul, Barbados, bathing water quality, beach management, Blue Flag, Brasil, Brazil, calidad del agua, CAST, Chile, coastal zone ecosystems, coastal zone planning, CTO, Dominican Republic, eco-certification, Ecuador, FEE, Green Globe, IAR, IARD, IEPE, Jamaica, lifeguards, NEPA, oil spills, Puerto Rico, qualidade da agua, reciclagem, reciclaje, recycling, Reef Check, República Dominicana, sewage treatment, stormwater, Sustainable Transport, tourism, Tourism Ministry, turismo, Turks and Caicos, water quality
4 Responses to "Eco-Certification for Tourism: The Role of Blue Flag, Part I"
Leave a Reply