« Glossary Added to the Tool Box | Home | Trash Photos IX: A Very Special Fashion Show »
By Keith R | December 5, 2006
Topics: Environmental Protection, Marine/Coastal Issues, Sanitation, Sustainable Tourism | No Comments »

In Part I of this four-part series on the growing presence of Blue Flag in Latin American and Caribbean (LAC) nations, I looked at Blue Flag's criteria and process for certifying beaches. Here in Part II I'll examine the marina criteria and process. Part III will look at what LAC beaches and marinas have already won Blue Flag certification, the impact this has had, and which beaches and marinas are currently in the process of seeking the Blue Flag.
The final part will compare and contrast this program with Costa Rica's confusingly similar Bandera Azul (Spanish for "Blue Flag") program (created 11 years after Blue Flag began in Europe), which Costa Rica recently agreed to help bring to Panama.
If any reader is aware of other eco-certification programs starting or underway in the LAC tourism sector, please contact me and I'll take a look them as well.
I grew up on the Ohio River, and in the early years of my childhood we had a boat that we took out every weekend, sometimes camping overnight on a beach somewhere upstream. I remember well the marina (we kids simply called it "the docks") my father rented space at during the warm weather months. Not all the recollections are the warm and fuzzy type that tend to come from childhood memories, because they involve all the trash people carelessly threw overboard and the wastes they pumped out, the oil and gasoline slicks, and other less than savory aspects of a marina. Sometimes I wondered how much worse it might have been if not for the strong current in the Ohio River to carry some of it away from the docks.
I've been in enough marinas over the decades since to know this was not unique to West Virginia, and examples of it can still be found in North America if one looks around enough.
So it was no surprise to find similar conditions at the few LAC marinas I have visited.
I am hoping, though, that the growing popularity of Blue Flag's marina certification program among tourist destinations will gradually, paso a paso, make dirty marinas an endangered minority in the LAC region.
Getting the Process Started

The basics of the process for Blue Flag certification for marinas does not differ significantly from that for beaches. Overall coordination of the program is handled by the Foundation for Environmental Education (FEE) based in Copenhagen, Denmark. Usually before a marina can apply for Blue Flag certification, a country must first have a local FEE member to serve as national coordinator, but this is not yet the case in most LAC nations.
The national coordinator must show how they plan to run their first Blue Flag campaign. They also must present a plan on how, within three years of becoming a FEE associate, they will launch their second Blue Flag campaign – in others words, FEE must be satisfied that the local affiliate will not simply sit on its laurels once it has achieved the first success.
In LAC the current coordinators are:
Bahamas: Ministry of Tourism
Brazil: Instituto Ambiental Ratones (IAR), based in Florianópolis, Santa Catarina
Chile: Instituto de Ecología Política (IEP), based in Santiago
Dominican Republic: the Environmental Law Institute (IDARD) based in Santo Domingo.
Jamaica: National Environment Planning Agency (NEPA), based in Kingston
Puerto Rico: Puerto Rico Tourism Company, based in San Juan
It should be noted, however, that all Blue Flag participating countries are expected to hand over coordination to non-profit NGOs and out of the hands of official agencies (such as the Ministry of Tourism).
What Does It Take for a Marina to Get the Right to Fly the Blue Flag?
Once there is a national coordinator, a workshop must be held in the candidate country to informed possible stakeholders about the program, its rules, procedures and benefits. A Steering Committee is created containing, at a minimum, representatives from the national water, tourism, education and environmental authorities, as well as other relevant experts and groups (such as the local tourism industry association, a local boating association, etc.). This Committee examines the international criteria and how they mesh with the local legislation and situation.
Thereafter the Steering Committee chooses the pilot site for a Blue Flag program. The choice of pilot site is very important — not only because you want one that has an excellent chance of passing and maintaining accreditation, but also because the first site will serve as a model and learning experience and probable training center for subsequent sites.
Each marina interested in gaining Blue Flag status must file an application through the national coordinator. The application is then reviewed by a National Jury that meets at least once a year to review candidates. If the National Jury approves an application, it is sent on to a separate International Jury for review during one of its semiannual meetings. If the latter signs off on the application, the marina is given conditional Blue Flag status for one season.
Once a site has passed a full season demonstrating compliance with the Blue Flag criteria, it can apply for full Blue Flag status.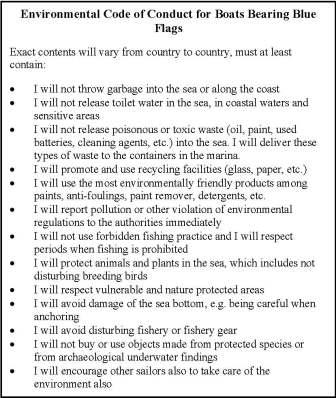 On What Basis Are Marinas Judged?
During a marina's primary operating season, "control visits" are made by national and international auditors to check on compliance with Blue Flag criteria. If a problem is found, the Blue Flag is removed until it is fixed.
If the problem is serious enough, or is not fixed within the time set by the auditors, the flag is withdrawn from that marina for the rest of the season. FEE also reserves the right to refuse or withdraw the Blue Flag from any marina where the operator or local authorities are responsible for current violations of national environmental regulations.
Members of the public are encouraged to report any problems or violations they note to national and/or international contacts.
There are two kinds of criteria — "imperative" (mandatory) for all Blue Flag marinas, and "guideline" (voluntary, but strongly recommended).
Mandatory Criteria for All Blue Flag Marinas:
Environmental information about natural sensitive nearby land and marine areas is supplied to marina users

Code of environmental conduct is posted in the marina

Information about the Blue Flag Marina Campaign and/or the Blue Flag Marina criteria are posted in the marina

The marina should be able to demonstrate that at least three environmental education activities are offered to the users and staff of the marina, whether brochures/posters, events (guided tours of local nature, cleanup days with local clubs, environmental photography competition, pollution experiments, etc.) environmental education projects (such as special training of marina personnel), or "Blue Flag centers"

The individual Blue Flag for boat owners is offered through the marina

Production of an environmental policy and plan at the marina. The plan should include references to water, waste and energy consumption, health and safety issues, and the use of environmentally sound products when available

"Environmental logbook" system

Environmental management system

Adequate and properly identified and segregated containers for the storage of hazardous wastes (paints, solvents, boat scrapings, anti-fouling agents, batteries, waste oil, flares). The wastes should be handled by a licensed contractor and disposed of at a licensed facility for hazardous wastes

Adequate and well managed litter bins and/or garbage containers. The wastes should be handled by a licensed contractor and disposed of at a licensed facility

The marina has facilities for receiving recyclable waste materials, such as bottles, cans, paper, plastic, organic material, etc.

All buildings and equipment must be properly maintained and in compliance with national legislation. The marina must be in a good integration with the surrounding natural and built environment

Adequate, clean and well sign-posted sanitary facilities, including washing facilities and drinking water. Controlled sewage disposal to a licensed sewage treatment

If the marina has boat repairing and washing areas, no pollution must enter the sewage system, marina land and water or the natural surroundings

No parking/driving in the marina, unless in specific designated areas

Adequate and well signposted lifesaving, first-aid equipment and fire-fighting equipment. Equipment must be approved by national authorities

Emergency plan in case of pollution, fire or other accidents must be produced for the marina, and safety precautions must be posted at the marina

Electricity and water is available at the berths, installations must be approved according to national legislation

Map indicating the location of the different facilities is posted at the marina

Visually clean water and marina (no oil, litter, sewage or other evidence of pollution)
"Guideline Criteria" for Blue Flag Marinas:
Bilge water pumping facilities are present in the marina

Toilet pumping facilities are present in the marina

Promotion of sustainable transportation

Facilities for disabled people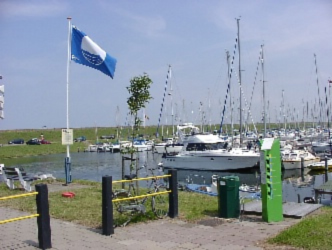 Possible Benefits to LAC Nations of a Blue Flag System for Marinas
The certification process requires marinas to meet, and be verified as compliant with, existing national environmental and safety standards. Where these do not exist or are sketchy or inadequate, the Blue Flag process may encourage local authorities to adopt and/or update local regulations to bring them into line with international norms.
The Blue Flag process encourages marinas to learn to cooperate and work with local and national authorities on environmental quality and policy matters.
In some cases, the environmental management norms required of marinas seeking Blue Flag will be far tougher than local requirements.
The auditing and renewal process ensures that marinas make good environmental and safety management a habit, not a one-shot and/or hollow commitment.
With its environmental education and information components, Blue Flag certification will turn a marina into a local environmental protection advocate.
The Blue Flag certification assures boaters seeking marina services that the flagged marinas meet high international quality standards for facilities and services.
In the next entry in this series, I'll examine which LAC marinas have won the Blue Flag and which ones are seeking it.
— Keith R
Tags: anti-fouling agents, Bahamas, Bandera Azul, batteries, bilge water, Blue Flag, boat scrapings, bottles, Brasil, Brazil, cans, Chile, Dominican Republic, eco-certificação, eco-certificación, eco-certification, educação ambiental, educación ambiental, energy consumption, Environmental Education, FEE, flares, hazardous waste, health and safety, IAR, IDARD, IEP, Jamaica, litter bins, marinas, NEPA, organic material, paints, paper, plastic, poluição da agua, Puerto Rico, República Dominicana, residuos peligrosos, resíduos perigosos, sewage, solvents, waste management, waste oil, water pollution
Subscribe to My Comments Feed
Leave a Reply