« A Sobering Look at Climate Change's Probable Impact on the Region | Home | Eco-Certification for Tourism: The Role of Green Globe, Part III »
By Keith R | September 14, 2006
Topics: Corporate Social Responsibility, Environmental Protection, Sustainable Tourism | 4 Comments »
In Part I, I explained what Green Globe (GG21) is, what must be done to win its certification, and what are the benefits derived therefrom. Here I focus in on the program's relationship with hotels/resorts/inns in Latin America and the Caribbean (LAC), current and prospective. In Part III I'll look at what is happening with the program in non-hotel categories in LAC nations. And in Part IV I'll discuss what individuals and governments (local, national) can do to help influence the future in LAC of GG21 and similar eco-certification programs geared to the tourism sector — and in the process, encourage LAC hotels and related tourism businesses become more environmentally responsible.
Which Hotels in Latin America & the Caribbean Are Undergoing the Green Globe Process?
As I mentioned in Part I, the overwhelming majority of GG21 process participants are accomodations (hotels, resorts, lodges, inns) seeking accreditation for the company standards. Currently all of the hotels fully certified under the program are in Mexico and the Caribbean:

Antigua & Barbuda:
Curtain Bluff Resort
Dickenson Bay Cottages
Long Bay Hotel
Sandals Antigua Resort & Spa

Aruba:
Amsterdam Manor Beach Resort
Bucuti Beach Resort
Manchebo Beach Resort
Costa Linda Beach Resort
La Cabana All Suite Beach Resort & Casino

Bahamas:
Sandals Royal Bahamian Resort & Spa
Barbados:
Almond Beach Club & Spa
Almond Beach Village
Bougainvillea Beach Resort/Sand Acres Resort
Hotel PomMarine

Dominica:
3 Rivers Eco Lodge
Ft. Young Hotel
Tamarind Tree Hotel & Restaurant

Dominican Republic:

Grenada:

Jamaica:
Beaches Boscobel Resort & Golf Club
Beaches Negril
Beaches Sandy Bay
Breezes Runaway Bay
Couples Negril
Couples Ocho Rios
Couples Swept Away
Green Grotto Caves
Hedonism III
Jamaica Inn
Negril Gardens Resort
Round Hill Hotel & Villas
Royal Plantation Spa & Golf Resort
Runaway Bay Heart Hotel & Training Institute
Sandals Dunns River Golf Resort & Spa
Sandals Inn
Sandals Montego Bay
Sandals Negril Beach Resort & Spa
Sandals Ocho Rios Resort & Golf Club
Sandals Royal Caribbean
Mexico:
Barceló Maya Beach Resort
Barceló Premium Hautelco
Barceló Tucancun Beach
Mayan Resorts Nuevo Vallarta
Mayan Resorts Riviera Maya
Velas Vallarta Suite Resort & Convention Center
Viva Wyndham Azteca

Netherland Antilles:

St.Kitts & Nevis:

St. Lucia:
Bay Gardens Hotel
Sandals Grande St. Lucian Spa & Beach Resort
Sandals Halcyon Beach St. Lucia
Sandals St. Lucia Golf Resort & Spa
Turks & Caicos:
Beaches Turks & Caicos Resort & Spa
Only a handful of hotels have been benchmarked, but are not yet fully certified:

Belize:

Dominican Republic:

Grenada:

Jamaica:
However, quite a few hotels are in the process of getting benchmarked:

Antigua & Barbuda:
Carlisle Bay Resort Limited
Dickenson Bay Cottages
Long Bay Hotel Antigua


Bahamas:
Barbados:
Allamanda Beach Hotel
Almond Casuarina
Amaryllis Beach Resort


Dominican Republic:


Grenada:

Jamaica:
Couples San Souci
Coyaba Beach Resort & Club
Half Moon Resort
Hedonism II
Rockhouse Hotel
Mexico:
El Paradisus Riviera Cancún
Hotel Ceballos
Mayan Resorts Acapulco

Puerto Rico:
St. Kitts & Nevis:
Four Seasons Resort – Nevis West Indies
Nisbel Plantation Beach Club
Oualie Beach Resort


St. Lucia: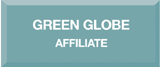 Last but not least, three hotels are "affiliates," the initial stage in the Green Globe process, before they undergo benchmarking:

Antigua & Barbuda:

Cayman Islands:

St. Lucia:
Why Aren't More LAC Hotels in the Green Globe Process?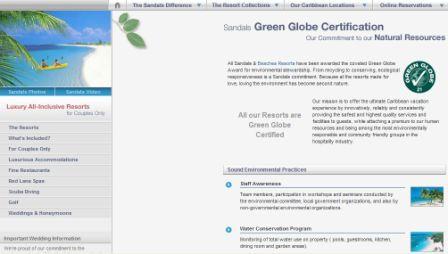 Many, if not most, of you did not guess that so many LAC hotels are already GG21 certified or benchmarked, right? As mentioned in Part I, for the moment the Mexico-Caribbean nexus has more GG21 properties than any other region. That in itself is commendable. It's clear that many parties — notably Jamaica and the Sandals and Viva Wyndham hotel chains — are sold on the benefits of being GG21 certified.
That said, there are many curious gaps.
Let's start in the Caribbean Basin, where GG21 certification is doing well. Why, for example, are there no hotels entering the GG21 process in Cuba, St. Maartens, Trinidad, the Virgin Islands (British or US) or the Central American nations?
It has been suggested to me that in Central America this absence might be explained by competition from competiting eco-certification schemes, Ecotel, the Green Deal, Costa Rica's CST or STI's STEP (all of which I'll cover in future Temas blog entries).
I do not find that argument entirely persuasive. Ecotel, which was launched in the 1990s, has never gone beyond four Central American countries (Belize, Costa Rica, Guatemala, Honduras) and a couple of Mexican resorts in its LAC coverage, and some of the properties certified (such as Belize's Chaa Creek) are now seeking or considering GG21 certification. The Green Deal has, so far, been limited to Guatemala, although indications are that the Rainforest Alliance would like to see it or something like it be promoted elsewhere. STEP is too new — it may be a brake to GG21's hotel certification program in the coming years, but does not explain past GG21 acceptance or lack thereof.
Now, CST's success in Costa Rica may explain the lack of GG21 applicants there, although CST and GG21 are not mutually exclusive and some of the CST certified hotels (such as the Selva Verde Lodge) also participate in Ecotel. In theory, GG21 benchmarking and certification should be easy — perhaps the hesitation among tico properties comes from them asking what value-added they might receive from yet another certification.
As for the rest of the Carribean Basin, why are there so few of the large hotels and resorts in the Bahamas, the Dominican Republic and Mexico (particularly why so few from Cancun and the "Mexican Riviera"?)?
In the case of the DR, for instance, the hotels certified or benchmarked are mostly clustered in the Southern resort area of Bayahibe, with a sprinkle of a few on the North Coast. There are none from the DR's wildly popular Punta Cana region — not even the Punta Cana Resort, which sits on the Governing Council of CAST, Green Globe's representative in the region. Also notable by their absence are the famous Casa de Campo and the many all-inclusives in the DR's Juan Dolio, Puerto Plata, Samaná and Sosua zones, some of whom claim to be environmentally aware. Why then, do they not get that commitment documented and certified?
Even more curious is the absence of any hotel or resort from South America, particularly Brazil, which has hundreds and a hospitality sector that likes to claim environmental awareness and responsibility. Brazil is pushing its own eco-certification program for lodging (which I'll cover in a future Temas blog entry), but so far the large and medium-sized chains have not joined it, so its competition can hardly explain the lack of Brazilian participation.
Also notable by their absence are hotels from Uruguay's Punta del Este and accommodations from Argentina's coastal resorts and Patagonian "eco" destinations.
Looking at it from another angle, why are certain major chains operating in the region missing altogether from the rolls of the GG21 certified and benchmarked? For example, Marriot says on its website that "We have also developed a comprehensive company-wide policy to promote business practices that help preserve the environment." It is laudable that they instituted the Environmentally Conscious Hospitality Operations (ECHO) program, as they call it, and it might indeed yield impressive results — internally.
But how are Marriot's guests to be assured, beyond Marriot vouching for itself, that all of its properties in Argentina, Brazil, Chile, Costa Rica, the Dominican Republic, Mexico, Peru and Venezuela are compliant and operating in the most environmentally-friendly manner possible? If they have such rigid internal standards, shouldn't undergoing GG21 benchmarking/certification be a breeze? Ask them about it at this link.
Or, for that matter, why do some large chains GG21 certify just a few of their LAC properties, but not all their properties? See, for example, Sol Melia's glowing rhetoric on its corporate website about its environmental commitment and all the European hotels in its chain that it has gotten eco-certified, yet note how it is silent about why only one of its numerous LAC properties is undergoing GG21 certification. Ask Sol Melia's environmental coordinator why this is so at medio.ambiente@solmelia.com
Barceló also professes to be committed to environmental management, and indeed it has four hotels GG21-certified in Mexico. But what about its other Mexican properties, or its hotels in Costa Rica, Cuba, the DR, Ecuador, Nicaragua or Uruguay? Why not certify them as well? You can put the question to Barceló at this link.
The Spanish chains are not alone in this, however. Hilton (Hilton, DoubleTree, Embassy Suites) has GG21 certified one of its hotels in the DR, but not its many properties in Argentina, Brazil, Bahamas, Barbados, Brazil, Colombia, Costa Rica, Ecuador, El Salvador, Honduras, Jamaica, Mexico, Netherlands Antilles, Nicaragua, Peru, Puerto Rico, Trinidad, Uruguay and Venezuela.
And to be fair, it's not just the North American and European chains who make claims of environmental stewardship but refuse to have such claims made concrete through GG21 certification of their LAC properties. Some of the local chains do it too. For example, the Dominican chain Amhsa Marina says that among its cores values are (1) "to contribute to preserve and improve the environment"; (2) "to identify environmental needs associated with our properties whereabouts." Yet none of its seven DR properties is applying for eco-certification. Contact them and ask them why not.
GG21 will not speculate why particular countries or chains do not yet participatie in their certification program, so I can only guess at the reason or reasons. Off-the-record, some sector watchers have suggested to me these explanations:
The Green Globe program is still not as well-known and understood in LAC nations as it should be. The argument goes that the first few hotels in the region to be benchmarked and certified have only been involved in the process for a few years, so the program and its possible benefits may not be fully appreciated by the LAC tourism sector. However, it is doubtful that any hotel of any size in the Caribbean Basin (or, for that matter, in Argentina, Brazil, Chile or Mexico) has not heard of Green Globe, since CAST, many hotel/tourism associations and many Tourism Ministries all claim to have promoted it to the sector.

Several of the hotels belonging to international chains change their key management in the LAC nations so frequently, that as soon as proponents of eco-certification convince the local manager to advocate GG21 benchmarking with their headquarters (HQ), they are transfered out and the education process has to begin anew. That may be so, but it suggests that HQ is not really serious about its public commitments to sustainable tourism and responsible environmental management. In that case, concerned individuals and groups in the "home countries" of these chains should apply pressure to the chains — perhaps through devices such as shareholder resolutions — to translate their HQ declarations into concrete, certified reality on the ground in their LAC properties.

Some local hoteliers fret that the certification process may be too costly and time-consuming. GG21 points out that it recently streamlined its process and documentation requirements, and that its fees are set by size and not considered unreasonable by much of the tourism industry. Currently, benchmarking fees for a hotel with 10 rooms or less is US$395 or €330; for 10-69 rooms, US$6955 or €610; for 70 or more rooms, US$1,610 or €1,340.

Some hoteliers doubt that the benefits from being certified will make up for the time and money put into getting it.

Where this is the case, these attitudes may only change once they see certified competitors (within and outside their country) getting more business because of their association with Green Globe. As I noted in

Part I

, most current GG21 participants in the Caribbean feel that their Green Globe association has proven beneficial.

Some hotels may not "have their house in order" yet. There is little point of asking to undergo benchmarking until you are reasonably sure you have a shot at passing — i.e., you have undertaken the kind of steps required. Some hotels may be preparing for certification, but have not yet formally applied.
Next: I briefly look at the other types (non-hotel) of GG21 certification/benchmarking existing or in the pipeline in LAC nations.
Tags: 3 Rivers Eco-Lodge, Allamanda Beach Hotel, Almond Beach Club & Spa, Almond Beach Village, Almond Casuarina, Amaryllis Beach Resort, Amsterdam Manor Beach Resort, Antigua and Barbuda, Aruba, Bahamas, Barbados, Barceló, Barceló Ixtapa Beach, Barceló Maya Beach Resort, Barceló Premium Hautelco, Barceló Tucancun Beach, Bay Gardens Hotel, Beaches Boscobel Resort & Golf Club, Beaches Negril, Beaches Sandy Bay, Beaches Turks & Caicos Resort & Spa, Belize, Blue Horizons Garden Resort, Blue Waters Antigua, Bougainvillea Beach Resort/Sand Acres Resort, Breezes Runaway Bay, Bucuti Beach Resort, Canoa Coral, Carlisle Bay Resort Limited, Cayman Islands, Compass Point Drive Resort, Copamarina Beach Resort, Costa Linda Beach Resort, Couples Negril, Couples Ocho Rios, Couples San Souci, Couples Swept Away, Coyaba Beach Resort & Club, Curtain Bluff Resort, Dickenson Bay Cottages, Dominica, Dominican Republic, DoubleTree, Dutch Antilles, ECHO, eco-certificação, eco-certificación, eco-certification, Ecotel, El Paradisus Riviera Cancún, Embassy Suites, Flamboyant Hotel & Villas, Four Seasons Resort - Nevis, Ft. Young Hotel, GG21, Gran Dominicus, Green Globe, Green Grotto Caves, Grenada, Half Moon Resort, Hedonism II, Hedonism III, Hilton, Hotel Ceballos, Hotel PomMarine, hotels, Ilhas Caymans, inns, Jade Mountain, Jamaica, Jamaica Inn, La Cabana All Suite Beach Resort & Casino, Lion's Dive & Beach Resort, lodging, Long Bay Hotel, Long Bay Hotel Antigua, Manchebo Beach Resort, Marriott, Mayan Resorts Acapulco, Mayan Resorts Nuevo Vallarta, Mayan Resorts Riviera Maya, Mexico, Negril Gardens Resort, Netherlands Antilles, Nisbel Plantation Beach Club, Ocean Terrace Inn, Oualie Beach Resort, Puerto Rico, Rainforest Alliance, República Dominicana, resorts, Rockhouse Hotel, Round Hill Hotel & Villas, Royal Plantation Spa & Golf Resort, Runaway Bay Heart Hotel, Sandals Antigua Resort & Spa, Sandals Dunns River Golf Resort & Spa, Sandals Grande St. Lucian Spa & Beach Resort, Sandals Halcyon Beach, Sandals Inn, Sandals Montego Bay, Sandals Negril Beach Resort & Spa, Sandals Ocho Rios Resort & Golf Club, Sandals Royal Caribbean, Sandals St. Lucia Golf Resort & Spa, Sandals Whitehouse, Small Hope Bay Lodge, Sol Melia, Spice Island Beach Resort, St. Kitts and Nevis, St. Lucia, STEP, Sunscape Casa del Mar, Tamarind Tree Hotel & Restaurant, The Green Deal, The Lodge at Chaa Creek, Turks and Caicos, Velas Vallarta Suite Resort, Viva Wyndham Azteca, Viva Wyndham Dominicus Beach, Viva Wyndham Dominicus Palace, Viva Wyndham Maya, Viva Wyndham Playa Dorada, Viva Wyndham Tangerine
4 Responses to "Eco-Certification for Tourism: The Role of Green Globe, Part II"
Leave a Reply