« Strengthening Primary Health Care in Argentina / Fortalecer atención salud primaria en Argentina | Home | WHO: Time to Focus on Health Impacts of Climate Change »
By Keith R | October 21, 2007
Topics: Environmental Protection, Packaging, Waste & Recycling | No Comments »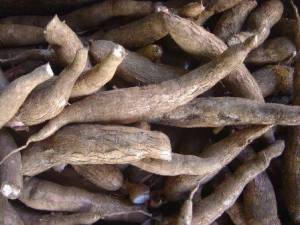 Synopsis in English: Brazil's National Economic and Social Development Bank (BNDES) has announced that it will back a local firm that produces biodegradable packaging and products made from yucca (otherwise known as manioc or cassava, depending on where you are). BNDES will provide R$2.3 million in the form of fixed-income financing (bond) in CBPAK Embalagens Eco-Sustentáveis Ltda. (CBPAK "Eco-Sustainable Packaging"), and purchased (through BNDESPAR) R$1.9 million in shares of the company, giving it about a 35% ownership stake.
CBPAK got started in 2002 in São Carlos, São Paulo with help during the initial R&D and product development phase from the Brazilian Innovation Agency (FINEP) and the state Research Foundation (FAPESP). Over the next five years they not only developed the specialized process now awaiting patent award from the National Industrial Property Institute (INPI), but also equipment for automated production. The company's initial market development focuses for its output will be the food and reforestation sectors.
BNDES and the company say that their products — such the ones to replace polystyrene trays and plates — and packaging is biodegradable and compostable, only releasing CO3 (free carbonates) when it degrades.
______________________________

Desde Banco Nacional de Desenvolvimento Econômico e Social (BNDES):
BNDES aprova R$ 4,2 milhões para inovação em embalagens eco-sustentáveis

Banco terá participação acionária com aporte de R$ 1,9 milhões

O Banco Nacional de Desenvolvimento Econômico e Social (BNDES) aprovou uma operação no valor total de R$ 4,2 milhões a CBPAK Embalagens Eco-Sustentáveis Ltda. O projeto tem o objetivo de implantar uma unidade industrial para o desenvolvimento e fabricação de produtos biodegradáveis a partir da fécula e do farelo de mandioca.

A operação, na linha de Inovação-Produção, foi dividida de duas formas: financiamento em renda fixa, no valor de R$ 2,3 milhões, e participação acionária de R$ 1,9 milhão, por meio da BNDESPAR, equivalente a 35% do capital social da CBPAK.

A CBPAK foi constituída para, em primeiro estágio, desenvolver tecnologia de produtos biodegradáveis, em especial embalagens, visando sua produção em larga escala. A matéria-prima é a fécula de mandioca, abundante no país e fonte renovável, o que possibilita ao produto final ser compostável, ou seja, no processo de degradação emite apenas CO3.

O elemento vai substituir as embalagens que utilizam fonte fóssil como matéria-prima, tais como bandejas de isopor, derivado do petróleo, que geram poluição quando descartadas. A empresa vai atuar, primordialmente, em dois setores: alimentos e reflorestamento.

O produto está alinhado às necessidades mundiais de busca a produtos ecologicamente corretos. Além disso, o modelo de negócio, com a implementação de máquinas nas instalações de grandes clientes, possibilita um crescimento acelerado com investimento reduzido.

Empresa – Criada em 2002, a CBPAK Embalagens Eco-Sustentáveis Ltda., na cidade de São Carlos (SP), firmou parcerias com a FINEP – Financiadora de Estudos e Projetos, e FAPESP – Fundação de Amparo à Pesquisa do Estado de São Paulo.

Um dos principais resultados obtidos com estas parcerias foi a utilização de bolsistas, na categoria doutores e mestres, que colaboraram com o desenvolvimento dos produtos. Estes profissionais poderão se tornar pesquisadores empregados da empresa.

Após um período de pesquisa e desenvolvimento de aproximadamente cinco anos, a CBPAK praticamente concluiu a fase de requisição das patentes no Instituto Nacional de Propriedade Industrial (INPI) e adquiriu, com recursos próprios, uma máquina de produção automatizada, que foi instalada na cidade de São Carlos, em galpão alugado.
Tags: alimentos, biodegradable packaging, biodegradável, BNDES, Brasil, Brazil, CBPAK, compostable, compostável, embalagem, envase, FAPESP, FINEP, food, INPI, isopor, mandioca, packaging, patents, polystyrene, reflorestamento, reforestation, yucca
Subscribe to My Comments Feed
Leave a Reply