« Quite a Year | Home | CVRD Chooses to Lead by Example »
By Keith R | August 30, 2007
Topics: Environmental Protection, Waste & Recycling | 2 Comments »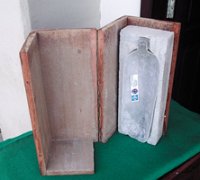 One of the most popular posts here on The Temas Blog, judging by stats, is one from many months ago entitled "Ecological Bricks." It still receives a hit (sometimes several) every day.
A rather unique version of "ecological bricks" discussed in that post involved entombing whole empty PET bottles filled with air. This brick was conceived by a physics professor and his civil engineering class at the Manaus (Amazonas) campus of the Lutheran University of Brazil (Ulbra). Professor Lima claims that the air barrier provided by the PET bottle makes an excellent heat and sound insulator, that the brick is just as tough as ordinary bricks, and within the standards called for by the Brazilian Standards Association's (ABNT) technical norms for such construction materials.

Word now comes that Professor Lima's concept has been nominated for two innovation awards in Brazil. One is FINEP's Award for Technological Innovation, now in its tenth year. FINEP is the public corporation linked to Brazil's Ministry of Science and Technology (MCT) that likes to call itself the Brazilian Innovation Agency.
The other nomination is for the Professor Samuel Benchimol award, an recognition initiated by the Ministry of Development, Industry and Trade (MDIC), the National Confederation of Industries (Confederação Nacional da Indústria – CNI) and Pro-Amazônia* for technologies that further sustainable development in Amazônia. It's named after a professor who advocated linking the Amazon to the world rather than isolating it, but doing in such a way that is "economically viable, ecologically adequate, politically balanced and socially just."
Although no commercial entity has yet made him an offer he cannot refuse for his design, Professor Lima thinks that may be only a matter of time because of the lower cost of the materials (2-3 times cheaper than ordinary brick). Meanwhile he has not sat by idly waiting. He helped the municipality of Carauari, Amazonas construct street gutters using the special bricks, trained catadores (informal recyclers) in Manaus in how to make the bricks and is advising the Commercial Association of Bahia (Associação Comercial da Bahia – ACB) in constructing "casas populares" (low-income housing) utilizing the brick.
* Pro-Amazônia members include the Industry Federations of the Amazon Region (Federações de Indústrias da Região Amazônica), the Banco da Amazônia, the Superintendency of the Manaus Free Zone (Superintendência da Zona Franca de Manaus – Suframa), the Foundation to support Research in Amazonas State (Fundação de Amparo à Pesquisa do Estado do Amazonas – Fapeam), the Federal Council of Engineering, Architecture and Agronomy (Conselho Federal de Engenharia, Arquitetura e Agronomia – Confea) and the Brazilian Service to Aid Micro and Small Enterprises (Serviço Brasileiro de Apoio à Micro e Pequena Empresa – Sebrae).
Tags: ABNT, Amazonas, Amazonia, Banco da Amazônia, Brasil, Brazil, Carauari, casas populares, catadores, CNI, Confea, ecological bricks, Fapeam, FINEP, garrafas PET, ladrillos ecológicos, Manaus, MDIC, PET bottles, Pro-Amazônia, Sebrae, Suframa, Ulbra
2 Responses to "Ecological Bricks Update"
Greenearth Says:
September 3rd, 2007 at 22:34

You have a great site.

ron Says:
September 7th, 2010 at 8:16

what are the other possible or should i say viable materials in producing such bricks? thanks for the reply..
Leave a Reply