« IDB Loan for Sustainable Tourism in Costa Rican Wilderness Areas / Prestamo de BID para turismo sostenible en áreas silvestres de Costa Rica | Home | Implications of the Stern Review for LAC, Part I »
By Keith R | December 24, 2006
Topics: Environmental Protection, Waste & Recycling | 17 Comments »
It's been interesting to see how much the articles on the Brazilian and Honduran buildings made using PET bottles have captured the imagination of so many readers. Since then I have been alerted to several other examples of recycled trash being used as building materials. Most of these concern what people call "ecological bricks" (ladrillos ecológicos) although everyone seems to differ on just what constitutes one.

"Ecological Bricks" for Low-Income Housing in Argentina
One example involves bricks developed by Argentina's Experimental Center for Economical Housing (Centro Experimental de la Vivienda Económica – CEVE). The Córdoba-based CEVE was created in 1967 as an R&D, technology transfer and training center in experimental, low-cost housing. CEVE is managed by the Association of Economical Housing (AVE) under contract with the National Council of Scientific and Technological Research (CONICET).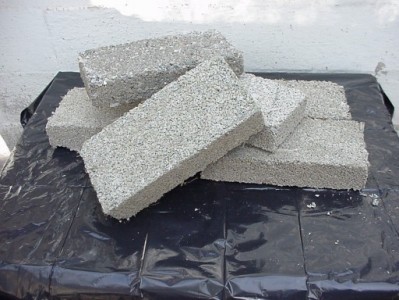 In a project funded in part by Germany's technical cooperation agency, GTZ, CEVE developed a brick made of used food (primarily candy) wrappers and plastic (primarily PET) soda and water bottles. Used beverage containers are provided by the city's selective collection plant, collection points in schools and government agencies, plus rejects from the local bottling plant. The PE film is provided by the Converflex company (Arcor) in Córdoba province, which recycles PVC film but not other plastics.
The plastics are ground up and then mixed with Portland cement and chemical additives to make the bricks and something CEVE calls "brick plates." The CEVE project hires unemployed youth (between 18-24 years old) to make the bricks. The participants can use the bricks to build their own mini-houses.
CEVE says that the resulting bricks are lighter (about 1.1 kg vs. an average 2 kg for a regular brick) and cheaper (by about half) than traditional bricks, but comparable in terms of durability, water and fire resistance, with good heat and sound insulation properties. In outdoor exposure tests undertaken by CEVE over the course of two years, the materials stood up well to both weather and ultraviolet radiation.
[And did I mention that CEVE has developed a roofing material consisting of sheets made from ground-up PET bottles mixed with crushed peanut shells and/or wood shavings?]
CEVE has already test-built houses with these materials and it has been government approved for use in public housing. [Note: the Córdoba municipality of Unquillo announced this past October that it had purchased a "chipper"/bone-grinder that it was using to break down PET bottles and wood from its town dump to make ladrillos ecológicos to be used in the construction of housing for the local poor.]
For more information (in Spanish) on the CEVE project, click this link.
Other Argentine Experiments

The Experimental Center for Production, Architecture Technology for Emergencies (CEP-ATAE) of the University of Buenos Aires' (UBA) Architecture, Design and Urbanism Faculty (FADU), working with groups of waste-pickers known in BA as cartoneros, and an informal "recycling museum" set up by a community organization in a park in the Palermo neighborhood, have made ladrillos ecológicos, tiles and concrete slabs where they have substituted ground-up PET bottles for as much as 60% of the sand used in making cement. The municipality of Villa Gesell reportedly has already used the "PET-crete" slabs for some of its sidewalks.
Meanwhile, the winners of an annual "young entrepreneurs" contest ("Emprendedores Sub 20" ("Entrepreneurs Under 20") in Córdoba province were a trio of high school ladies and their project dubbed "Le-Pas" — Le = ladrillos ecológicos, and Pas = Pascanas, the area their high school is located. The trio developed two types of bricks: one made from ground-up PET bottles mixed with cement, the other peanut shells and wood shavings mixed with cement.
The ladies have already studied the local and regional market, and believe that they can make a viable business of it with only a 84,500 peso (about US$29,229 at the current exchange rate) initial investment. They believe that they can recuperate the investment and a modest profit with a sale price of only one peso per "PET brick" (about 35 US cents at current exchange rates) and 0.9 peso for "peanut brick."
If you wish to read more, you can find the full story (in Spanish) at a pretty good blog covering environment issues in Córdoba.

A PET Bottle Brick in Brazil
A physics professor and his students in an engineering course at the Manaus (Amazonas) campus of the Lutheran University of Brazil (Ulbra) have developed a unique kind of ecological brick. Rather than grind up PET bottles, Professor Newton Lima leaves them whole. And unlike Andreas Froese's work in construction with PET bottles, these bottles are sealed with air, not sand, inside. The whole bottle is inserted into a wooden mold made by Lima and his students, then the mold is filled with quartz sand and cement. Once hardened, the "PET brick" is removed from the mold.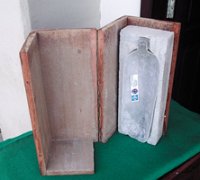 Why air instead of sand? Because the air barrier provides an effective insulator, important in areas like Amazonas with year-round hot weather.
Professor Lima says that resistance tests show that the "PET brick" is just as tough as ordinary bricks and within the standards called for by the Brazilian Standards Association's (ABNT) technical norms for such construction materials.
Several parties have indicated interest in selling the brick, but so far no deals. Professor Lima is more interested in seeing the PET brick become the basis for low-cost housing for low-income families, and is trying to get the University to organize and spearhead a project toward that end.
— Keith R
Tags: ABNT, Amazonas, Argentina, Brasil, Brazil, brick plates, candy wrappers, CEVE, CONICET, construção, construction, construction materials, Converflex, Córdoba, ecological bricks, Emprendedores Sub 20, food wrappers, garrafas plásticas, GTZ, ladrillos ecológicos, Manaus, Palermo, peanut shells, PET bottles, plastic bottles, Portland cement, public housing, quartz sand, roofing material, UBA, Ulbra, Unquillo, waste dump, water bottles, wood shavings
17 Responses to ""Ecological Bricks""
Leave a Reply