« Rioluz Saves R$4 mil./yr by Reuse/Recycling | Home | Locomotives Run on Biodiesel »
By Keith R | September 25, 2007
Topics: Corporate Social Responsibility, Electronic/Electrical Equipment, Environmental Protection, Waste & Recycling | No Comments »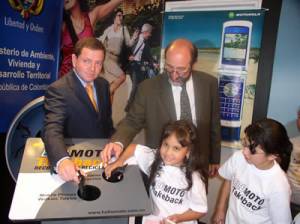 Synopsis in English: Motorola's take-back program for cell phones (and two-way communicators) and their batteries and accessories (chargers, cords, earphones, etc.), ECOMOTO, has now expanded in Latin America from Brazil to Colombia. Designated collection points established in Bogotá, Medellín, Cali, Barranquilla, Bucaramanga and Pereira will accept used cell phones, two-way radios, their batteries and accessories of any brand.
In Medellín the collection point is at the MOTOSTORE in Centro comercial El Tesoro, in Cali, Barranquilla, Bucaramanga and Pereira at the MOTOASSIST stores, and in Bogotá at both the MOTOSTORE and MOTOASSIST.
______________________________
Desde el Ministerio de Ambiente, Viviente y Desarrollo Territorial (MAVDT):
MINISTERIO DE AMBIENTE Y MOTOROLA LANZAN CAMPAÑA 'ECOMOTO'

Iniciativa nacional de responsabilidad ambiental

Motorota dispuso de 7 puntos en las principales ciudades del país para la recolección de celulares, baterías y accesorios en desuso.

El ministro de Ambiente, Vivienda y Desarrollo Territorial, Juan Lozano Ramírez, y Motorola de Colombia presentaron hoy oficialmente la Campaña Nacional de Preservación del Medio Ambiente: ECOMOTO.

Con el fin de minimizar el impacto ambiental ocasionado por los desechos tecnológicos, la Campaña Ecomoto busca que todos los colombianos residentes en Bogotá, Medellín, Cali, Barranquilla, Bucaramanga y Pereira puedan desechar sus teléfonos celulares en desuso y demás accesorios de cualquier fabricante.

"Aplaudimos estas iniciativas del sector privado, que como Motorola demuestran un ejemplo de responsabilidad social empresarial con el medioambiente", manifestó el titular de la cartera ambiental.

La alianza del Ministerio de Ambiente y Motorola busca de manera prioritaria informar y educar a la comunidad sobre la manera adecuada de disponer de estos elementos y el proceso correcto de reciclaje.

Teléfonos celulares, radios de dos vías, baterías, cargadores, cables y auriculares de todas las marcas, podrán depositarse en urnas o contenedores de ECOMOTO ubicados en las principales ciudades del país.

Motorola dispuso de 7 puntos a nivel nacional ubicados en los Centros de Servicio MOTOASSIST en Bogotá, Cali, Barranquilla, Bucaramanga y Pereira y en las tiendas MOTOSTORE en Bogotá (Centro comercial Gran Estación) y Medellín (Centro comercial El Tesoro).

Luego de que los usuarios depositan los residuos en los contenedores ECOMOTO, los desechos son inspeccionados y clasificados según corresponde, para su adecuada disposición final o reciclaje. Tal es el caso de metales útiles como cobre, oro, bronce y hierro, que en muchas oportunidades pueden ser re-utilizados en otro tipo de industrias.

Por su parte, el director de Celulares para Motorola, Juan Carlos Perdomo, destacó que la compañía promueve y realiza esfuerzos para prevenir la contaminación ambiental, en espera que estas acciones contagien al entorno industrial con programas responsables.
Tags: accessories, auriculares, Barranquilla, baterias, batteries, Bogotá, bronce, Bucaramanga, cables, Cali, cargadores, cell phones, cellular telephones, celulares, chargers, cobre, Colombia, copper, cords, desechos tecnológicos, e-lixo, e-scrap, e-waste, earphones, ECOMOTO, gold, lixo tecnologico, MAVDT, Motorola, oro, Pereira, pilas, pilhas, RAEE, reciclagem, reciclaje, recycling, residuos, residuos tecnologicos, responsabilidad ambiental, take-back, teléfonos celulares, waste, WEEE
Subscribe to My Comments Feed
Leave a Reply