« IDB Targets $3bn for Biofuels / BID apoyará proyectos de biocombustibles con US$3.000 millones / BID apóia projetos de biocombustíveis com US$3 bilhões | Home | World Health Day 2007 – WHO Stresses "International Health Security" »
By Keith R | April 3, 2007
Topics: Biofuels, Economics & the Environment, Energy & the Environment | 2 Comments »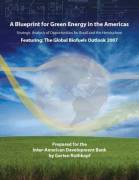 At the briefing on the Inter-American Development Bank's (IDB) biofuel investment plans for Latin America and the Caribbean (LAC), the Bank finally released the study it commissioned from consultant Garten Rothkopf on biofuels entitled "A Blueprint for Green Energy in the Americas." To download the various portions of the study, follow this link.
I confess that I have not yet read all 659 pages of the report, but I certainly plan to. I am somewhat encouraged by this paragraph in the introduction, though:
The enthusiasm surrounding the biofuels sector is infectious. However, it is a basic assumption of this report that biofuels are not a panacea, but one important choice in an increasing array of energy options. They have a significant role to play in the reduction of greenhouse gas emissions from transport and represent an opportunity for the region to build on its natural endowments by establishing world-class centers of innovation and production, developing rural economies, and attracting private sector investment. The report seeks to cut through the hype surrounding biofuels, and alternative energy writ large, and present an objective, fact-based analysis of the region's global competitive position looking forward to 2020.
I also like that the report (1) emphasizes how the Brazilian case is different, and may remain so, from other LAC nations; (2) takes care to examine how biofuels might stack up against other energy options, both in the mix for LAC nations and in terms of competition in the global marketplace. Nonetheless, until I have read it cover-to-cover, I am not ready to opine whether or not the authors actually succeeded in not succumbing to biofuel fever and hype and actually provided the levelheaded analysis they sought to deliver.
In the meantime, let's examine some of their principal recommendations. First off, they wisely choose not to suggest a "one size fits all" policy or regime for biofuels, or even a single choice of fuel to prioritize. They did, however, identify some "areas of common need" among the Bank's members, namely:
Feasibility and Impact Studies: LAC nations interested in entering the biofuels market or significantly expanding their existing production will require help in analyzing the feasibility of such plans, particularly those (such as Guatemala and Honduras) desiring studies focussed on specific issues facing their particular country. Beyond macroeconomic and market assessments, such studies may include:

Identification of optimal areas for cultivation of different feedstocks;
Environmental impact assessment of biofuels production, including water demand, deforestation, soil erosion and degradation, and carbon and other pollutant emissions from production;
Assessment of the rural development impact of biofuels production and the potential for social inclusion programs tied to the industry;
Assessment of different possible government support options — production incentives and subsidies, demand guarantees, etc.
Identification of global demand gaps to fill and best export markets;
Study of the feasibility of co-generation and co-product development;
Identification of means and technologies to improve harvesting and production processes.

Regulations: Of the 22 countries other than Brazil examined in the report, only five (all in South America) have a cohesive national biofuels plan. Four countries have pending legislation. These countries are at varying stages of development, from Colombia, which has comprehensive regulation as well as production, to Trinidad & Tobago, which dehydrates and exports ethanol but has no national framework in place. In what areas does the report think LAC nations need regulatory advice? Four:

Privatization – including the overhaul of aging and inefficient government sugar industries, including plant infrastructure;
Market Parameters – including the development of fuel definitions and specifications; the mandate of environmentally and socially sustainable methods of feedstock cultivation and biofuels production; and the creation of incentives for production, such as tax holidays;
Domestic Consumption – including mandatory blending; mandatory use of biofuels by public vehicles and taxi fleets (to ensure a minimal level of demand); public education campaigns; and tax structures which support the competitiveness of biofuels; and
Clean Development Mechanism (CDM) Project Development – including the provision of assistance to project sponsors hoping to develop CDM projects in the host country, and the establishment of regulations to account for uncertainties regarding the Kyoto framework extending beyond the Protocol's 2008-2012 commitment period or between periods.

Capacity Expansion: Financing for acquiring land and equipment likely will be needed as countries increase their biofuel production and consumption. Furthermore, for the seven countries with mandatory blending regulations in place to move beyond a certain blend level (roughly 10%), consumers will need access to flex-fuel technology.
Infrastructure Financing: Infrastructure development is a formidable obstacle to biofuel development in parts of the region. Investment will be needed in storage tanks and distribution transport, and a network of dedicated pumps at fuel stations. "A concentrated effort in strategic transport infrastructure must include pipelines, which are the most cost-efficient means of transporting fuel in large quantities. Port infrastructure, including dedicated terminals and storages facilities, will be critical as well to the region's biofuels export competitiveness."
Innovation Support: All LAC nations will need helping in promoting technological advancement and in matching labor training to support the development of competitive, efficient biofuels production region-wide. LAC nations also would benefit from collaborative efforts on R&D and technology transfer within the biofuels community locally as well as globally.
What does the report specifically suggest for the IDB's role in all this?
"Launch a Global Biofuels Market Development Fund that could help address financial barriers to biofuels production and consumption." The Fund could help produce feasibility studies; promote technological advancement; finance capacity expansion, infrastructure development, and regulatory improvement.
Launch a "Hemispheric Renewable Resource Regulatory Initiative." "Such an initiative would provide technical assistance in framework-building and benchmarking to measure regulatory progress. It might also coordinate forums in which countries could exchange regulatory experiences, highlight successes and failures, and discuss long-term regional integration prospects for the biofuels industry."
Support creation of an Ethanol Research & Development Project of the Caribbean Basin that would foster subregional cooperation in ethanol R&D. "The project could, among other activities, provide financial and technical assistance to build R&D regional programs, incorporate the private sector into funding and research activities, and support the strengthening of regional trade agreements and patent-enforcement laws to facilitate the transfer of ideas and technology across borders."
Sponsor the creation of a "Next-Generation Biodiesel Research and Development Project" linked to Colombia's strong potential in palm oil-based biodiesel.
Sponsor a Next-Generation Ethanol Research and Development Project as a hub for the development of next generation ethanol technologies and markets based on Chile's competitive position in the export of woodchips. "Already, countries such as Sweden are investing heavily in technology to lower the cost of cellulosic ethanol production from wood products. Based in Chile, this center would bring together research talent from countries throughout the region with forestry/cellulose industries interested in ethanol production from this feedstock to maximize the effectiveness and spread the benefits of this effort."
Launch a Mesoamerican Capacity Expansion Initiative to provide aid the Mesoamerican Biofuels Working Group in coordinating Central America's organizations, plans and agreements that touch on biofuel development.
Launch a Trans-Pacific Infrastructure and Market Development Project aimed at helping LAC nations serve the booming Asia-Pacific trade in biofuels.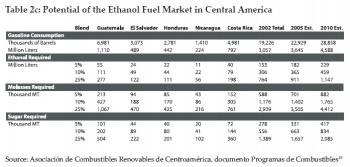 It's an interesting set of ideas and proposals. Support for infrastructure development and rational production capacity expansion seems well-suited to the IDB.
I like the idea of looking beyond the US market to Asia-Pacific, which many LAC nations (other than Brazil) currently are failing to do.
Fostering joint R&D efforts is probably a good and necessary idea, given the state of R&D in many of the LAC nations, particularly in the Caribbean and Central America and South America's smaller nations. I have reservations, though, about the idea of making palm oil the centerpiece of any regional R&D effort on biodiesel, since recent studies have called into question how "green" a biofuel palm oil really is.
IDB support for studies could be very helpful, particularly if not limited to the usual market and feasibility studies. IDB help in conducting much-needed research on environmental and rural development impacts would be welcome, since most LAC nations at the moment are neglecting to do before plunging headlong into biofuel development…
All in all, not a bad start to a what will hopefully be a full, vigorous regional debate on how best to proceed on biofuels.
–Keith R
Tags: aceite de palma, alternative energy, Americas, Asia-Pacific, avaliação do impacto ambiental, BID, biocombustibles, biocombustiveis, biodiesel, Biofuels, cellulosic ethanol, Chile, clean development mechanism, co-generation, cogeneração, cogeneración, Colombia, deforestación, deforestation, dendê, desmatamento, EIA, energía alternativa, etanol, ethanol, evaluación del impacto ambiental, flex-fuel, fuel stations, Garten Rothkopf LLC, green energy, Grupo Mesoamericano de Biocombustibles, Guatemala, Honduras, IDB, mandatory blending, mecanismo de desarrollo limpio, mecanismo de desenvolvimento limpo, Mesoamerican Biofuels Working Group, óleo de palma, palm oil, pipelines, port infrastructure, privatization, production incentives, rural development impact, soil degradation, soil erosion, storage tanks, subsidies, Sweden, tax holidays, Trinidad and Tobago, water demand, woodchips
2 Responses to "An IDB-Sponsored "Blueprint for Green Energy in the Americas""
The Big Biofuels Blog Says:
April 4th, 2007 at 11:26

Holiday time and more traveling…

Sorry that the posts have been a bit erratic of late. I had a week in the States filming for ICIS TV (check it out) from the NPRA convention in San Antonio Texas, and after three days in the office……In the meantime check out the Temas Blog for a good dissection of An IDB-Sponsored "Blueprint for Green Energy in the Americas". See you soon.

Holiday time and more traveling | The Big Biofuels BlogThe Big Biofuels Blog Says:
June 18th, 2013 at 12:18

[…] the meantime check out the Temas Blog for a good dissection of An IDB-Sponsored "Blueprint for Green Energy in the Americas". See you […]
Leave a Reply