« 43% of Brazilians Are Overweight / 43% dos brasileiros estão acima do peso | Home | Alcohol Abuse Growing Among Brazilians / Crece consumo abusivo de álcool entre os brasileiros »
By Keith R | April 7, 2009
Topics: Corporate Social Responsibility, Economics & the Environment | No Comments »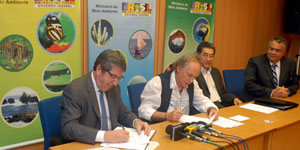 Brazilian businesses depending on bank financing for their economic activities will have to prove from now on that they are committed to developing socio-environmental policies, such as those regarding respect for human and workers' rights, conservation of biodiversity, valuing the diversity of local cultures, reduction of poverty and income distribution inequality. This is the intended result of the memorandum of understanding (MOU) signed today between Environment Minister Carlos Minc and the President of the Brazilian Federation of Banks (Febraban), Fábio Colletti Barbosa.
Despite the name, the document Febraban signed is nearly identical to the Green Protocol (Protocolo Verde) signed last year by five banks either owned by the national government or in which the government owns a major interest (BNDES, BB, Caixa, BASA, BNB).  According to Febraban, seven of the largest private banks operating in Brazil will sign on to the accord:

Minc calls the accord "historic."  Someone who had been fighting for the environment in Brazil for around 20 years as he had, he said, once could never imagine signing a protocol with banks to protect the environment, who have the image of being only concerned with profits.  For his part, Barbosa said that society is clamoring for the values enshrined in the agreement, and underlined the importance of bank participation in conserving natural resources and helping their clients transform their activities into sustainable initiatives.
Commitments to Keep
What does the accord commit the banks to?
Give priority in their portfolio of banking products and services to financing activities and projects with socio-environmental additionalities;
Offer differentiated financing conditions (rates, maturity, grace period, eligibility criteria, etc.) for projects with socio-environmental additionalities;
Orient the recipients of credit on how to adopt sustainable consumption and production practices.
condition the financing of potentially or actually polluting enterprises and activities that utilize natural resources in their production processes, on obtaining the appropriate environmental license;
incorporate socio-environmental criteria in the process of analyzing and conceding credit for investment projects, considering the magnitude of their impacts and risks and the necessity of mitigating and compensating measures;
conduct a socio-environmental analysis of clients whose activities require an environmental license and/or represent significant adverse social impacts;
consider in the credit analysis the recommendations and restrictions of environmental zoning;
develop and apply, jointly, socio-environmental management standards for productive sectors to aid the evaluation of projects with medium or high negative impacts;
define and contemplate socio-environmental criteria in its own contracting of goods and services;
rationalize operational procedures with a view to promoting the maximum efficiency in their use of natural resources and materials derived therefrom;
promote incentives to waste reduction, reuse, recycling and proper disposal in their own operations, with a view to minimizing the potential negative environmental impacts;
train personnel to develop the necessary competence to implement the Protocol;
develop mechanisms for consultation and dialogue with stakeholders;
commit to publish annually the results of implementing the Protocol's principles and directives;
implement governance mechanisms involving the Protocol signatories in order to exchange experiences, track its effectiveness and propose improvements in the implementation process and the evolution of the Protocol itself;
develop a model of a standardized approach to improving socio-environmental reporting by clients;
realize every two years a revision of the principles and directives of the Protocol in order to perfect it.
As I said in a post last year, not a bad set of commitments, but the key to their worth will be how the banks implement them and the transparency and accountability with which they do so.
_____________________
Desde o Ministerio do Meio Ambiente (MMA):
Bancos privados assumem compromisso com a sustentabilidade ambiental

Empresas e empreendimentos brasileiros que dependem de financiamento bancário para suas atividades econômicas, terão, a partir de agora, que comprovar que estão empenhadas em desenvolver políticas socioambientais. Isto significa respeito aos direitos humanos e trabalhistas, preservação da biodiversidade, valorização da diversidade das culturas locais, redução da pobreza e da desigualdade na distribuição de renda. A exigência está contida no Protocolo de Intenções assinado nesta terça-feira (7) entre o ministro do Meio Ambiente, Carlos Minc, e o presidente da Federação Brasileira dos Bancos (Febraban), Fábio Colletti Barbosa. Presente à cerimônia de assinatura, o representante do banco Itaú/Unibanco, Ricardo Terenci.

O documento, chamado de Protocolo de Intenções Socioambientais, é composto por mais 10 princípios e diretrizes dos já contidos no Protocolo Verde. A adesão dos bancos privados ao pacto socioambiental amplia para sete o número de pactos multissetoriais assinados no último ano entre o MMA e setores produtivos com a intenção de promover a proteção ao meio ambiente. Entre eles, o pacto com os bancos públicos que suspenderam a liberação de crédito para empreendimentos insustentáveis.

O ministro do Meio Ambiente, Carlos Minc, considerou o fato de os bancos incorporarem, formalmente, o critério socioambiental em seus empréstimos como um sinal dos tempos histórico. Ele explicou que há cerca de 20 anos quem lutava pelo meio ambiente, como ele, jamais poderia imaginar estar assinando um protocolo para defesa do meio ambiente com bancos, que tinham imagem de só pensarem no lucro. "É um sinal dos tempos que precisa ser comemorado", disse. De acordo com Minc é uma luta que ganhou a adesão de um dos setores mais poderosos de nossa economia.

O presidente da Febraban afirmou estar convicto de que meio ambiente e desenvolvimento não são excludentes. Segundo ele, a sociedade vem clamando por atitudes como a estabelecida no protocolo. Fábio Barbosa disse estar ciente da importância da participação dos bancos na conservação das recursos naturais, em função da grande rede de relacionamento que estas instituições mantêm com toda a sociedade. "Com este pacto, todos saem ganhando. Em nossas análises de crédito damos grande importância aos empreendimentos que poluem menos e emitem menos gás carbônico", disse. Barbosa explicou que os bancos não irão simplesmente descartar os clientes, mas ajudá-los a readaptar seus negócios transformando-se em iniciativas sustentáveis. Ele lembrou que outros bancos privados já vêm apoiando projetos socioambientais há algum tempo.

Entre as cláusulas do protocolo de responsabilidade socioambiental, o gerente do Departamento de Economia do MMA, Shigeo Shiki, destacou o oferecimento de linhas de financiamento e programas que fomentem o uso sustentável do meio ambiente; a consideração dos impactos e custos socioambientais na gestão de seus ativos e nas análises de risco de projetos e a questão da transparência, criando indicadores para a disponibilização de informações sobre o processo.

O primeiro acordo assinado entre o governo federal e a cadeia produtiva para proteção e conservação dos recursos naturais foi com o setor da soja para a não comercialização da mercadoria oriunda de áreas desflorestadas dentro do bioma amazônico. O segundo, pela madeira sustentável. Os empresários também se comprometeram a comercializar apenas produtos que, em seus processos de fabricação, garantam o cumprimento de direitos sociais e preservação dos recursos naturais. Outros pactos foram firmados com os setores da mineração e exportadores de carne.
Tags: additionalities, Banco do Brasil, bancos, banks, BASA, biodiversidade, Biodiversity, BNB, BNDES, Bradesco, Brasil, Brazil, Cacique, Caixa Econômica Federal, Carlos Minc, Citibank, Corporate Social Responsibility, cultural diversity, direitos humanos, environment, environmental licensing, environmental zoning, Febraban, Green Protocol, Grupo Santander, HSBC, human rights, licenciamento ambiental, meio ambiente, MMA, MOU, poverty reduction, Protocolo Verde, reciclagem, recycling, redução da pobreza, responsabilidade socioambiental, sustainable consumption, sustainable production, waste reduction, workers' rights
Subscribe to My Comments Feed
Leave a Reply