« Mario Vargas Llosa, Recycling Ambassador | Home | DR Authority Criticizes Deceptive Advertising by Stores »
By Keith R | March 19, 2009
Topics: Economics & the Environment, Waste & Recycling | No Comments »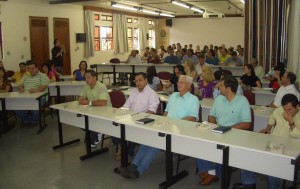 I wish all states did this.
The Environment Secretariat (SEMA) of the southern Brazilian state of Paraná met on Tuesday and Wednesday (17-18 March) with the environment authorities of 70 municipalities in the North and North Pioneer regions of the state, and today and tomorrow will meet with municipal officials from the rest of the state.  The topic of these meetings?  "Generating employment and income through waste management," with an emphasis on selective collection and landfill consortia.
Laerty Dudas, SEMA's Solid Waste Coordinator, explains that the object is to brief all the municipalities about the many options available to them to deal with their different solid waste streams (and how SEMA can help), especially with an eye to helping the many new municipal administrations (Brazil just held municipal elections last October).  The meetings with municipal officials are being held on a regional basis so as to maximize information exchange among neighboring municipalities and opportunities to explore possible joint actions.
It's also interesting to see SEMA pitch proper waste management to municipal officials as an economic and employment-generating opportunity, rather than a cost and drain on the local budget (as many municipalities tend to view it).
So many state/provincial and even national governments in Latin America and the Caribbean (LAC) do not fully involve and assist municipalities in solid waste planning and management, and new municipal authorities all too often are left to fend for themselves and learn as they go.  That's not Paraná's style, however.  They include a strong education element in all their environmental policy and management initiatives, and often seek to fully involve municipalities in their environmental programs.  Parabens, Paraná.  Other state/provincial governments, take notes!
___________________
Desde a Secretaria do Meio Ambiente e Recursos Hídricos (SEMA):
Governo discute geração de renda por meio dos resíduos

A Secretaria do Meio Ambiente e Recursos Hídricos, por meio da Coordenadoria de Resíduos Sólidos, reuniu-se nesta terça (17) e quarta-feira (18) com secretários e responsáveis pelo meio ambiente de 70 municípios das regiões Norte e do Norte Pioneiro do Paraná para discutir a geração de emprego e renda por meio de resíduos sólidos, destacando a importância da coleta seletiva e aterros consorciados.

O coordenador de Resíduos Sólidos da Secretaria, Laerty Dudas, desenvolveu o tema "Como fazer e Como Criar Emprego e Renda a partir dos Resíduos Gerados" visando o envolvimento e o comprometimento dos técnicos e responsáveis pelo meio ambiente dos municípios com os problemas e as soluções das questões ambientais", destacou.

Reuniões semelhantes serão realizadas em todas as regiões do Paraná. As próximas acontecem nesta quinta-feira (19) em Paranavaí e sexta-feira (20) em Colorado.

"Nosso objetivo é o de orientar e apontar, aos novos dirigentes, as alternativas para solucionar a destinação adequada para os diferentes tipos de resíduos", explicou.

Dudas ainda expôs que existem diversas dúvidas que surgem a cada troca de administração. "Estamos regionalizando as reuniões para facilitar a presença de representantes de todos os municípios do Estado maximizando assim a troca de informações", concluiu.

O vice-prefeito de Nova Santa Bárbara, Josias Pizza de Moraes, que participou da reunião em Londrina, avaliou como muito importante o conteúdo da palestra e o treinamento,

"São informações úteis que necessitamos diariamente quando estamos frente à administração municipal. É conhecendo o problema que nos capacitamos para enfrentá-lo", disse.

A bióloga Liane da Silva, de Bandeirantes, informou que seu município e cidades vizinhas estão lutando para resolver os problemas com a capacidade dos locais adequados para a destinação do lixo.

"Estamos aqui para aprender e colocar em prática as experiências que diminuam o volume de resíduos e consequentemente aumente a capacidade dos aterros", saleintou Liane.

Participaram das reuniões representantes de 70 municípios das regiões Norte Pioneiro e Norte: Abatiá, Andirá, Arapoti, Barra do Jacaré, Cambará, Carlópolis, Conselheiro Mairinck, Curiuva, Figueira, Guapirama, Ibaiti, Jaboti, Jacarezinho, Jaguariaiva, Japira, Joaquim Távora, Jundiai do Sul, Pinhalão, Quatiguá, Ribeirão Claro, Ribeirão do Pinhal, Salto do Itararé, Santana do Itararé, Santo Antonio da Platina, São José da Boa Vista, Sengés, Siqueira Campos, Tomazina, Wenceslau Bráz, Assaí, Alvorada do Sul, Arapongas, Bandeirantes, Bela Vista do Paraíso, Cafeara, Califórnia, Cambé, Congoninhas, Centenário do Sul, Cornélio Procópio, Florestópolis, Guaraci, Ibiporã, Itambaracá, Jataizinho, Leópolis, Londrina, Lupionópolis, Miraselva, Nova América da Colina, Nossa Senhora das Graças, Nova Fátima, Nova Santa Bárbara, Porecatu, Prado Ferreira, Primeiro de Maio, Rancho Alegre, Rolândia, Santa Amélia, Santa Cecília do Pavão, Santa Ines, Santa Mariana, Santo Antonio do Paraíso, Santo Inácio, São Jerônimo da Serra, São Sebastião da Amoreira, Sapopema, Sertaneja, Tamarana e Uraí.
Tags: Abatiá, Alvorada do Sul, Andirá, Arapongas, Arapoti, Assaí, aterros consorciados, Bandeirantes, Barra do Jacaré, Bela Vista do Paraíso, Brasil, Brazil, Cafeara, California, Cambará, Cambé, Carlópolis, Centenário do Sul, coleta seletiva, Congoninhas, Conselheiro Mairinck, Cornélio Procópio, Curiuva, employment, emprego, Figueira, Florestópolis, Guapirama, Guaraci, Ibaiti, Ibiporã, Itambaracá, Jaboti, Jacarezinho, Jaguariaiva, Japira, Jataizinho, Joaquim Távora, Jundiai do Sul, landfill consortia, Leópolis, Londrina, Lupionópolis, Miraselva, Norte Pioneiro, Nossa Senhora das Graças, Nova América da Colina, Nova Fátima, Nova Santa Bárbara, Paraná, Pinhalão, Porecatu, Prado Ferreira, Primeiro de Maio, Quatiguá, Rancho Alegre, residuos, Ribeirão Claro, Ribeirão do Pinhal, Rolândia, Salto do Itararé, Santa Amélia, Santa Cecília do Pavão, Santa Ines, Santa Mariana, Santana do Itararé, Santo Antonio da Platina, Santo Antonio do Paraíso, Santo Inácio, São Jerônimo da Serra, São José da Boa Vista, São Sebastião da Amoreira, Sapopema, selective collection, SEMA, Sengés, Sertaneja, Siqueira Campos, Tamarana, Tomazina, Uraí, Wenceslau Bráz
Subscribe to My Comments Feed
Leave a Reply