« Film Contest on the Social Dimensions of Climate Change | Home | Minas Gets Tough on Environmental Enforcement »
By Keith R | August 28, 2008
Topics: Climate Change, Corporate Social Responsibility, Environmental Protection, Health Issues, Waste & Recycling, Water Issues | 1 Comment »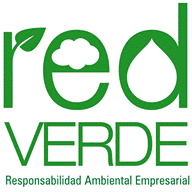 El Salvador's President Elías Antonio Saca and Environment Minister Carlos Guerrero launched this week the "Green Network." The Network seeks to get the private sector involved in environmental projects aimed at helping the nation's neediest schools — in the process helping the quality of life for kids, helping the environment and contributing to mitigate the effects of global climate change.
The projects proposed by the Network address five areas: safe water; energy savings; school recycling; reforestation; and firewood saving.
The water project will involve providing schools identified as lacking access to clean water with a rainwater catchment system plus purifying filters. The energy savings project seeks to change all lamps in the schools with energy-saving lamps (presumably compact fluorescents).
The School Recycling project is particularly interesting to me. The Environment Ministry (MARN) had already launched a program involving 113 education centers teaching the children about waste and recycling and getting them involved in recycling activities. The Red Verde project will involve businesses taking over patronage for the project at one or more schools, promoting interactive classes about recycling, providing the sorting and collection bins, arranging for the collection of separated wastes, and working with the school's Environment Committee (composed of students, teachers and parents) on pro-recycling projects and programs.
The reforestation project will involve companies organizing tree planting events for about 250 trees in areas identified by MARN, either in protected areas or areas suffering deforestation.
The object of the firewood project is to cut the use of firewood by school kitchens. Studies have shown that the old fashioned cook stoves used in many homes and schools cause respiratory problems, not to mention contribute to deforestation, land degradation and CO2 emissions.
The only requirement for joining the Red Verde (besides willingness to help the schools in one of the five areas) is to institute a recycling program internally in your enterprise and sign a covenant with MARN.
For further information about the Red Verde, call 22 67 62 22 or visit their new website.
________________________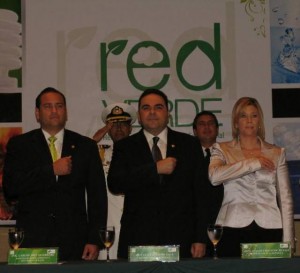 Desde el Ministerio de Medio Ambiente y Recursos Naturales (MARN):
PRESIDENTE SACA LANZA CAMPAÑA DE RESPONSABILIDAD AMBIENTAL EMPRESARIAL RED VERDE

El Presidente de la República, Elías Antonio Saca y el Ministro de Medio Ambiente y Recursos Naturales, Carlos Guerrero, lanzaron este día, el programa de Responsabilidad Ambiental Empresarial, "RED VERDE".

RED VERDE es un programa dirigido al sector empresarial y tiene como objetivo orientar y facilitar a la empresa privada proyectos ambientales enfocados a las escuelas más necesitadas del país, con el propósito de mejorar la calidad de vida de los niños, beneficiar la preservación del medio ambiente y contribuir a mitigar los efectos del cambio climático.

Esta iniciativa impulsada por el Gobierno de El Salvador, a través del MARN, propone cinco proyectos para que los empresarios escojan y los desarrollen en las escuelas que el Ministerio de Educación ha identificado como vulnerables.

Los proyectos propuestos por RED VERDE son: Agua Segura, Ahorro Energético, Reciclaje Escolar, Reforestación, y Ahorro de Leña.

El proyecto de "Agua Segura", consiste en instalar un sistema de captación de agua lluvia en las escuelas identificadas con carencias de agua, a través de canaletas especiales colocadas en los techos para que lleven el líquido a tanques de captación y esta sea procesada a través de filtros purificadores.

Este programa contribuiría a reducir las enfermedades gastrointestinales debido al deficiente acceso al agua. Así como permitirá el ahorro de tiempo y dinero a los estudiantes y sus familias.

El proyecto de "Ahorro Energético" consiste en que la empresa sustituya los focos y lámparas tradicionales en las escuelas y coloque focos o lámparas ahorradores de energía. Esta alternativa reducirá los gastos en electricidad en cada escuela y disminuirá la demanda energética.

El tercer proyecto es el Reciclaje Escolar, con lo que se pretende que las empresas puedan dar continuidad a uno de los programas que ya desarrolla el MARN en 113 centros educativos. La empresa que apadrine una o más escuelas, promoverá la cultura del Reciclaje a través de 25 clases interactivas por escuela, a niños de 1.° a 6.° Grado. La implementación del reciclaje a través de la entrega de depósitos para que los alumnos puedan separar los desechos sólidos, el traslado de los mismos y además de la conformación de un Comité Ambiental donde estén involucrados los alumnos, maestros y padres de familia.

La reforestación es el cuarto proyecto de RED VERDE, donde la empresa privada podrá desarrollar proyectos de reforestación en áreas previamente identificadas por el MARN. Con este proyecto se pretende que casa empresa participante, siembre por los menos 250 árboles en las Áreas Naturales Protegidas y en zonas de amortiguamiento.

Y el quinto proyecto es el Ahorro de Leña, con lo que se pretende que se implementen cocinas ahorradoras de leña en las Escuelas Saludables donde se ofrece refrigerio escolar. Este componente contribuirá a disminuir la mortalidad y morbilidad debido a enfermedades respiratorias por cocinar con leña. Además de ahorro de tiempo y ahorro monetario a las familias. Así como ayudará a evitar la deforestación, la producción de oxígeno, la captura CO2 , a mejorar la infiltración y disminuir la erosión.

¿Cómo pueden participar la empresas?

Las empresas interesadas en participar tendrán como único requisito implementar el Reciclaje en su empresa, lo cual no requiere de una inversión, sino un cambio de cultura en el manejo de los desechos y la firma de un convenio con el MARN. Para mayor información podrán comunicarse al teléfono 22 67 62 22

RED verde es el primer programa gubernamental de este tipo que busca el apoyo de todo el sector privado para impulsar planes de beneficio para los sectores más vulnerables del país.

Al lanzamiento de este importante programa asistió además, la Ministra de Educación, Darly Meza, el presidente de la Asociación Nacional de la Empresa Privada (ANEP), Federico Colorado, Cuerpo Diplomático y el sector empresarial del país.
Tags: ahorro de energía, alumnos, ANEP, áreas protegidas, compact fluorescents, cook stoves, Corporate Social Responsibility, deforestation, desechos sólidos, El Salvador, energy saving, enfermedades respiratorias, environment, escuelas, firewood, lámparas fluorescentes compactas, leña, maestros, MARN, medio ambiente, protected areas, rainwater harvesting, reciclaje, recycling, Red Verde, reforestación, reforestation, residuos, responsabilidad ambiental, responsabilidade socioambiental, safe water, schools, students, teachers, waste, water filters
One Response to "El Salvador Launches Green Network on Corporate Environmental Responsibility"
WASH news Says:
August 28th, 2008 at 16:14

[…] more: Keith R., The Temas Blog, 28 Aug 2008 : MARN – Ministerio de Medio Ambiente y Recursos Naturales [in Spanish], 25 Aug […]
Leave a Reply