« Biodegradable Containers Made from Sugarcane Waste | Home | Paraná Increases Pesticide Packaging Recovery »
By Keith R | August 4, 2008
Topics: Environmental Protection | 1 Comment »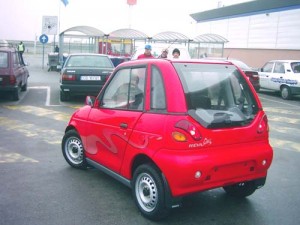 Synopsis in English: The American Multi-services Company (Compañía Americana de Multiservicios – CAM) — 100% owned by Enersis S.A., which in turn is a subsidiary of the Spanish energy multinational Endesa — has announced that as soon as the Chilean Transport Ministry (MTT) gives the formal go-ahead (expected by year-end), it will import 100% electric cars to Chile. CAM only expects to sell 60 of the cars in the first year of sales, but hopes that piqued interest in the unusual car will make sales take off in subsequent years.
The car itself is emission-free and "silent." However, as Chilean environmentalists are quick to point out, since roughly half of Chilean electricity is produced using hydrocarbons, charging and using the vehicle in Chile may not be truly "carbon neutral."
The electric cars are manufactured by the Indian firm REVA, whose electric cars are already breaking into markets in Ireland, Italy, Japan, Malta, Norway, Spain, Sri Lanka and the UK — about 2,000 of the cars are already on the street of London).
REVA's two-door "City Car" is 2.6 meters (m) long, 1.3 m. wide and 1.5 m. tall, and can seat up to four people (if two adults and two children). It will go 80 kilometers (km) on a full charge, which it gets after eight hours connected to any electrical outlet. However, the car gets a 80% charge after only 2.5 hours of being plugged in, which will enable it to go about 60 km. Its maximum speed is 70 km/hr, and it can accelerate from 0 to 40 km in seven seconds.
The cars will retail for about 6,700,000 Chilean pesos (about US$13,400 at current exchange rates).

Loading ...
________________________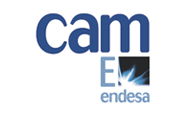 Desde Compañía Americana de Multiservicios (CAM):
Cam introduce vehículos 100 % eléctricos

Fiel a su vocación innovadora y de estar permanentemente desarrollando nuevos negocios, Cam presenta esta revolucionaria iniciativa.

Dentro de su permanente compromiso por brindarle a Latinoamérica soluciones integrales e innovadoras, Cam lanza al mercado REVA, el primer vehículo 100% eléctrico que no genera emisiones de gases tóxicos a la atmósfera.

Se trata de una alternativa viable, segura, sencilla de operar y eficiente en términos energéticos, que incorpora desarrollos tecnológicos de última generación y que han sido probadas con éxito en las más importantes capitales del mundo.

Tecnología limpia y estilo urbano

Al ser libre de emisiones, los vehículos eléctricos son una alternativa 100% amigable con el medio ambiente, en comparación con aquellos que usan combustibles fósiles y otros que generan bajos niveles de emisión (híbridos, biodiesel, metanol).

Además los vehículos 100% eléctricos son más eficientes en el consumo de energía y por consiguiente, más económicos, aspecto fundamental considerando las constantes alzas en los combustibles a nivel mundial

¿Por qué REVA?

Hoy REVA es la mejor alternativa, a nivel mundial, en el mercado de los vehículos eléctricos. Desde hace cuatro años se comercializa con éxito en países como Reino Unido, Italia, Japón, España, Irlanda, Malta, Chipre, Noruega, Sri Lanka, e India, con más de 2.500 unidades vendidas y más de 32 millones de kilómetros recorridos.

Su impacto ha sido fuerte en Europa, particularmente, en Londres, donde los vehículos REVA tienen una gran presencia y se le ha dado un fuerte impulso gubernamental por sus claros beneficios en contaminación acústica y atmosférica, lo cual les ha permitido ganar en dos ocasiones el título de "City Car del año" (2006 y 2007).

Para la elección de REVA, Cam realizó un riguroso estudio de mercado para determinar qué vehículo constituía la mejor solución para las necesidades del país en el ámbito técnico y comercial.

Actualmente este vehículo eléctrico está en proceso de homologación para que pueda transitar por las calles de Chile, proceso que estará listo en los próximos meses. El precio comercial de REVA será desde los $6.700.000 pesos en su versión básica.

CARACTERÍSTICAS TÉCNICAS

– Vehículo para ciudad de dos puertas, con capacidad para dos personas, sentadas cómodamente, y dos niños pequeños, o 227 kilos.

– Tiene una autonomía de 80 kilómetros, con la carga completa.

– Velocidad máxima de 80 km/hr y aceleración de 0 a 40 km/hr en apenas 7 segundos.

– Estructura espacialmente reforzada con barras de acero.

– Fácil de cargar, en el hogar o en la oficina, mediante cargador de 220V: 80% de la carga en 2,5 horas y 100% de la carga en 8 horas.

– Motor eléctrico que no requiere mantenimientos especiales y alimentado por baterías de 48 Voltios y 200 Amp-hr.

– Cuenta con opcionales como asientos de cuero, sistema de cierre central, asientos climatizados, radio con MP3.

– Mide 2,6 metros, su ancho es de 1,3 metro y su altura es de 1,5 metro, mientras que su peso es de sólo 700 kilos.
Tags: CAM, Chile, Chipre, electric cars, Endesa, Enersis, environment, España, India, Ireland, Irlanda, Italia, Italy, Japan, Japón, Malta, medio ambiente, Noruega, Norway, Reino Unido, Reva, Spain, Sri Lanka, UK, vehículos eléctricos
One Response to "Electric Cars for Chile"
pep Says:
June 17th, 2009 at 11:21

La introducción de vehículos eléctricos debe ir de la mano de las motos eléctricas por ser las más eficientes y de menos consumo.
Leave a Reply