« Improving the Urban Environment in Goiânia | Home | Cervical Cancer Control in LAC / Control del cáncer de cuello uterino en ALC »
By Keith R | June 4, 2008
Topics: Economics & the Environment, Energy & the Environment, Energy Efficiency, Environmental Protection, Waste & Recycling | No Comments »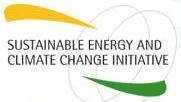 The Inter-American Development Bank's (IDB) Sustainable Energy and Climate Change Initiative (SECCI), together with the governments of Germany and Switzerland, is sponsoring a conference on "Energy Efficiency and Competitiveness in Latin America" 15-16 September in São Paulo, Brazil. The conference will be held at the Club Transatlântico. The conference is being administered by Ekos Brasil Institute.
According to the Bank:
Energy efficiency is increasingly regarded by countries and companies as a strategy to maintain and increase economic competitiveness. To successfully implement energy efficiency programs for economic growth and prosperity the adoption of innovative technologies and policies is key….The conference will bring together the private- and public sector, regulators, policymakers and key stakeholders from Europe and Latin America in order to facilitate transfer of best practices and lessons learned, and stimulate investments in energy efficiency. This conference will focus on all Latin American countries because of the important role of energy efficiency in increasing economic competitiveness and contributing to climate change adaptation for the entire region.
____________________
La Iniciativa de Energía Sostenible y Cambio Climático (SECCI) del Banco Interamericano de Desarrollo (BID), junto a los Gobiernos de Alemania y Suiza, van a realizar una conferencia sobre "Eficiencia Energética y Competitividad en América Latina" durante los días 15 y 16 Septiembre en São Paulo, Brasil. La conferencia estará en el Club Transatlântico y administrada por el Instituto Ekos Brasil.
Según el Banco:
La eficiencia energética esta cada vez más considerada por los países y compañías como una estrategia para mantener e incrementar la competitividad económica. Para poder implementar exitosamente programas de eficiencia energética para el crecimiento económico y la prosperidad, la adopción de tecnologías y políticas innovadoras es clave….La conferencia contará con la participación de los sectores público y privado, los encargados de la formulación de políticas y otros actores principales de Europa y Latino América, para facilitar la transferencia de mejores prácticas y lecciones aprendidas, y estimular de esta manera las inversiones en eficiencia energética. La conferencia se enfocará en todos los países de Latino América debido a la importancia de la eficiencia energética en mejorar la competitividad económica y contribuir en la adaptación al cambio climático en toda la región.
____________________
O Fundo de Energia Sustentável e Mudança Climática (SECCI, na sigla em inglês) do Banco Interamericano de Desenvolvimento (BID), juntamente com os governos da Alemanha e da Suíça, está patrocinando uma conferência sobre "Eficiência Energética e Competitividade na América Latina" nos días 15 e 16 de setembro de 2008 em São Paulo, Brasil. A conferência estarão no Clube Transatlântico e administrada pelo Instituto Ekos Brasil.
Segundo o Banco:
A eficiência energética é cada vez mais consideradas pelos países e empresas como uma estratégia para manter e aumentar a competitividade económica. Para executar com êxito programas de eficiência energética para o crescimento económico e prosperidade a adopção de tecnologias inovadoras e de políticas é fundamental …. A conferência reunirá os sectores público e privado-, reguladores, responsáveis políticos e os principais agentes da Europa e da América Latina, a fim de facilitar a transferência das melhores práticas e lições aprendidas, e estimular os investimentos em eficiência energética. Esta conferência irá centrar-se em todos os países latino-americanos, devido à importância do papel da eficiência energética no aumento da competitividade económica e de contribuir para a adaptação às alterações climáticas para toda a região.
Tags: Alemania, América Latina, BID, cambio climático, Climate Change, competitiveness, competitividad, eficiencia energética, Ekos Brasil, Energy Efficiency, Germany, IBD, Latin America, mudanças climáticas, São Paulo, SECCI, Suiza, Switzerland
Subscribe to My Comments Feed
Leave a Reply