« Fiocruz Gets Green Light to Produce AIDS Medicine Under Compulsory License | Home | Cuba to Help Argentina Produce Cancer, Antiretroviral Drugs »
By Keith R | January 28, 2009
Topics: Energy & the Environment, Renewable Sources | No Comments »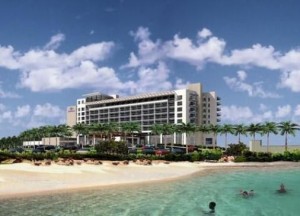 From the Inter-American Development Bank (IDB):
IDB supports sustainable energy in the Caribbean

Grants finance efforts to generate energy from waste, wind and sun; improve efficiency, and lower hotel energy costs

Barbados, Bahamas and eventually other Caribbean countries will explore cutting-edge alternatives to lower their dependency on fossil fuels and improve their energy security with four grants approved by the Inter-American Development Bank.

For the Bahamas, the IDB approved two technical cooperation grants totaling US$1.45 million to strengthen the capacity of the Ministry of the Environment, which oversees the energy sector. The funds will also enable the Bahamas Electricity Company to explore energy efficiency and renewable energy alternatives, including solar power, waste to energy and Ocean Thermal Energy Conversion (OTEC), a new technique that enables tropical islands to produce both power and desalinated water.

The grants will also support ongoing efforts to reform the country's regulatory, financial and fiscal frameworks in order to achieve a sustainable energy matrix, and to encourage energy efficiency in public, commercial and residential buildings.

In Barbados, a $1 million IDB grant will underwrite the development of a Sustainable Energy Framework that will contribute to achieve affordable and sustainable energy and minimize dependency on fossil fuels. It will enable the government to test energy efficiency and renewable energy solutions, study bioenergy and solar alternatives and develop regulatory and financial incentives to promote sustainable energy.

"These are the first steps towards reducing the foreign oil dependency, increasing energy security and promoting sustainable energy in the energy matrix that the IDB has supported in each of these countries," said Christiaan Gischler, the IDB project team leader.

Finally, a $1 million IDB grant will launch the Caribbean Hotel Energy Efficiency Action Program (CHENACT). This program will finance the adoption of energy saving technologies in the region's small, medium and large hotels, thereby helping them to reduce one of their largest operating costs. Studies have estimated that hotels in the Caribbean could lower their energy bills by up to 20 percent by investing in efficient lighting, air conditioning and related technologies.

"This project will provide essential inputs for understanding the potential for reducing energy consumption and for assessing carbon emission reductions as a prelude to obtaining carbon credits," said Gischler. "Since 90 percent of the energy matrix in the Caribbean is fossil fuel based, any energy saving translates directly into carbon emission reductions."

This program will also partner with the United Nations Environmental Programme to help hotels phase out the use of ozone-depleting substances in chillers, air conditioners and refrigerators. The program will begin in Barbados, with the goal of replicating its methodology in other Caribbean countries.
_____________________
Desde el Banco Interamericano de Desarrollo (BID):
BID apoya energía sostenible en el Caribe

Donaciones financian esfuerzos para generar energía a partir de los desechos, del viento y del sol; así como para mejorar la eficiencia y disminuir los costos de energía de los hoteles

Barbados, Bahamas y eventualmente otros países caribeños explorarán alternativas de última generación para disminuir su dependencia de los combustibles fósiles y mejorar su seguridad energética a través de cuatro donaciones aprobadas por el Banco Interamericano de Desarrollo (BID).

Para las Bahamas, el BID aprobó dos donaciones de cooperación técnica por un total de US$1,45 millones destinadas a fortalecer la capacidad del ministerio del Medio Ambiente, que se encarga de supervisar al sector energía. Los fondos también permitirán a la Compañía de Electricidad de Bahamas explorar alternativas de eficiencia energética y energía renovable, incluyendo electricidad solar, la conversión de los desechos en energía y la conversión de energía termal oceánica (Ocean Thermal Energy Conversion, OTEC, según sus siglas en inglés), una nueva técnica que le permite a las islas tropicales la producción de electricidad y agua desalinizada.

Las donaciones también respaldarán los esfuerzos que se llevan a cabo para reformar el marco regulatorio financiero y fiscal del país, para obtener una matriz de energía sostenible, y para alentar la eficiencia energética en edificios públicos, comerciales y residenciales.

En Barbados, otra donación del BID por la suma de US$1 millón financiará el desarrollo de un Marco de Energía Sostenible que contribuirá a obtener energía asequible y sostenible, minimizando la dependencia de combustibles fósiles. También le permitirá al gobierno poner a prueba distintas soluciones de eficiencia energética y energía renovable, estudiar la bio-energía y las alternativas solares, así como desarrollar incentivos regulatorios y financieros para promover la energía sostenible.

"Estos son los primeros pasos para lograr la reducción de la dependencia en el petróleo foráneo, incrementando la seguridad energética y promoviendo la energía sostenible, de acuerdo a la matriz energética que el BID ha respaldado en cada uno de estos países", dijo Christiaan Gischler, el jefe del equipo del proyecto del BID.

Por último, una donación de US$1 millón otorgada por el BID lanzará el Programa de Acción de Eficiencia Energética del Hotel Caribeño (Caribbean Hotel Energy Efficiency Action Program, CHENACT, según sus siglas en inglés). Este programa financiará la adopción de tecnologías de ahorro de energía en los hoteles pequeños, medianos y grandes de la región, ayudando de ese modo a reducir uno de sus mayores costos operativos. Algunos estudios han estimado que los hoteles en el Caribe pueden reducir sus costos de energía hasta en un 20 por ciento, invirtiendo en una eficiente iluminación y aire acondicionado, así como en otras tecnologías relacionadas.

"Este proyecto brindará los aportes esenciales para entender el potencial de la reducción del consumo de energía; y también para valorar la reducción de la emisión de carbono como una antesala para la obtención de créditos de carbono", dijo Gischler. "Ya que el 90 por ciento de la matriz energética del Caribe se basa en los combustibles fósiles, cualquier ahorro de energía se convertirá directamente en una reducción de la emisión de carbono".

Este programa también se asociará con el Programa del Medio Ambiente de las Naciones Unidas para ayudar a los hoteles a retirar paulatinamente el uso de sustancias de agotamiento de ozono en neveras, aparatos de aire acondicionado y refrigeradoras. El programa comenzará en Barbados, con el objetivo de repetirse en otros países caribeños.
Tags: ahorro de energía, air conditioning, aire acondicionado, Bahamas, Barbados, BID, bioenergía, bioenergy, carbon credits, Caribbean, Caribe, CHENACT, créditos de carbono, desalinated water, edificios públicos, eficiencia energética, energía eólica, energía renovable, energía solar, energía termal oceánica, Energy Efficiency, environment, hoteles, hotels, IDB, medio ambiente, neveras, OTEC, ozone depleting substances, refrigeradoras, renewble energy, solar energy, solar power, sustainable energy, sustancias de agotamiento de ozono, waste-to-energy, wind energy, wind power
Subscribe to My Comments Feed
Leave a Reply