« A True Solution to Aruba's Waste Problem, or Just Fluff? | Home | Mexican Consumer Group Demands Vehicle Efficiency Labeling / Los consumidores mexicanos exigen etiquetado de eficiencia y de las emisiones de los vehículos »
By Keith R | January 14, 2009
Topics: Energy & the Environment, Renewable Sources | No Comments »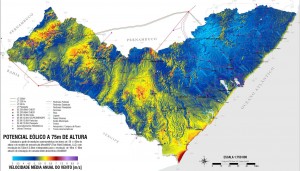 A wind atlas has been delivered to the government of the northeastern Brazilian state of Alagoas that was developed by the Curitiba-based Institute of Technology for Development (Instituto de Tecnologia para o Desenvolvimento – Lactec) in cooperation with the Federal University of Alagoas (Ufal) and the firm Camargo Schubert.  [Click on the image at right to see a full-sized version.]  If it is given a permanent address on the web, I'll add the link to the Temas directory of wind maps for Latin America and the Caribbean (LAC).
____________________
Desde AEN:
Projeto do Lactec sobre potencial eólico é apresentado ao Governo de Alagoas

A Eletrobrás acaba de entregar ao governo alagoano o projeto Atlas e Mapa Eólico do Estado de Alagoas, desenvolvidos pelo Instituto de Tecnologia para o Desenvolvimento (Lactec), em parceria com a Universidade Federal de Alagoas (Ufal) e a empresa Camargo Schubert. O trabalho faz parte do plano de Desenvolvimento Energético de Alagoas, define o potencial energético dos ventos e servirá de base para investimentos na geração este tipo de energia limpa e renovável.

"O Lactec busca a excelência em projetos de geração de energias renováveis e ecologicamente sustentáveis, não só no Paraná, mas em grandes parcerias pelo Brasil. É assim com empresas hidrelétricas e de biocombustíveis em todo País. O Instituto também mantém projetos conjuntos com institutos e empresas estrangeiras e o objetivo para 2009 é estender o raio de ações. Temos capacidade humana, qualificação técnica e estrutura para sermos modelo mundial em energia limpa", diz Luiz Malucelli Neto, diretor-superintendente do Lactec.

De acordo com o gerente do Departamento de Mecânica e Emissões do Lactec e coordenador do projeto, Luiz Alberto Jorge Procopiak, tanto a Companhia Elétrica de Alagoas (Ceal) – uma das empresas da holding Eletrobrás, como empresas privadas de energia e investidores vão se beneficiar com o projeto. "As empresas poderão fazer projeções prévias do quanto podem gerar de energia em determinadas regiões avaliadas e detalhadas no Atlas Eólico. Desta forma elas podem programar investimentos na área de geração de energia eólica, com menores riscos", explica o pesquisador.

Entre 2007 e 2008 foi conduzido um programa de medições realizado em seis torres, duas com 100 metros de altura e quatro com 50 metros de altura, instaladas em locais com grande incidência de ventos e também nas extremidades geográficas do Estado. O resultado forneceu dados para a elaboração do Atlas Eólico, que apresenta análises e projeções, com a indicação das áreas mais favoráveis. "Ele estabelece a referência mais atual para estudos, planejamento e projetos a partir desta fonte energética, compondo um diagnóstico completo sobre as possibilidades de sua inserção na matriz estadual", explica Procopiak.
Tags: Alagoas, atlas eólico, Brasil, Brazil, Camargo Schubert, Curitiba, Eletrobrás, energía eólica, energía renovable, Lactec, mapa eólico, potencial eólico, renewable energy, UFAL, wind atlas, wind energy, wind map, wind power
Subscribe to My Comments Feed
Leave a Reply