« World No-Tobacco Day in LAC: Puerto Rico Celebrates Fewer Smokers | Home | Cheaper HIV/AIDS Treatments for LAC Nations »
By Keith R | June 7, 2007
Topics: Energy & the Environment, Renewable Sources | No Comments »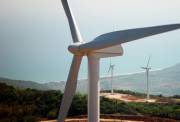 Back in my post "A Sustainable Energy Plan for Barbados?", I mentioned that a linchpin of the Barbados government plan to expand the use of renewable sources in the island's power supply was Barbados Light & Power's (BLP) plans for a windfarm at Lamberts, St. Lucy.
That proposal is hardly a "done deal" yet, though. Legally BLP still has to undergo the environmental impact assessment (EIA) and public consultation phase for the project, which they are doing now.
But they are hardly doing in it in a completely transparent manner. For example, the third version of BLP's environmental assessment report is available on BLP's website — although you'd never find it unless you knew beforehand where to look, because BLP does not include a reference to it on its homepage, its pages on "How We Work" and "Looking to the Future," nor on its sitemap. But then, you're reading The Temas Blog, and we believe in corporate transparency about environment, health and safety (EHS) matters, so we'll tell you where to look: http://www.blpc.com.bb/study/eaLamberts.cfm
I understand from sources on Barbados that people are also having a difficult time getting questions answered and providing input on the EIA. For example, neither BLP nor the Town and Country Planning Department will say what is the deadline for public comments on the latest EIA draft, whether or not this is to be the last version of the impact report before project approval, and whether or not there will be another public meeting in St. Lucy to discuss the project, its EIA and any lingering concerns residents might have.
Regardless of what you think of the merits of wind farms in general and the Lamberts proposal in particular, this is not the way to go about building local consensus and support for a renewable energy project.
— Keith R
P.S. Is there anyone out there with the time and expertise to scan the report and offer feedback on how thorough and technically sound it is, what points it covers well and what it might be missing? I am currently too swamped to do personally. You can offer your observations either through comments to this post, emails to me or if there is a brave soul out there, as a guest post here on The Temas Blog.
Tags: avaliação do impacto ambiental, Barbados, BL&P, EIA, energía eólica, evaluación del impacto ambiental, Lamberts, St. Lucy, wind farm, wind power, wind turbines
Subscribe to My Comments Feed
Leave a Reply