« A New Tool to Combat Soil Degradation and Climate Change | Home | Eliminating Vertical Transmission of HIV & Syphilis in the Caribbean by 2015 »
By Keith R | August 9, 2008
Topics: Biofuels | No Comments »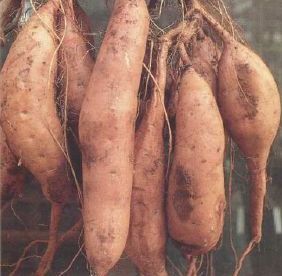 Synopsis in English: Many people think Brazil's interest in biofuel is limited to sugarcane ethanol. Not at all. They are looking at all the possible source materials.
Just one example: the southern state of Paraná, a leader in Brazilian agriculture, is promoting the production of sweet potatoes among family farmers with a view to producing fine ethanol.
The state's agricultural, environmental and bioenergy authorities all argue that the tuber makes an excellent choice from all angles (agricultural, energy, environmental, rural development). The versions of the sweet potato developed by Paraná's Agronomic Institute (Iapar) can be planted in degraded areas and sandy soils at low cost. They have a high cultivation yield [about 40 metric tons (mT) per hectare] and good starch levels (27%), each mT capable of producing 170 liters of alcohol. Last but not least, because of its protein levels (16%) the process residue from turning sweet potatoes into alcohol can be used to feed animals (cattle, sheep, goats, pigs and fish), so little to no waste involved.
If sweet potatoes really offer so many advantages as a biofuel source, I have to wonder why we don't hear about other Latin American and Caribbean (LAC) nations looking into it. And what are the downsides to its use as a biofuel? I don't know, but I suspect there probably is at least one — few things in life are 100% win-win, and most biofuels have major trade-offs. I intend to look into these and other questions about sweet potatoes as fuel source, so stay tuned!
____________________
Álcool produzido a partir da batata-doce poderá ser fonte de renda para agricultura familiar

Os pequenos agricultores paranaenses que apostarem no plantio da batata-doce terão mais uma fonte de renda e a garantia de compra da produção. A Comissão de Ecologia e Meio Ambiente da Assembléia Legislativa promoveu na última quarta-feira (25) uma audiência pública sobre a geração de etanol a partir da batata-doce. Foram convidados para debater o tema, representantes da Bioex – empresa de Ponta Grossa que já tua neste ramo e técnicos das Secretarias de Agricultura e Meio Ambiente, Emater Copel, Tecpar, Lactec e Instituto Agronômico do Paraná (Iapar).

Entre os pontos positivos da produção do álcool proveniente da batata-doce, está o fato de que o plantio pode ser feito em áreas degradadas e solos arenosos com baixo custo. Devido a sua alta produtividade o tubérculo está sendo considerado por pesquisadores e especialistas como a mais promissora matéria prima do etanol fino.

Para que se tenha uma idéia, em Ponta Grossa estão sendo plantadas dez espécimes – as mais promissoras selecionadas entre 600 espécimes – que estão rendendo, em média, 40 toneladas de raízes por hectar e teores de 27% de amido, capazes de produzir 170 litros de álcool por tonelada do tubérculo. Estes resultados se devem ao alto teor de açúcares encontrados na batata-doce. A proposta traz ainda benefícios ambientais, já que os cerca de 300 quilos de resíduo resultantes do processo de extração – com 16% de teores de proteína – podem ser utilizados ração para alimentar rebanhos bovinos, ovinos, caprinos, suínos e peixes.

O coordenador do Programa de Biodiesel da Secretaria Estadual da Agricultura e Abastecimento, Richardson de Souza, disse que a Secretaria e suas autarquias (Iapar e Emater) estarão estudando a viabilidade técnica para incluir a proposta ao Programa de Bioenergia do Governo do Paraná, que disponibiliza aos pequenos agricultores alternativas de plantas oleoginosas para a produção de biodiesel.

De acordo com o presidente da Comissão de Ecologia e Meio Ambiente, deputado estadual Luiz Eduardo Cheida, o objetivo da audiência foi saber sobre a eficiência energética do produto, aliado a possibilidade de ser implementado pela agricultura familiar.

O diretor de Engenharia da Copel, Luiz Antonio Rossafa, destacou que a discussão entre energia e produção de alimentos é fundamental. "É a primeira vez que o Brasil promove discussões que provocam uma aproximação entre energia como alimento, energia como combustível líquido, como energia elétrica e, ainda alimenta um processo biológico, que é o fertilizante. Em 1974 era impossível imaginar a região centro –oeste produzindo soja, por exemplo. É uma evolução fantástica", enfatizou Rossafa. Ele falou ainda sobre a polêmica da falta de alimentos, caso áreas agrícolas sejam revertidas apenas para a produção de biocombustível.

O gerente do Projeto Bioex, José Sebastião Fagundes Cunha, contou que a questão ambiental é uma das principais vantagens da produção do álcool a partir da batata-doce.
Tags: açúcares, amido, batata-doce, biocombustiveis, bioenergía, bioenergy, Bioex, Biofuels, Brasil, Brazil, cattle, Emater, etanol, ethanol, fish, goats, Iapar, Lactec, Paraná, pigs, Ponta Grossa, protein, proteína, SEAB, sheep, starch, sugar, sweet potato, Tecpar
Subscribe to My Comments Feed
Leave a Reply