« IDB Finances Mexican Work on Climate Change / BID financiará agenda de México sobre cambio climático | Home | IDB to Host LAC Conference on Corporate Social Responsibility / BID celebrará conferencia regional sobre responsabilidad social empresarial »
By Keith R | November 21, 2008
Topics: Biofuels | No Comments »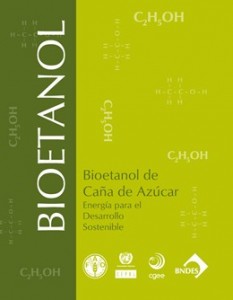 From Brazil's Nation Development Bank (BNDES):
BNDES publishes book with unprecedented mapping of the ethanol sector

Brazil is one of the most advanced countries in technology and productivity in all stages of the sugarcane ethanol production chain. The Brazilian experience shows that sugarcane bioethanol has become one of the most important responses to the growing need to sustainably expand the use of renewable energy sources and enhance energy supply security, while reducing environmental impacts at the same time.

Sharing this experience and the lessons learned with the rest of the world – especially developing countries in tropical and subtropical zones – was the main reason why President Luiz Inácio Lula da Silva commissioned the Brazilian Development Bank (BNDES) and the Center for Strategic Studies and Management Science, Technology and Innovation (CGEE) to produce the book "Sugarcane Bioethanol: Energy for Sustainable Development". The entire work is also available at www.bioetanoldecana.org.

Similar interests also led to support from the Economic Commission for Latin America and the Caribbean (Cepal) and the Regional Office for Latin America and the Caribbean of the United Nations Food and Agriculture Organization (FAO).

Edited by specialist Professor Luiz Augusto Horta Nogueira, of Itajubá Federal University (Unifei) and based on research performed by almost 30 specialists, the book's main objective is to be a scientifically-based study to encourage international debate, and which envisions the construction of a global market for ethanol. It will also serve as a resource for the debates during the Brazilian government sponsored International Conference on Biofuels (http://www.biofuels2008.mre.gov.br/agenda-tentativa), to take place in São Paulo on November 17th–19th of 2008.

The work, the first to consolidate the sector's many aspects, with chapters unparalleled in the literature (e.g., Chapter 2 on bioethanol as a fuel and Chapter 8, on the global bioethanol market), describes the panorama of sugarcane and ethanol production – in Brazil and worldwide – as well as presenting ethanol as an energy commodity, and Brazil as the foremost supplier of products and solutions for the sector.

The text will serve as a basis for dialogue on sugarcane ethanol's potential, and the upper limits to production under good conditions, especially in tropical and subtropical countries.

The authors took into account the concern with analyzing current policies for the support and development of biofuels. This was done based on a careful analysis of its impacts in terms of changes in land use, investments standards, greenhouse gas emissions, trade pathways and food security.

Among the book's main conclusions:

Sugarcane represents the second most important primary source and the most important source of renewable energy in the Brazilian energy matrix for bioethanol and bioelectricity (electric power generated from sugarcane bagasse).
Sugarcane has clear advantages over other raw materials with respect to ethanol production. From an energy point of view, it yields up to seven times as much energy as corn as a raw material.
The increase in the demand for sugarcane for biofuels production has no impact on food prices. In terms both of energy yields and its effect on food security, bioethanol production from sugarcane is superior to the alternatives.
Sugarcane bioethanol production little affects the production of food, because its cultivation occupies relatively little space compared to land used for food. Worldwide, in order to produce about 50 billion liters per year, about 15 million hectares of land are required. This is the equivalent to 1% of the land in the world used for agriculture (about 1.5 billion hectares).
Sugarcane bioethanol, produced under Brazilian conditions, is competitive with crude oil at around US$ 50 barrel – this is below current (November 2008) levels. The technology employed for its production is open and available.
Sugarcane bioethanol production does not imply deforestation. The expansion of sugarcane plantations has occurred basically in areas previously occupied by low yield pastureland or crops destined for exportation, such as soy.
Environmental impacts associated with sugarcane bioethanol production have, to a large degree, been attenuated, and are lower than those caused by the majority of crops.
The use of sugarcane ethanol enables an 89% reduction in greenhouse gas emissions, which can significantly contribute to mitigating climate changes. In comparison, using corn as raw material enables a 38% reduction in greenhouse gas emissions; wheat, 19% to 47%; sugar beet, 35% to 56%, and cassava, 63%.

Under current conditions, for each million cubic meters of sugarcane bioethanol mixed with gasoline, about 1.9 million tons of CO2 entering the atmosphere are avoided.

Bioethanol can be used in combustion engines, pure or blended with gasoline, with good performance and using the same distribution and storage systems as gasoline.
________________________
Desde o Banco Nacional de Desenvolvimento Econômico e Social (BNDES):
BNDES publica livro com mapeamento inédito do setor de etanol

O Brasil é um dos países mais avançados em tecnologia e produtividade em todas as etapas da cadeia de produção de etanol de cana-de-açúcar. A experiência brasileira demonstra que o bioetanol da cana tornou-se a resposta mais adequada para a crescente necessidade de ampliar, de modo sustentável, o uso de fontes renováveis de energia e de proporcionar mais segurança ao suprimento energético, reduzindo impactos ambientais.

Compartilhar essa experiência e as lições dela derivadas com o resto do mundo — especialmente países em desenvolvimento situados em zonas tropicais e subtropicais — foi a principal motivação para que o presidente Luiz Inácio Lula da Silva encomendasse ao Banco Nacional de Desenvolvimento Econômico e Social (BNDES) e ao Centro de Gestão e Estudos Estratégicos (CGEE) a elaboração do livro Bioetanol de cana-de-açúcar – Energia para o desenvolvimento sustentável. A íntegra do trabalho está disponível no site www.bioetanoldecana.org.

Interesse similar motivou a Comissão Econômica para a América Latina e o Caribe (Cepal) e o Escritório Regional da Organização das Nações Unidas para Alimentação e Agricultura (FAO) para América Latina e Caribe a colaborarem com a iniciativa.

O livro, elaborado pelo professor Luiz Augusto Horta Nogueira, da Universidade Federal de Itajubá (Unifei), com base em pesquisas realizadas por cerca de 30 especialistas, tem como principal objetivo desenvolver um trabalho científico para subsidiar o diálogo internacional visando à construção de um mercado mundial de etanol. Também contribuirá para os debates durante a Conferência Internacional sobre os Biocombustíveis (http://www.biofuels2008.mre.gov.br/), que ocorrerá de 17 a 21 de novembro deste ano, em São Paulo, organizada pelo governo brasileiro.

O trabalho, o primeiro que consolida os diversos aspectos do setor, com capítulos inéditos na literatura sobre o assunto (por exemplo, o segundo sobre o bioetanol como combustível e o oitavo, a respeito de um mercado global para o bioetanol), traça um panorama da produção do etanol de cana-de-açúcar no Brasil e no mundo, além de apresentar o etanol como commodity energética e o Brasil como principal fornecedor de produtos e de soluções para o setor.

O texto servirá de base para um diálogo sobre o potencial e as limitações da produção de etanol de cana-de-açúcar em condições adequadas, especialmente em países tropicais e subtropicais.  Os autores levaram em conta a preocupação com a análise das políticas atuais de apoio ao desenvolvimento de biocombustíveis, por meio de uma análise cuidadosa de seus impactos em termos de mudança de uso da terra, padrões de investimento, emissões de gases de efeito estufa, fluxos de comércio e segurança alimentar.

Entre as principais conclusões, estão as seguintes:

A cana-de-açúcar representa a segunda mais importante fonte primária e a principal forma de energia renovável na matriz energética brasileira, por meio do bioetanol e da bioeletricidade (energia gerada do bagaço da cana).
Existem claras vantagens da cana sobre outras matérias-primas na produção de etanol. Do ponto de vista energético, ela rende até sete vezes mais que o milho como matéria-prima.
O aumento na demanda de cana-de-açúcar para produzir biocombustíveis não tem impacto sobre o preço dos alimentos. Tanto em termos energéticos como dos efeitos sobre a segurança alimentar, a produção de bioetanol de cana é superior a outras alternativas apresentadas.
A produção de bioetanol de cana-de-açúcar pouco afeta a produção de alimentos porque seu cultivo ocupa área reduzida em relação à terra cultivada para alimentos. No mundo, para produzir cerca de 50 bilhões de litros por ano, são usados 15 milhões de hectares de área. Ou seja, 1% da área em uso pela agricultura no mundo, que é de 1,5 bilhão de hectares.
O bioetanol de cana-de-açúcar, produzido nas condições brasileiras, é competitivo com o petróleo ao redor de US$ 50 o barril, abaixo dos níveis atuais. A tecnologia empregada para sua produção está aberta e disponível.
A produção de bioetanol de cana-de-açúcar não implica desmatamento. A expansão da lavoura canavieira tem ocorrido basicamente em áreas antes ocupadas por pastagens de baixa produtividade ou culturas destinadas à exportação, como a soja.
Os impactos ambientais associados à produção de bioetanol de cana-de-açúcar foram efetivamente atenuados e são inferiores à maioria de outras culturas agrícolas.
O uso do etanol de cana-de-açúcar permite reduzir em 89% as emissões de gases de efeito estufa, contribuindo de modo efetivo para mitigar as mudanças climáticas. O uso do milho como matéria-prima possibilita redução de até 38%; do trigo, de 19% a 47%; da beterraba, de 35% a 56%; e o uso da mandioca pode reduzir em 63% as emissões de gases de efeito estufa.
Nas condições atuais, para cada milhão de metros cúbicos de bioetanol de cana-de-açúcar empregado em mistura com gasolina, cerca de 1,9 milhão de toneladas de CO2 deixam de ser emitidos para a atmosfera.
O bioetanol pode ser utilizado em motores, puro ou em misturas com a gasolina, com bom desempenho, empregando o mesmo sistema de distribuição e armazenamento da gasolina.
Tags: bagaço, bagasse, beterraba, biocombustiveis, bioelectricity, bioetanol, bioethanol, Biofuels, BNDES, cana-de-açúcar, cassava, CEPAL, CGEE, ECLAC, FAO, food security, gases de efeito estufa, gasolina, greenhouse gases, soja, sugar beet, sugarcane, trigo, Unifei, wheat
Subscribe to My Comments Feed
Leave a Reply