« Gates Foundation Funds WHO/UNICEF Research on Children's Medicines | Home | A Successful E-waste Collection Campaign in Jalisco »
By Keith R | January 21, 2009
Topics: Biofuels | 3 Comments »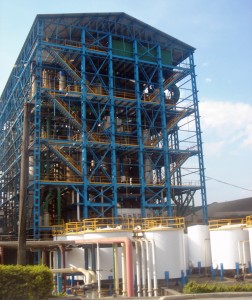 The Brazilian government reports that its consumption and exports of ethanol set new records in 2008, as did the consumption and production of biodiesel.
According to figures released by the Renewable Fuels Department of the Ministry of Mines and Energy (MME), Brazil produced 24.5 billion liters of ethanol in 2008, and exported 5.16 billion.  The principal export market for Brazilian ethanol was the US, at over half (2.8 billion liters).  In 2008 internal consumption of ethanol outpaced gasoline for the first time: according to data from the National Agency of Petroleum, Natural Gas and Biofuels (ANP), from January to November, 17.7 billion liters were consumed within Brazil, whereas only 16.7 billion liters of gasoline were consumed.
Brazil traces the rise in ethanol consumption to the growth of flex-fuel vehicles in the national fleet.  During 2008, 87.2% of licensed light vehicles were flex-fuel.  From 2003 to 2008, seven million flex-fuel vehicles were sold, bringing its share of the national light vehicle fleet to 27%.
As for biodiesel, in 2008 production reached 1.1 billion liters, representing production growth of 190% over 2007.  As of November, Brazil's installed biodiesel production capacity reached 2.993 billion liters per year, with 46 plants operating across the country.  Officials say that the switch to a 2% biodiesel mixture in January 2008 and then 3% in July 2008 allowed Brazil to cut 1.1 billion liters of diesel imports in 2008, representing a US$976 million improvement in Brazil's trade balance.  The government likes to point out that 80% of the biodeisel production contracts put out to bid involve production from plants bearing the Social Fuel Seal (Selo Combustível Social), which means that the plants commit to buying a certain percentage of their raw inputs from family farms.
_____________________
Desde o Governo do Brasil:
Brasil bate recordes de exportação de etanol e produção de biodiesel

Os níveis de produção, consumo e exportação de etanol e de consumo e produção de biodiesel nunca foram tão altos como os registrados em 2008. De acordo com os números divulgados pelo Departamento de Combustíveis Renováveis do Ministério de Minas e Energia (MME), o Brasil exportou 5,16 bilhões de litros de etanol, de um total de 24,5 bilhões de litros produzidos no ano passado.

Se comparado à gasolina, o volume de etanol vendido para o mercado externo em 2008 representou mais do que o dobro das exportações no mesmo período. O principal destino das exportações brasileiras de etanol foram os Estados Unidos, responsáveis pela importação de 2,8 bilhões de litros.

Em 2008, o consumo de etanol no mercado interno também foi recorde e superou pela primeira vez o de gasolina. De acordo com dados da Agência Nacional de Petróleo, Gás Natural e Biocombustíveis (ANP), entre os meses de janeiro e novembro de 2008 foram consumidos no País 17,7 bilhões de litros de álcool combustível (anidro e hidratado). No período, o consumo de gasolina foi de 16,7 bilhões de litros.

O crescimento do consumo de etanol no mercado interno tem relação direta com o aumento da frota flex-fuel no Brasil. Em 2008, o licenciamento de veículos flex-fuel representou 87,2% do total de veículos leves licenciados no País. De 2003 a 2008 já foram comercializados 7,01 milhões de unidades com essa tecnologia, o que equivale a 27% da frota brasileira de veículos leves.

Biodiesel – No ano passado, a produção de biodiesel também foi recorde ao atingir mais de 1,1 bilhão de litros. Esse total representa um crescimento de quase 190% em relação ao ano anterior, quando a produção foi de 402 milhões de litros. Em novembro, a capacidade instalada de produção alcançou 2,993 bilhões de litros por ano e o número de usinas chegou a 46 em funcionamento no País.

A adoção da mistura obrigatória de 2% de biodiesel no diesel, em vigor desde janeiro de 2008, e ampliada para 3% em julho, permitiu a redução da importação de 1,1 bilhão de litros de diesel derivado de petróleo no ano passado. O volume representa um ganho de aproximadamente 976 milhões de dólares na balança comercial. Além de reduzir a dependência brasileira de diesel importado, a produção e uso de biodiesel propiciam o desenvolvimento de economias locais e regionais, seja na etapa agrícola ou na indústria de bens e serviços.

Para consolidar a cadeia produtiva de biodiesel, o governo federal promoveu, de novembro de 2007 a dezembro de 2008, sete leilões de biodiesel nos quais foram negociados volumes superiores a 1,33 bilhão de litros para entrega entre janeiro de 2008 e o primeiro trimestre de 2009. Os investimentos estimados na produção do volume negociado nesse período são de cerca de R$ 3 bilhões. Aproximadamente 80% do montante adquirido por meio dos leilões serão produzidos por usinas que detêm o Selo Combustível Social, ou seja, mantém contratos de compra de matéria-prima da agricultura familiar.

Programa – A consolidação da cadeia produtiva do biodiesel no Brasil é resultado de uma política pública do governo federal lançada em 2004. Trata-se do Programa Nacional de Produção e Uso de Biodiesel (PNPB) que se baseia em três pilares: econômico (criação de uma nova indústria), social (inserção da agricultura familiar) e ambiental (redução na emissão de poluentes).

Marco regulatório – Por meio de um marco regulatório estável e uma série de leilões de compra, a cadeia produtiva foi estruturada e o abastecimento do mercado, garantido. Hoje, um ano após a entrada em vigor da mistura obrigatória de biodiesel ao diesel, o Brasil já se destaca como terceiro maior produtor e consumidor desse combustível no mundo.
Tags: álcool combustível, ANP, biocombustiveis, biodiesel, biofuel, Brasil, Brazil, etanol, ethanol, exportação, flex-fuel, MME, PNPB, Selo Combustível Social
3 Responses to "Brazil Sets New Records for Ethanol and Biodiesel"
Cristian L Says:
February 2nd, 2009 at 15:43

Nice to see that more and more countries adopt biodiesel. Some because they need to, not having petroleum and they need to import it, and some because they know costs are lower and level of pollution is decreasing. Whatever the reason, man seems to go with small steps on the good way. But will this be enough for mother nature to support us for long?

politikly Says:
February 3rd, 2009 at 16:15

Brazil Sets New Records for Ethanol and Biodiesel | politikly.com…

\r\nThe Brazilian government reports that its consumption & exports of ethanol set new records i…

Rodrigo Says:
November 10th, 2009 at 9:13

Very nice!
Leave a Reply