« Alcohol Abuse Growing Among Brazilians / Crece consumo abusivo de álcool entre os brasileiros | Home | Smoking Falling Among Brazilian Youth »
By Keith R | April 8, 2009
Topics: Biofuels | No Comments »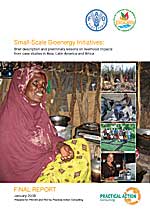 The UN Food and Agriculture Organization (FAO) has released a study showing that bioenergy projects can benefit the rural poor. The study looks at 15 case studies in 12 nations in six regions of Africa, Asia and Latin America to examine the impacts that different types of local level Bioenergy initiatives can have on rural livelihoods* in different contexts in the developing world. The cases studies include a look at projects involving ethanol micro-distilleries in Brazil, jatropha biodiesel in Guatemala, and vegetable oil recycling in Peru.
The study was funded by the UK's Department for International Development (DFID) and developed in consultation with the Policy Innovation Systems for Clean Energy Security (PISCES) Consortium Advisory Group (CAG). The CAG brings together the International Energy Agency (IEA), the UN Environment Programme (UNEP), ENERGIA, DFID and FAO with policymakers and research organizations in the PISCES target countries of India, Kenya, Sri Lanka and Tanzania.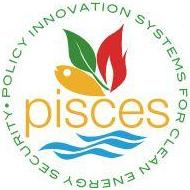 Among the common lessons learned from the case studies are:
Natural resource efficiency is possible in small-scale bioenergy initiatives;
Local and productive energy end-uses develop virtuous circles;
Where fossil energy prices dominate, partial insulation is an option;
Longer term planning and regulation has a crucial role if small-scale bioenergy projects are to succeed;
Flexibility and diversity can also reduce producer risk;
Collaboration in the market chain is key at start up;
Long local market chains spread out the benefits;
Moving bioenergy resources up the energy ladder adds value;
Any new activity raising demand will raise prices, even those for wastes;
Cases do not appear to show local staple food security to be affected;
small-scale bioenergy initiatives can offer new choices in rural communities.
What recommendations does the study for follow-up work?
Develop sustainability criteria for small-scale bioenergy initiatives;
Develop more detailed economic analysis for a selection of the cases;
Develop natural resource efficiency and energy balance assessments for a selection of cases;
Work on the incentives and constraints faced by farmers/rural people to adopting improved Bioenergy technologies and practices;
Develop understanding of the cases further from an equity and gender perspective;
Replicate and test the approaches taken in the case studies in other applicable contexts.
__________
* "Livelihoods" are understood as the enhancement of the full range of natural, financial, human, social and physical capitals on a sustainable ongoing basis.
________________
From the UN Food and Agriculture Organization (FAO):
Study shows bioenergy benefits for rural poor

Small-scale projects scrutinised from jatropha electrification in Mali to animal waste biogas in Vietnam

Bioenergy, when produced on a small-scale in local communities, can play a significant role in rural development in poor countries, according to a new report jointly published by FAO and the UK's Department for International Development (DFID).

The study, "Small Scale Bioenergy Initiatives: Brief Description and Preliminary Lessons on Livelihood Impacts from Case Studies in Latin America, Asia and Africa," covers 15 different "start-up" bioenergy projects from 12 countries in Latin America, Africa and Asia involving a diverse array of technologies.

"The furious debate around bioenergy has largely concerned liquid fuels used for transport," said Oliver Dubois, a bioenergy expert in FAO's Natural Resources Department.

"Yet more than 80 percent of bioenergy usage in the world involves other sources, mainly wood, which are used for basic household cooking and heating in poor areas of the world."

Concern over the impact these transportation biofuels will have on the environment, water resources and food security has obscured many of the positive benefits for poor rural people.

The study shows quite clearly that there are a number of huge possible benefits of using new technologies for biomass-based rural energy, some very basic, others more sophisticated.

Biofuel benefits for poor

Some of the possible benefits of bioenergy highlighted in the study include:

an increase in natural resource efficiency as energy can be created from waste that would otherwise be burnt or left to rot is put to use
the creation of useful by-products such as affordable fertilizer from biogas production
the possibility of simultaneously producing food and fuel through intercropping
the creation of new financial capital with growth cycles by making use of marginal land

"In all the cases covered, even those that sold on bioenergy products to a wider market, the local community benefited from improved energy access both for domestic and business use," said Dubois.

Saving local resources

"Virtuous cycles are shown to develop within communities where people have access to the energy services needed for development without money flowing out of communities for fossil fuels or local natural resources used up".

The study also shows how the use of bioenergy has often played a role in partially insulating poor rural people from the vagaries of the fossil fuel market used in times of an energy crisis, but then typically abandoned when the oil price drops.

In none of the cases studied did bioenergy production appear to jeopardise food security, either because the bioenergy is produced from crops not used for food or grown on very small plots or stretches of unused land.

Involving local people

"These initiatives have adequately involved local people in decisions on the bioenergy schemes, so if food security did suffer as a result they would have done something about it," said Dubois.

Although bioenergy initiatives face implementation challenges, these challenges are similar to those of other production activities in rural areas such as technological constraints and lack of investment capital, the study found.

The research for the study was carried out between September and November 2008 as a joint initiative between FAO and the PISCES Programme funded by DFID.
________________
Desde la Organización de las Naciones Unidas para la Agricultura y la Alimentación (FAO):
La bioenergía beneficia a los pobres rurales

Un estudio examina a fondo pequeños proyectos, desde Mali a Viet Nam

La bioenergía producida a pequeña escala en comunidades locales puede jugar un papel clave en el desarrollo en los países pobres, según el resultado de un nuevo informe realizado de forma conjunta por la FAO y el Departamento de Desarrollo Internacional del Reino Unido (DFID, por sus siglas en inglés).

El estudio "Iniciativas de bioenergía a pequeña escala: breve descripción y conclusiones preliminares de estudios de caso en Latinoamérica, Asia y África" se centra en 15 proyectos diversos sobre bioenergía en 12 países diversos en tres continentes y que utilizan un amplio abanico de tecnologías.

"El encendido debate sobre la bioenergía se ha centrado sobre todo en los combustibles líquidos para el transporte", aseguró Olivier Dubois, experto en bioenergía del Departamento de Recursos Naturales de la FAO.

"Pero más de 80 por ciento de uso de bioenergía en el mundo proviene de otras fuentes, en especial la madera, que se utiliza para cocinar y calentarse en muchas partes del mundo", añadió Dubois.

La preocupación por el impacto de los biocombustibles para el transporte en el medio ambiente, los recursos hídricos y la seguridad alimentaria ha ensombrecido los diferentes efectos positivos que tienen para la población rural pobre.

El estudio demuestra con claridad los enormes beneficios potenciales de las nuevas tecnologías para la energía obtenida de la biomasa, algunas sencillas y otras más sofisticadas.

La bioenergía beneficia a los pobres

Entre los beneficios potenciales de la energía destacados en el estudio se incluyen:

un incremento en la eficiencia de los recursos naturales, ya que se puede obtener energía de desechos que de otro modo se quemarían o se dejarían descomponerse;
la obtención de subproductos útiles como fertilizantes asequibles derivados de la producción de biogás;
la posibilidad de producir simultáneamente alimentos y combustibles, a través de la siembra intercalada;
la creación de un nuevo capital financiero mediante el uso de tierras marginales.

"En todos los casos propuestos, incluso aquellos basados en la venta de bioenergía en el mercado, la comunidad local se beneficia de un mejor acceso a la energía, tanto para uso doméstico como comercial", indicó Dubois.

Economizar recursos locales

"Los ciclos virtuosos se pretenden utilizar en comunidades en las que la gente tiene acceso a servicios energéticos necesarios para el desarrollo sin que el dinero se destine a combustibles fósiles o recursos naturales locales.

El estudio desvela además que el uso de la bioenergía tiene a menudo un papel importante para proteger a la población rural pobre de los vaivenes del mercado de combustibles fósiles en tiempos de crisis energética, que luego se suele abandonar cuando el precio del crudo desciende.

En ninguno de los casos propuestos la producción de bionergía ponía en peligro la seguridad alimentaria. Ya fuere porque la bionergía provenía de cultivos no alimentarios o producidos en parcelas pequeñas o de tierras sin utilizar.

Involucrar a la población local

"Estas iniciativas han involucrado de forma adecuada a la población local en la toma de decisiones sobre la bioenergía, de manera que si la seguridad alimentaria se hubiera visto afectada, habrían tomado medidas", subrayó Dubois.

A pesar de que las iniciativas sobre la bioenergía plantean retos para su implementación, se trata de problemas similares a otras actividades productivas en áreas rurales, como las dificultades técnicas o la falta de capitales para invertir, según el informe.

La investigación para el estudio se realizó entre septiembre y noviembre de 2008 en base a una iniciativa conjunta de la FAO y el programa PISCES financiada por el DFID.
Tags: biocombustibles, biodiesel, bioenergía, bioenergy, biofuel, biogas, biomass, Brazil, DFID, ethanol, FAO, fertilizantes, fertilizer, Guatemala, IEA, India, intercropping, Jatropha, Kenya, Mali, Peru, PISCES, PNUMA, pobreza rural, rural poor, siembra intercalada, Sri Lanka, Tanzania, UNEP, vegetable oil, Vietnam
Subscribe to My Comments Feed
Leave a Reply