« ACODECO "Declares War on Junk Food" | Home | Latins Recognized for Tobacco Control Efforts »
By Keith R | March 12, 2009
Topics: Biofuels | No Comments »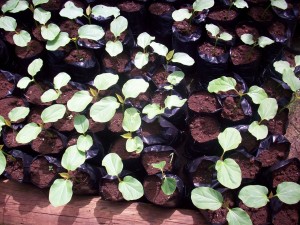 From the Ministry of Energy:
JAMAICA MOVES TO DEVELOP BIOFUELS INDUSTRY

Coming on the heels of the successful implementation of E10, the Ministry of Energy is moving to introduce a blend of motorgrade diesel fuel from locally grown plants such as castor beans and jatropha. This is the word from Energy Minister, Clive Mullings who was speaking at yesterday's (Tuesday, March 10, 2009) launch of the Biofuels Task Force.

Highlighting the significance of biofuels to alleviating the burden of imported oil, the Minister emphasised that alternative fuels must be a priority for the nation at this time. Mr. Mullings pointed out that the Government is convinced that this (biofuels) is one of the pillars of Jamaica's development. It is an excellent opportunity for collaboration between the Ministries of Energy and Agriculture, on an issue of national interest as well as for collaboration among the multilateral partners, he told members of the Task Force.

Minister of Agriculture, Dr. Christopher Tufton expressed excitement at the potential of the biofuels programme and has given the commitment of the Agriculture Ministry to working with the Task Force "to make all the resources that we have at our disposal in the Ministry available towards supporting the initiative," the Minister said.

The Biofuels Task Force is a collaborative effort between the Ministries of Energy and Agriculture and incorporates several industry stakeholders as well as multilateral agencies including the Organization of American States (OAS), World Bank, Food and Agriculture Organization (FAO) and UNECLAC.

The Task Force will have responsibility for creating an appropriate policy framework and a legal and regulatory regime within which a new industry will flourish. They will be expected to take into consideration incentive schemes, affordable project/programme financing, research and development support as well as local technical capability and demand for new products.
Tags: biodiesel, Biofuels, castor bean, Clive Mullings, E10, ECLAC, energy, Energy Ministry, FAO, Jamaica, Jatropha, OAS, World Bank
Subscribe to My Comments Feed
Leave a Reply