« Nutrition Labeling for Airline Food in Brazil? | Home | An E-Waste Bill for Bahia »
By Keith R | July 17, 2009
Topics: Biofuels | 1 Comment »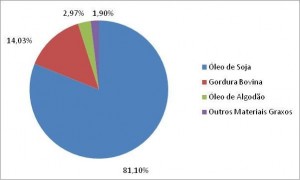 Luiz Prado says it's time for Brazil to adopt a "serious" national policy on biodiesel.  I think he has a point.
Brazil has had a biodiesel policy — er, make that a biodiesel program — since 2003.  It has a number of elements, but the lynchpins are a blending mandate (currently set at B4), and a series of tax breaks to suppliers that are supposed to favor sourcing feedstock from family farms, particularly in the North, Northeast and the Sertão (the semi-arid badlands in the northern half of Brazil), and particularly palm oil (dendê) in the North and castor beans (mamona) in the Northeast.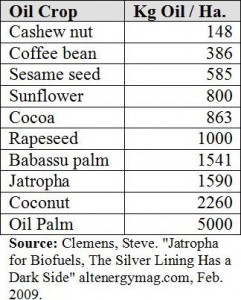 This program was supposed to guarantee that the benefits of the ramp-up were shared among Brazil's regions, feedstock crops and social strata, with less favoritism to large agribusiness than the old Pro-Álcool program had.  Yet look at the results six years later (click on the graphic above): according to the National Petroleum, Gas and Biofuels Agency (ANP), 81.1% of Brazilian biodiesel comes from soy, which is primarily from the South and Center-West and primarily from large agribusiness; 14% from animal fats (one has to wonder how much, if any, of that is sourced from small farmers); 2.97% from cotton oil; and only 1.9% from "other," which includes oil (African) palm, castor, cashews, coffee oil, sesame, sunflower, cocoa, rapeseed, Babassu palm, Jatropha, and coconut.
Luiz advocates a policy that favors crops that produce more oil appropriate to each region.  I would add to that, each crop that makes ecological sense as well.  For example, if you go by average oil yield per hectare, there would be an even greater emphasis on African palm.  But we know from examples in other nations the environmental damage African palm plantations can do and how tough it can be to ensure socially responsible palm oil production.  Soy oil, which currently has the lion's share of biodiesel feedstock, yields about 2,668 kg/ha, about half that of oil palm, but is suspected of being one of the drivers for deforestation in Brazil, so does it make ecological sense to promote its use in biodiesel?  Similarly, Jatropha might make more sense for the Northeast and Sertão than castor oil in terms of oil yield, but that crop has its dark side too.
I also think that it may — I emphasize may — make sense to encourage production in some crops that traditionally have been favored by small farmers (such as castor) but had limited markets and low market prices.  Last but not least, I would not reject out-of-hand utilizing waste and by-products of major crops (such as coffee) to produce biodiesel inputs, as long as the economics can be made to work.
Tags: algodão, alternative fuels, ANP, babaçu, babassu, biocombustiveis, biodiesel, Biofuels, blending mandates, Brasil, Brazil, cacau, cafe, canola, cashews, castanha de caju, castor bean, côco, cocoa, coconut oil, coffee oil, cotton, dendê, girassol, Jatropha, mamona, palm oil, Pro-Álcool, rapeseed, Sertão, sesame, sésamo, soja, sunflower oil
One Response to "Time for a New Biodiesel Policy in Brazil?"
ALL DIESEL TECH Says:
December 30th, 2009 at 16:22

[…] more here:  Time for a New Biodiesel Policy in Brazil? | The Temas Blog Posted in Biodiesel, Diesel | Tags: annual-conference, are-supposed, blending-mandate, Diesel, […]
Leave a Reply