« Eye on Ads: Ecuadorian PSA on Changing to CFLs | Home | R$101 mil. for Small Hydro in Bahia / R$101 milhões para PCH em Bahia »
By Keith R | April 12, 2009
Topics: Electronic/Electrical Equipment, Energy & the Environment | No Comments »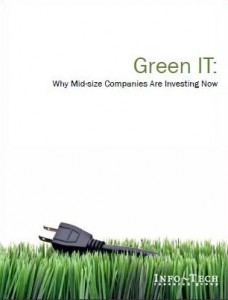 I ran across this interesting "green IT" study released last month by IBM and the Info-Tech Research Group during the course of my work on a chapter on power management issues for a forthcoming book on green IT (information technology).  Info-tech surveyed more than 1,000 IT executives at companies with 100-1,000 employees in 12 nations in eight sectors about their adoption of 11 types of "green IT" initiatives.  One of the 12 nations was Brazil (the only one in Latin America), and they have some interesting insights that I thought I would share here.
First a note about the breadth of the study.  The survey was conducted in December 2008 and January 2009.  The dozen nations covered were: Brazil, Canada, Denmark, Finland, France, Germany, India, Japan, Norway, Sweden, the UK and US.  The eight sectors involved were: banking, electronics, industrial, insurance, media and entertainment, retail, telecommunications, utilities and wholesale.  The company size of the firms surveyed was roughly divided into thirds: 30% had 100-250 employees; 34% had 250-500; and 36% had 500-1,000.  The 11 "green IT" initiatives IBM wanted to see if mid-sized firms are adopting are:
server virtualization and consolidation
storage consolidation
desktop virtualization and use of thin clients
server room upgrades
new server room build
IT energy measurement
PC power management
printer consolidation
remote conferencing and collaboration
telecommuting strategies
IT equipment recycling
One of the key findings of the survey was that two-thirds of the executives say that their firms are currently, or plan to over the next 12 months, optimize their serves through virtualization, consolidate storage systems or retrofit server rooms to make them more energy efficient.  This, in and of itself, was not a surprise to me because it confirms what my research for the book chapter was leading me to conclude.
What was a bit of a surprise was to find that Brazil led the pack in server virtualization (65% of firms in Brazil surveyed), server room retrofitting and building new, more energy-efficient server rooms!  [India leads on retrofitting, but Brazil leads on new server room builds (around 60%).]
The study also found that in Brazil, Canada, India, UK and US, 50-60% of the businesses surveyed already have in-place telecommuting and virtual conferencing capabilities.  Brazilian firms, along with those in Canada, indicate their intention to aggressively pursue remote conferencing and telecommuting over the next 12 months — probably as much to reduce travel costs (both nations are geographically huge, so travel costs can be substantial) as to reduce their carbon footprint.
Another interesting finding: 56% of respondents indicated that they have either completed or are implementing recycling programs for hardware no longer used by their firm, and 23% say that they plan to adopt such measures over the next 12 months.  In Brazil and India this latter figure is much higher: 60% and 63%, respectively.  This, if nothing else, will probably motivate equipment manufacturers to expand their recycling programs to new territories such as Latin America and the Caribbean, at least to their corporate clients.
Generally speaking, the study found that adoption of these initiatives tends to be driven 60% by business reasons (cutting costs, etc.) and 40% for environmental/corporate reputation reasons (cutting carbon footprint, good corporate citizenship, etc.).  Only 20% of respondents gave the two sides equal weight in decision-making. 
What drove implementation of green IT measures the most?  The six most popular responses were, in order of popularity:
lower electricity use;
lower use of consumables;
increased features and functionality;
lower expenses or investments required;
meeting consumers' demands;
getting credits or rebates from utilities or governments.
Tags: Alemanha, banking, Brasil, Brazil, Canada, conferência remota, consumo de energia, Denmark, Dinamarca, eficiencia energética, electronics, Energy Efficiency, energy saving, entertainment, Finland, Finlandia, França, France, Germany, green IT, IBM, India, Info-Tech Research Group, insurance, Japan, Japão, media, Noruega, Norway, power management, printer consolidation, RAEE, reciclagem, recycling, remote conferencing, retail, servers, servidores, sistemas de armazenamento, storage consolidation, Suécia, Sweden, telecommunications, telecommuting, telecomunicações, thin clients, TI Verde, UK, USA, utilities, video conferencing, virtual conferencing, virtualização, virtualization, WEEE, wholesale
Subscribe to My Comments Feed
Leave a Reply