« Energy Innovation Contest for LAC | Home | OMS: tabaco, mala alimentación, inactividad y uso de alcohol son principales amenazas para la salud humana »
By Keith R | February 27, 2009
Topics: Energy & the Environment, Renewable Sources | No Comments »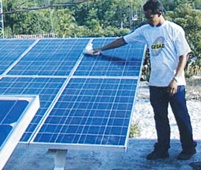 A six-year old program to bring electricity to all Brazil's citizens has concluded that solar, wind or mini-hydro power, or in some cases power generated by natural gas, may be the most practical solution to bring power  to remote places in the Amazon or the Pantanal. To encourage the use of alternative forms of energy, the Light for All (Luz para Todos) Program, the federal government will pay up to 85% of the costs of energy companies in the implementation of such projects in those areas.
Luz para Todos first started in 2003.  It is coordinated by the Ministry of Energy and Mines (MME), operationally run by the huge government-controlled energy holding company, Eletrobrás, and executed by electricity concessionaires and rural electricity cooperatives.  Luz para Todos was supposed to complete its mission by 2008, but its mandate was extended to 2010 as more isolated communities in need were identified.

The Program will help set up the needed structure locally and the concessionaire is responsible for servicing it and recovering payments for the power service.  "The goal is to make the power concessionaires lose their fear of having to work with new energy sources," explains Light for All director, Hélio Shinoda.   The Program helps them overcome their fear of losses in invest in renewables in remote areas by lowering the risks of such investments.  Shinoda admits that Luz para Todos money is no guarantee of success, but says the investment is the only way to test the applicability of new power sources.
Alternative energy sources can help communities small communities far from the grid have power for much less than it might cost to extend the grid, especially in areas such as the Amazon, Sinoda believes.
In the first five years of the Program, there were only pilot projects involving renewable sources done in partnership with universities, not full-scale projects.  Sinoda says that the new thrust in the Program is a way of testing the appropriateness of renewables in the context of remote communities. "Either we find that the energy companies have always been wrong and we will convince them to work with it, or we will see that they were right all the time.  But I think they see that it is possible and they will want to work on a large scale."
Shinoda admits that Luz para Todos' work in the Amazon so far "leaves much to be desired." If the Program can encourage large-scale investment in alternative energy sources, it can be judged a total success. "We can finish leveraging the development of new facilities in Brazil to improve the generation of alternative energy."
_________________
Desde o Programa das Nações Unidas para o Desenvolvimento (PNUD) no Brasil:
Luz para Todos bancará energia renovável

Para estimular implantação de eletricidade alternativa em local isolado, programa pagará até 85% dos custos das concessionárias nessa área

Energia solar, eólica ou gerada por gás natural poderão ser a solução para levar iluminação até casas isoladas no interior da Amazônia ou do Pantanal. Para incentivar o uso dessas formas alternativas de energia, o Programa Luz para Todos, do governo federal, vai pagar até 85% dos custos das companhias de energia, na implementação de projetos na área.

A verba do programa ajudará na implantação da estrutura e a empresa será responsável pelo serviço de energia e pela cobrança de taxas. "O objetivo é fazer com que as concessionárias de energia percam o medo que têm de trabalhar com novas fontes de energia", diz o diretor do Luz para Todos, Hélio Shinoda. Ele afirma que as empresas relutam em investir na área com medo de prejuízos e que, com o financiamento dado pelo programa, serão reduzidos os riscos desses investimentos. Shinoda reconhece que o dinheiro destinado pelo Luz para Todos não é garantia de sucesso, mas diz que o investimento é a única forma de testar a aplicabilidade das novas fontes.

Para o diretor, fontes alternativas de energia podem ser a saída para comunidades que ficam muito distantes das redes de energia elétrica. "Expandir a rede em 100 quilômetros para atingir uma região em que moram dez famílias seria muito oneroso", afirma. A localização dispersa das comunidades nesses territórios, em especial na Amazônia, são a principal dificuldade, ressalta ele.

No Manual de Projetos Especiais, que dá as novas diretrizes, o Programa ainda permite projetos que usem mini-hidrelétricas (com potência de no máximo 1.000 kW) em regiões que tiverem potencial para tal.

Nos cinco anos de existência do Programa, nunca houve no Luz para Todos um projeto em grande escala que priorizasse fontes mais ecológicas de energia. Shinoda afirma que houve projetos pilotos em parceria com universidades, mas entende que essas experiências ainda não permitem garantir o sucesso em deste empreendimento maior.

Para ele, a análise dos projetos enviados e a aplicação em pequenas comunidades serão formas de teste. "Ou vamos descobrir que as companhias de energia sempre estiveram erradas e vamos convencê-las a trabalhar com isso, ou vamos ver que estiveram certas o tempo todo", pondera. "Mas creio que elas verão que é possível e vão querer trabalhar em grande escala".

Shinoda afirma ainda que a atuação do Luz para Todos na Amazônia "estava muito a desejar" e diz que, se o programa conseguir estimular investimentos em grande escala em fontes alternativas, terá atingido seu sucesso total. "Podemos terminar alavancando o desenvolvimento de novos equipamentos no Brasil para melhorar a geração de energia de forma alternativa".
Tags: alternative energy, Amazonia, Brasil, Brazil, energía alternativa, energía eólica, energia renovável, energía solar, Luz para Todos, mini-hidrelétricas, Patanal, pequenas centrais hidroelétricas, photovoltaics, PNUD, solar energy, solar power, UNDP, wind energy, wind power
Subscribe to My Comments Feed
Leave a Reply