« Mexican Consumer Group Demands Vehicle Efficiency Labeling / Los consumidores mexicanos exigen etiquetado de eficiencia y de las emisiones de los vehículos | Home | A Breakthrough for Renewable Energy in the Cayman Islands? »
By Keith R | January 15, 2009
Topics: Energy & the Environment, Renewable Sources | No Comments »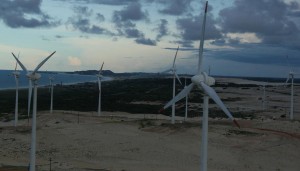 In 2009 the northern Brazilian state of Ceará (CE) intends to surpass the southern state of Rio Grande do Sul (RS) in wind power generation. Currently CE only generates 96.63 megawatts (MW) through wind power, whereas RS generates 200 MW. By the end of the year CE plans to have 518.33 MW of wind power installed.
Of that total, 500.93 MW will come from 14 wind farms that have been built just since 2007, and 17.4 MW from three wind farms installed in the 1990s. The three older wind parks are Taiba (in São Gonçalo do Amarante), with 5 MW; Prainha (in Aquiraz), with 10 MW and Praia Mansa (in the state capital, Fortaleza), with 2.4 MW.
The construction of the 14 recent wind parks were spurred in large part by the federal Program of Incentives to Alternative Sources of Electrical Energy (Proinfa).  Of the 14, five are already operating: Beberibe, with 25.6 MW; Lagoa do Mato e Canoa Quebrada (in Aracati), with 13.73 MW; Paracuru, com 23.4 MW; and Taiba-Albatroz (in São Gonçalo do Amarante), with 16.5 MW.
The remaining nine will come online during the year, starting with the Impsa Wind park on Parajuru Beach in Beberibe, with 28.8 MW capacity.
According to Brazil's wind atlas, Ceará has one of the greatest wind potentials in Brasil. The study estimates that the state's wind potential is over 25,000 MW on-shore, and could be as much as 35,500 MW if the state adds off-shore platforms.
_____________________
Desde a Secretaria da Infraestrutura (Seinfra) do Ceará:
O Ceará alcançará a marca de 518,33 megawatts de potência instalada em geração de energia eólica

O Ceará alcançará em 2009, a marca de 518,33 megawatts (MW) de potência instalada em geração de energia eólica, e, se tornará o principal estado produtor dessa energia no Brasil. Desse total, 500,93 MW são oriundos dos 14 parques eólicos, que estão sendo implantados desde 2007 e 17,4 MW, de três parques instalados na década de 1990. Este ano entrará em funcionamento, o restante dos 14 parques eólicos do Programa de Incentivo às Fontes Alternativas de Energia Elétrica (Proinfa) do Governo Federal. Até agora, das 14 usinas cinco entraram em funcionamento, restando nove, que devem ser inauguradas ao longo de 2009. Atualmente, o Estado conta com uma potência instalada de 96,63 MW, o que lhe dá o segundo lugar no País, na produção de energia eólica, ficando atrás apenas do Rio Grande do Sul, com 200 MW, atualmente o maior produtor dessa energia.

Em 2008 foram implantadas no Ceará as usinas de Energia Eólica de Beberibe (Beberibe) de 25,60 MW de potência; Lagoa do Mato e Canoa Quebrada (Aracati), com 13,73 MW; Paracuru (Paracuru), com 23,40 MW; e Taiba-Albatroz (São Gonçalo do Amarante), com 16,50 MW, todas implantadas mediante o Programa de Incentivo as Fontes de Energia Alternativas (Proinfa). Está prevista para fevereiro a entrega do parque eólico da Impsa Wind na Praia de Parajuru (Beberibe) com 28,80 MW de potencia.

O Governo Estadual tem feito todos os esforços no sentido de consolidar essa matriz energética no Ceará mediante investimentos na infraestrutura para implantação destes parques, incentivando os investidores e buscando uma maior inserção dessa fonte alternativa na política energética do País. Além das usinas eólicas, o Governo tem se preocupado em implantar toda a cadeia produtiva do setor, como indústrias de torres, de pás e de serviços desta área, de forma a gerar mais empregos para os cearenses. Para tanto tem buscando investidores e servido como indutor de negócios nesta área.

O Estado, através da Secretaria da Infraestrutura (Seinfra), está dando pleno apoio à instalação dos projetos, mediante implantação de infraestruturas necessárias às usinas, como acessos, iluminação pública e telefonia. O potencial de energia eólica do Ceará, segundo o Atlas Eólico do Estado, é um dos maiores do Brasil. O estudo estima que o potencial eólico viável do Ceará é de mais de 25 mil MW (on-shore), que podem chegar a 35,5 mil MW pelo aproveitamento da plataforma continental (off-shore).

Com a inauguração dos parques eólicos em 2008, já são oito em funcionamento no Estado. Os outros são: Usina da Taiba (São Gonçalo do Amarante), com 5 MW; Prainha (Aquiraz), com 10 MW e Praia Mansa (Fortaleza), com 2,4 MW. A energia produzida pelos parques eólicos entra automaticamente no Sistema Nacional de Distribuição de Energia, podendo ser utilizada em qualquer lugar do País, a exemplo da energia produzia pelas hidroelétricas.
Tags: Aquiraz, Aracati, atlas eólico, Beberibe, Brasil, Brazil, Ceará, energía eólica, Fortaleza, Impsa Wind, Paracuru, Parajuru, parques eólicos, Praia Mansa, Prainha, PROINFA, São Gonçalo do Amarante, Seinfra, Taiba-Albatroz, wind energy, wind farms, wind power
Subscribe to My Comments Feed
Leave a Reply