« One Million Environment-Friendly Homes | Home | Germans Provide $135 mil. for Brazilian Wind Power »
By Keith R | March 26, 2009
Topics: Energy & the Environment, Renewable Sources | No Comments »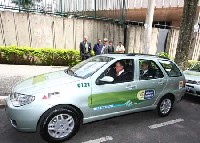 If you've been reading The Temas Blog for awhile, you might recall a prior post about the efforts of the hydropower firm Itaipu Binacional (IB) and FIAT to create an electric vehicle (built at facilities by the giant Itapu Dam) appropriate for Brazil and its MERCOSUR partners (Argentina, Paraguay, Uruguay).  Now comes word that the state-controlled utility Minas Gerais Power Company (CEMIG) has acquired four of the vehicles with a view to testing their suitability to become the chief car in their corporate fleet.  Given CEMIG's penchant for being an environmental trailblazer among Brazilian utilities (see here and here), how long before other utilities (particularly those in which the state has a controlling shareholding) follow suit?
___________________
Desde a Companhia Energética de Minas Gerais (CEMIG):
Cemig apresenta carros elétricos que serão usados em sua frota

A Companhia Energética de Minas Gerais – Cemig apresentou nesta quarta-feira (25/03), às 10h30, quatro veículos movidos exclusivamente por energia elétrica que serão utilizados em caráter experimental na frota da Empresa. O objetivo é avaliar o desempenho operacional dos veículos e seu impacto no sistema de distribuição de energia elétrica. Trata-se de uma parceria com as empresas Itaipu Binacional, Fiat Automóveis e a suíça KWO – Kraftwerke Oberhasli AG, visando à introdução e ao aperfeiçoamento dos veículos elétricos no mercado brasileiro. Após a apresentação, um dos carros ficará disponível para os jornalistas fazerem o test drive.

Os recursos investidos pela Cemig somam R$ 850 mil, correspondentes à aquisição dos carros, ao treinamento de equipe, às despesas operacionais e à estruturação de postos de abastecimento nas unidades da Empresa. Inicialmente, a parceria terá vigência de 20 meses, período em que a Cemig fará a utilização dos veículos em seus trabalhos, a fim de estudar as potencialidades e possibilidades de melhorias.

Segundo o gerente de Alternativas Energéticas da Cemig, André Martins Carvalho, "o veículo elétrico, por utilizar energia elétrica renovável, é uma solução ambientalmente sustentável para o trânsito urbano e um ótimo cliente para as distribuidoras de energia elétrica, pela possibilidade de recarga durante a madrugada, período em que há maior disponibilidade do sistema elétrico", afirma. Para o gerente, com as inovações tecnológicas incorporadas, esses veículos já alcançam autonomia adequada para muitas aplicações.

No longo prazo, o projeto do veículo elétrico poderá gerar novos negócios para a Cemig por meio da nacionalização de componentes e de inovações tecnológicas, além de direitos de propriedade intelectual como novas patentes, modelos de utilidade e desenho industrial.

O veículo

Os veículos elétricos são silenciosos e não emitem poluentes. Utilizam energia elétrica a custo inferior ao do combustível fóssil tradicionalmente utilizado no transporte veicular. O motor elétrico demanda menos manutenção, é mais econômico e possui maior rendimento em relação ao motor a combustão interna.

A frota da Cemig vai utilizar veículos montados na plataforma mecânica do Palio Weekend, escolhido pela versatilidade e espaço interno e por sua capacidade de atender às necessidades de transporte na Cemig em pequenos trajetos na área urbana de Belo Horizonte. As suspensões foram recalibradas em função da nova distribuição de massa e da alteração do centro de gravidade do veículo, depois que foram retirados o motor mecânico convencional, o tanque de combustível e o sistema de escapamento. Os sistemas de direção, freio e comandos periféricos foram mantidos.

O conjunto de energia e tração é constituído pela bateria, que pesa 165 kg e fica localizada no porta-malas e na parte dianteira, e pelo motor de indução trifásico de 15 kW, que pesa 41,5 kg e é refrigerado a água, sendo acoplado diretamente ao eixo de rodas, o que aumenta ainda mais seu rendimento. O veículo foi homologado pelo Departamento Nacional de Trânsito – Denatran.

Um sistema eletrônico monitora todo o funcionamento do veiculo e permite a utilização de parâmetros para otimização do desempenho e economia de energia, no uso tanto em locais planos quanto acidentados. Esse sistema permite controlar 15 alarmes de configuração, 15 entradas e 8 saídas lógicas e 168 parâmetros ajustáveis e a visualizar 31 diferentes medições no painel.

A bateria

A bateria do tipo Zebra (sigla em inglês para Zero Emission Battery Research Activity) é controlada por microprocessadores e reciclável e pode ser recarregada mais de 1,5 mil vezes e funciona a base de cloreto de sódio e sal de níquel, materiais abundantes na natureza e não poluentes. Não vicia e é capaz de armazenar 20 kWh. Em uma rede elétrica de 220 V, a bateria é recarregada totalmente em cerca de oito horas, propiciando ao veículo uma autonomia de 120 quilômetros.
Tags: baterias, batteries, Brasil, Brazil, Cemig, Denatran, electric cars, FIAT, frota de automóveis, Itaipu Binacional, KWO, Minas Gerais, Palio Weekend, veículos elétricos, zero emission battery
Subscribe to My Comments Feed
Leave a Reply