« A Bright Future for Solar in LAC? | Home | Coral Reef Protection Postscript: Best Practices / Posdata, Protección de los Arrecifes de Coral: Mejores Prácticas »
By Keith R | October 19, 2006
Topics: Energy & the Environment, Renewable Sources | No Comments »
I've been working on pulling together a more complete picture of the role of wind power — potential, present status and future prospects — for the nations of Latin America and the Caribbean (LAC). It has been a surprisingly challenging task.
I found and posted the various wind energy potential maps. I have included in the Temas Recommended Reading List a 2004 GTZ/UN Economic Commission for Latin America and the Caribbean (ECLAC/CEPAL) report [Renewable Energy Sources in Latin America and the Caribbean: Situation and Policy Proposals (PDF available for download in both English and Spanish] that does a good job of describing the wind projects in the region as of 2003, but shies away from prognostication for wind's future in the region. Currently I am working on creating my own up-to-date (and update-able) inventory of existing wind projects in the LAC region, along with a map showing their locations.
What I'm missing is a study or report that not only focuses on wind and on LAC, but also looks ahead further than the next 2-3 years.
A Look at Which Way the Winds Are Blowing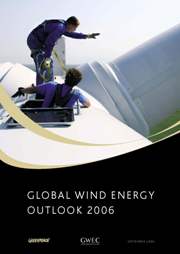 Well, last month the Global Wind Energy Council (GWEC) and Greenpeace International (GP) jointly released a report that brings me a small step closer to that goal. The report looks at the global market for wind energy up to 2050. Its regional breakdowns for those projections are skimpy, and the report lacks the country case studies provided in EPIA/Greenpeace report on the future of photovoltaics…but it's better than nothing.
The GWEC/GP report finds global installed capacity currently at over 60,000 MW and an average annual market growth rate of 28%. Wind energy, they assert, could provide as much as 29% of the world's electricity needs by 2030, if governments show the political will to take the steps needed to both promote large scale deployment paired with far-reaching energy efficiency measures.
GWEC and GP examine three different scenarios for future global wind market development up to 2050 which they label Reference, Moderate-Market and Advanced Market. The Reference scenario utilizes International Energy Agency (IEA) energy demand projections. The Advanced scenario envisions substantial energy demand through implementation of aggressive energy efficiency measures. The Moderate scenario strikes a balance between the other two.
Breezy Treatment of LAC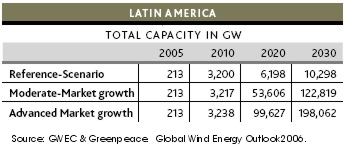 The report says that while there has been minimal wind power development activity in LAC in past years, recent efforts by LAC governments to set up and implement renewable energy programs and laws make GWEC/GP optimistic about strong growth rates in the region in coming years. Under the Reference scenario, wind will provide 10,298 GW for LAC by 2030; under the Advanced scenario, that could be as high as 198,062 GW.
The report looks briefly at the region's two giants, Brazil and Mexico, while only noting in passing that there is unspecified "potential" in Argentina, Chile, Colombia, Costa Rica, Dominican Republic, Jamaica, Nicaragua and Uruguay.
Regarding Mexico, they note that the Mexican Wind Energy Association (AMDEE) believes that, as a result of the pending approval of a new Renewable Energy Utilization Law, installed capacity may reach as high as 3,000 MW by 2014. The draft Law would set a national target for renewables at 8% by 2012 and create a trust fund to support renewables projects.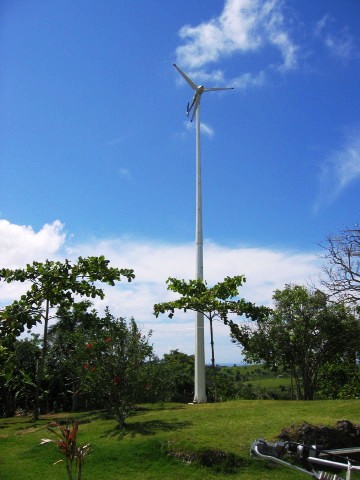 As for Brazil, the report echoes the EPIA/GP report's diagnosis: great potential (the Energy Ministry estimates as much as 143 gigawatts!), as yet barely touched. Brazil's PROINFA renewables program has yet to realize its goals, with installed capacity for wind power probably only reaching about 200 MW by end-2006. The report blames the unrealized potential on inadequate design of the PROINFA program, bureaucracy, lack of support infrastructure and Brazil's de facto monopoly in electricity supply, all resulting in an unusually high installation cost (about US$2,000/kW).
Realizing the Potential
Unlike the EPIA/GP photovoltaics report, this one does not make country-specific policy recommendations. It does make generic policy recommendations, though:
National Policies
Establish legally binding targets for renewable energy
Create legally based market deployment instruments
Provide defined and stable returns for investors by ensuring that

The price for renewable power allows for risk return profiles that are competitive with other investment options
The project's duration allows investors to recoup their investment.

Reform electricity markets by ensuring that

Electricity sector barriers to renewables are removed
Market distortions are removed
Subsidies to fossil fuel and nuclear power sources are halted
The social and environmental costs of polluting energy are internalized.
International Policies
Agree and implement post-2012 Kyoto Protocol emission reduction targets
Reform the operation of export credit agencies, multilateral development banks (MDBs) and international finance institutions by ensuring

A defined and increasing percentage of overall energy sector lending is directed to renewable energy projects
A rapid phaseout of support for conventional, polluting energy projects.
To download a PDF copy in English of the GWEC/GP report, click here. Unfortunately, a Spanish version is not yet available.
— Keith R
Tags: AMDEE, Argentina, Brasil, Brazil, Chile, Colombia, Costa Rica, Dominican Republic, energía eólica, energía renovable, energia renovável, export credit, Greenpeace, GWEC, IEA, Jamaica, Kyoto Protocol, Mexico, Nicaragua, photovoltaics, PROINFA, Protocolo de Kyoto, renewable energy, subsidies, Uruguay, wind energy, wind power
Subscribe to My Comments Feed
Leave a Reply