« Brazilian Health Care Efficient Compared to OECD | Home | Buenos Aires Province Formally Launches Sustainable Hotel Certification System »
By Keith R | January 27, 2009
Topics: Energy & the Environment, Renewable Sources | No Comments »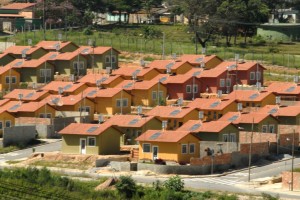 The state-owned Housing Company of Minas Gerais (Cohab) has decided to put solar water heaters in the 7,500 houses it is building in the second phase of its Popular Homes Housing Program (PLHP).  The electric utility (majority owned by the state), the Energy Company of Minas Gerais (Companhia Energética de Minas Gerais – CEMIG),will assist Cohab in this effort.  2,917 of these will involve retrofitting an existing model of home Cohab has built, 4,583 in an "adapted" model that incorporates solar water heaters.
The PLHP houses are intended for small families (up to three children) of modest means (monthly income between one and three official minimum salaries – R$415-1,245, up to US$532/mo. at current exchange rates).
The Cohab switch to solar water heaters instead of the traditional electric showerhead is being done to help the families incomes as much as it is to encourage energy savings. Past Cohab experiments with solar water heaters have shown that the family energy bill drops considerably. For example, one house in Dores de Campos went from a R$102/mo to R$24/mo after switching to a solar water heater.
_______________________
Desde a Companhia de Habitação do Estado de Minas Gerais (Cohab):
Cohab e Cemig vão instalar aquecedor solar em 7.500 casas

A Cohab decidiu implantar aquecedores em todas as casas construídas na segunda etapa do PLHP

As casas construídas pela Cohab no âmbito do Programa Lares-Habitação Popular (PLHP) são destinadas a pessoas que têm renda mensal entre um e três salários mínimos. Normalmente, as famílias beneficiadas são formadas por um casal com um, dois ou três filhos. Porém, muitas vezes, outros parentes também moram juntos na mesma casa-padrão adotada pela companhia, o que faz aumentar as despesas com consumo de energia, principalmente no chuveiro elétrico.

Preocupada com a situação econômica das famílias atendidas em geral pelo PLHP e, particularmente, as mais numerosas, a Cohab e a Cemig, com o apoio do Grupo de Estudos em Energia da Pontifícia Universidade Católica de Minas (Green), têm trabalhado para a redução do gasto doméstico com energia elétrica, por meio da implantação de aquecedores solares nas casas populares. Após experiências anteriores bem sucedidas, esse avanço foi estendido ao Lares Geraes e se tornou parte integrante do próprio programa habitacional do Governo de Minas.

As experiências iniciais de adoção de energia solar em conjuntos habitacionais ocorreram a partir do final dos anos 90. As primeiras famílias de mutuários da Cohab a receberem o equipamento foram os donos das 107 casas do Conjunto Habitacional Maria Eugênia e das 116 casas dos CHs Soter Inácio Ramos, AR II e AR III, todos em Governador Valadares. Outro projeto importante foi no ano 2000, ao instalar 100 aquecedores no Conjunto Habitacional Sapucaias, município de Contagem, mediante convênio com a Procel e a Eletrobrás.

Em dezembro de 2002, Cohab e Cemig assinaram um convênio mais amplo e, três anos depois, o Conjunto Habitacional Bairro Esplanada, em Candeias, foi o primeiro empreendimento do PLHP a receber o aquecedor solar nas suas 88 unidades. Ao longo do ano de 2007, outros 962 equipamentos foram instalados em outros conjuntos habitacionais de diferentes municípios.

A partir desses casos bem sucedidos, a Cohab decidiu implantar aquecedores em todas as casas construídas na segunda etapa do PLHP. Isso culminou na assinatura de novo convênio, em dezembro de 2008, entre a companhia e a Cemig para a instalação do mínimo de cinco mil aquecedores por ano nas casas construídas para o Lares Geraes – Habitação Popular. O convênio foi firmado em cerimônia presidida pelo governador Aécio Neves, que, na ocasião, assegurou a continuidade da injeção de recursos da ordem de R$ 10 milhões por ano no projeto.

A meta para o ano de 2009 é de 7.500 aquecedores que serão distribuídos em dois grupos: 2.917 casas construídas antes da adaptação do padrão habitacional para receber o aquecedor e 4583 casas com a adaptação já adotada no projeto arquitetônico. Segundo o diretor da Diretoria de Desenvolvimento e Construção da Cohab, José Antônio Cintra, os equipamentos começarão a ser instalados no mês de março, cabendo à Cemig o processo de licitação para aquisição e instalação do equipamento, bem como adaptação das casas que ainda não têm suporte para as placas e o reservatório térmico. A Cohab indicará as unidades residenciais que receberão o aquecedor, respeitada a área de concessão da Cemig Distribuidora. Ela vai também vistoriar antecipadamente tais casas, para verificar se foram atendidos os requisitos técnicos para a instalação do sistema.

Economia

Entre 30% e 40% de redução do consumo de energia elétrica. Esse é o percentual aproximado da economia que a instalação do aquecedor solar proporciona a uma família de quatro pessoas, dois adultos e duas crianças, moradora de um conjunto habitacional do PLHP. Em dinheiro, a economia mensal pode chegar a até R$ 80, e a família beneficiada pode usar esta economia em outras despesas domésticas, melhorando a sua qualidade de vida na alimentação, compra de material escolar, vestuário, no pagamento da prestação da casa e até na aquisição de aparelhos eletroeletrônicos. Por essa razão, o presidente da Cohab, Teodoro Alves Lamounier, classifica o projeto do aquecimento solar como "instrumento de redistribuição de renda".

A moradora de Dores de Campos, Fernanda Aparecida da Silva Lourenço, por exemplo, consumiu em outubro de 2007 136 kw/h e pagou uma conta no valor de R$ 101,82. Após a instalação do aquecedor solar, a sua conta chegou a R$ 23,98 por um consumo de 45 kw/h. A moradora garante que o aquecedor solar favoreceu muito a vida dela e do marido Eduardo José Lourenço.

Outra beneficiada foi Maria Aparecida de Assis, moradora do Conjunto Habitacional São Francisco em Itatiaiuçu. "Estou adorando. A luz abaixou bastante. Agora eu tomo meu banho mais a vontade, antes eu não podia fazer isso", disse. Ela também conta que toma 12 remédios por dia e usa o dinheiro que economiza com a conta de energia elétrica para pagar a farmácia.

Reconhecimento

A adoção pela Cohab da instalação de aquecedores como parte do PLHP rendeu em 2008 a conquista do Selo do Mérito 2007, concedido pela Associação Brasileira de Cohabs e Órgão Assemelhados (ABC). O prêmio é entregue as principais iniciativas em Habitação de Interesse Social no país e foi recebido pelo presidente da companhia, Teodoro Alves Lamounier, das mãos do Ministro de Estado das Cidades Márcio Fortes e do presidente da ABC, Álvaro Lourenço. Além da importância para a saúde econômica do mutuário, o programa representa um avanço do acesso a inovações tecnológicas por parte dos mutuários da Cohab.
Tags: aquecedor solar, Brasil, Brazil, Candeias, casas populares, Cemig, chuveiro elétrico, Cohab, Contagem, energia renovável, energía solar, environment, housing, meio ambiente, Minas Gerais, PLHP, PUC Minas, renewable energy, solar energy, solar water heater
Subscribe to My Comments Feed
Leave a Reply