« New Movement on Recycling Used Motor Oil Packaging in Brazil? | Home | Mato Grosso do Sul to Recycle Auto Glass »
By Keith R | May 24, 2009
Topics: Electronic/Electrical Equipment, Energy Efficiency | No Comments »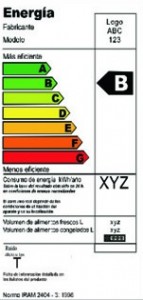 Argentina is one of the few Latin American nations (along with Brazil and Mexico) which has long (since 1999) had a mandatory energy efficiency labeling program for lighting and certain household appliances (refrigerators, freezers, air conditioners, clothes washers, clothes dryers, dishwashers, water heaters).  Even so, to date the mandatory labels have only been issued for refrigerators, freezers, refrigerator-freezers and air conditioners (labels for other categories have been ("under development").  The labels are based on energy standards and measurements set by the Argentine Standards and Certification Institute (Instituto Argentino de Normalización y Certificación – IRAM), which are modeled after the European Union's color bar system (see example at right).
In December 2007, faced with a looming national energy shortage, the President issued a decree creating a National Program for the Rational and Efficient Use of Energy (PRONUREE).  Among other things, the Decree authorized the Federal Planning Ministry's Energy Secretariat to set maximum energy consumption standards for electrical equipment.  However, until now the Secretariat has not welded the new authority.
Two days ago it finally did so, with the first target being one of the few categories for which mandatory labels exist: household (not industrial or commercial) refrigerators and refrigerator-freezers.  The operative part of the resolution is short and simple: it just says that these appliances must meet at least the "C" class in IRAM Norm 2404-3:1998 (the third green bar on the scale covered by the energy efficiency label at right).
Which leads to the question: which product category will be next?
Tags: air conditioners, aparatos electrodomésticos, Argentina, clothes dryers, clothes washers, congeladores, consumo de energia, dishwashers, eficiencia energética, electrodomésticos, energy consumption, Energy Efficiency, energy labeling, European Union, freezers, household appliances, IRAM, labeling, lighting, neveras, Planning Ministry, PRONUREE, refrigeradores, refrigerators, Unión Europea
Subscribe to My Comments Feed
Leave a Reply