« UNDP to Help Fortify Venezuela's National Park System | Home | Greenpeace's Recipe for an Energy Revolution in Chile »
By Keith R | August 1, 2009
Topics: Electronic/Electrical Equipment, Energy Efficiency | No Comments »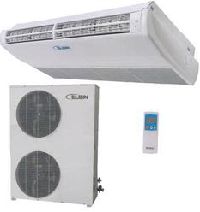 Brazil recently adopted a new set of rules for conformity assessment and energy effficiency labeling for air conditioners.  Among other things, National Institute of Metrology, Standardization and Industrial Quality (Inmetro) Portaria 215, adopted on 23 July 2009 and published in the federal gazette on 27 July:
extended the rules and compulsory labeling requirement (see sample below of the label) to multi-split ceiling-and-floor air conditioners (previously only window and high-wall type splits were covered).  Inmetro chose to adopt European criteria for this type of air conditioner.
extended the rules for all air conditioning units up to 60,000 BTUs (previously rules only covered up to 36,000 BTUs, in part because Brazilian laboratories can now test larger units for conformity;
tightened the efficiency classification levels (see chart below), to reflect the fact that air conditioning models on the market have improved efficiency by an average of 8% since the 2006 regulation;
revoked and replaced the 2006 regulation, Portaria 14.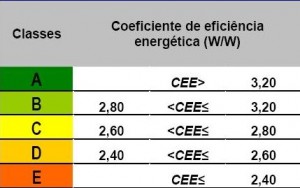 The new rules apply to air conditioners made or imported after the date of publication (27 July), and retailers have until one year later, 27 July 2010, to clear their shelves of the models not complying with the new rules.
Tags: air conditioners, Brasil, Brazil, condicionadores de ar, eficiencia energética, Energy Efficiency, energy labeling, etiquetagem, etiquetas de eficiência energética, INMETRO, labeling, portaria, split air conditioners
Subscribe to My Comments Feed
Leave a Reply