« A Wind Atlas for Espírito Santo | Home | Trends in Clean Energy Investment »
By Keith R | June 3, 2009
Topics: Energy Efficiency, Green Building, Renewable Sources | No Comments »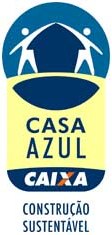 Caixa Econômica Federal (CEF, popularly known among Brazilians as simply "Caixa"), Latin America's largest public bank, is already involved in promoting green building though its insistence on construction using certified wood and its concessionary financing for the installation of the solar panels and water heaters in Brazil's recently announced "My House My Life" Program to build one million homes for low-income families.
Now it is taking it a step further:  on Tuesday, 02 June, it launched a new tool for rating the sustainability of housing projects. This is "Blue House Seal" will be awarded by Caixa to those construction projects meeting socio-environmental criteria that prioritize certain social practices and  economy in the use of the country's natural resources. The Seal is to be the centerpiece of the bank's Program for Sustainable Construction.
The Seal's launch in Brasilia was part of the Bank's celebrations of World Environment Day, and it included the signing of a partnership agreement with the Neoenergia Group for the donation of solar heaters, fluorescent lamps and for replacement of older, less efficient refrigerators.
Caixa's review criteria for awarding the Seal are grouped into six categories: urban integration; design and comfort; energy efficiency; conservation of material resources; water conservation; and social practices. "Our goal is to encourage the construction of homes that during the building process respect the environment and at the same time are conducive to good health and comfort to their users," said Caixa president Maria Fernanda Ramos Coelho.
There will be three different classes of the  Blue House Seal: gold, silver and bronze, with award determined by the number of criteria met. To receive the gold version, a project must meet at least 24 of the 46 conditions; for silver, 19; and for bronze the project must fulfill at least the 14 mandatory criteria.   In November the bank will publish a guide for those wishing to obtain the Seal, and in January 2010 it will begin receiving candidate applications.
Economics and Sustainability
The technical cooperation agreement with Grupo Neoenergia donation involves donating solar water heaters, efficient 15W and 20W compact fluorescent lamps and replacing older refrigerators with new more efficient models in households with incomes of up to three times minimum wage who are part of the 'My Home My Life'  Program in the northeastern states of Bahia, Rio Grande do Norte and Pernambuco.  All equipment in the program must bear the Procel seal (which indicates that they are among the most efficient, similar to what the Energy Star indicates in the US).
Each housing unit will receive up to five lamps for installation in the living room, bedrooms and kitchen. The rules for the donation of refrigerators are already established by the electricity distributor – single-phase residential customers living in poor neighborhoods who have average monthly electricity consumption above 80 kWh, and a replacement for housing. The solar heaters will go to cities where there is greater demand for the use of electric shower and are viable, according to the parameters of the National Energy Agency (ANEEL), under its Energy Efficiency Programs.
The agreement provides for the monitoring and evaluation of outcomes and impacts of actions taken, as well as educational activities about energy efficiency and energy savings. The agreement will last for 36 months and may be extended.
Solar Brazil Project
Caixa also has international partners to promote environmental sustainability in housing built by the "My House, My Life" Program.  The German government, through the German Agency for Technical Cooperation (GTZ), will provide funds of €1 million  for the Solar Brazil Project, which aims to disseminate and use solar heating systems as an alternative source for heating water.
__________________

Desde Caixa:
CAIXA LANÇA SELO PARA EMPREENDIMENTOS HABITACIONAIS SUSTENTÁVEIS

Banco também firma parceria para a doação de aquecedores e lâmpadas para famílias de baixa renda

A Caixa Econômica Federal lançou nesta terça-feira, 02 de junho, em Brasília, um novo instrumento de classificação da sustentabilidade de projetos habitacionais. Trata-se do "Selo Casa Azul", que qualificará projetos de empreendimentos dentro de critérios socioambientais, que priorizam a economia de recursos naturais e as práticas sociais. O Selo é o principal instrumento do Programa de Construção Sustentável do banco.

A ação fez parte das comemorações do Dia Internacional do Meio Ambiente, que contemplou também a assinatura de parceira com o Grupo Neoenergia, para a doação de aquecedores solares, lâmpadas e a substituição de geladeiras. O evento realizado no Teatro da CAIXA Cultural contou com as presenças da presidenta do banco, Maria Fernanda Ramos Coelho; do ministro do Meio Ambiente, Carlos Minc, e do presidente do Grupo Neoenergia, Marcelo Corrêa, entre outras autoridades.

Para a concessão do selo, a CAIXA analisará critérios agrupados em seis categorias: inserção urbana, projeto e conforto, eficiência energética, conservação de recursos materiais, uso racional da água e práticas sociais. "Nosso objetivo é incentivar a construção de moradias que no processo de edificação tenham respeitado o meio ambiente e ao mesmo tempo propiciem boas condições de conforto e salubridade para seus usuários", destaca a presidenta do banco.

O 'Selo Casa Azul' será dividido nas classes ouro, prata e bronze, definidas pelo número de critérios atendidos. Para receber o ouro, o empreendimento deverá atender a, no mínimo, 24 das 46 condições. Receberão prata aqueles que atenderem a 19 critérios, e bronze os que apresentarem o cumprimento de, pelo menos, 14 critérios obrigatórios. "A partir de novembro deste ano, nós divulgaremos o "Guia do Proponente" e, em janeiro de 2010, vamos receber os projetos candidatos ao selo", antecipa Maria Fernanda Ramos Coelho.

Economia e sustentabilidade

O convênio de cooperação técnica com o Grupo Neoenergia prevê a doação de aquecedores solares, lâmpadas e a substituição de geladeiras de famílias com renda de até três salários mínimos atendidas pelo 'Programa Minha Casa Minha Vida' nos estados da Bahia, Rio Grande do Norte e Pernambuco. Serão doadas lâmpadas fluorescentes compactas de 15W e 20W, geladeiras de baixo consumo de energia e sistemas termo solares para aquecer água. Todos os equipamentos distribuídos terão o Selo Procel/INMETRO de economia de energia.

Cada unidade habitacional receberá até cinco lâmpadas, para instalação na sala, quartos e cozinha. As regras para a doação de geladeiras são as já estabelecidas pela distribuidora de energia – usuários residenciais monofásicos moradores de bairros populares que tenham consumo médio mensal acima de 80 kWh, sendo uma substituição por moradia. Os aquecedores solares serão destinados a municípios em que haja maior demanda pelo uso do chuveiro elétrico e que sejam viáveis, de acordo com os parâmetros da Agência Nacional de Energia Elétrica (ANEEL), no âmbito dos Programas de Eficiência Energética.

"Parcerias como essa contribuem para a promoção do desenvolvimento sustentável do país, pois evitam a criação de novas fontes provedoras de energia elétrica, como usinas hidrelétricas e termoelétricas e promovem a economia doméstica de energia, o que se traduz em benefícios econômicos, sociais e ambientais", pontua Maria Fernanda Ramos Coelho.

O convênio prevê o monitoramento e a avaliação dos resultados e impactos das ações implementadas, bem como a realização de atividades educativas sobre eficiência energética e economia de energia. O acordo terá a duração de 36 meses e poderá ser prorrogado.

Essa iniciativa se soma a outras que buscam estimular a sustentabilidade das habitações, especialmente no "Programa Minha Casa Minha Vida", como a implantação de aquecedores solares, de medidores individualizados de água e gás nos condomínios, e o uso de madeiras de origem legal.

Projeto Solar Brasil

A CAIXA também conta com parceiros internacionais para a promoção da sustentabilidade ambiental nas moradias construídas pelo "Minha Casa, Minha Vida". O Governo Alemão, por meio da Agência Alemã de Cooperação Técnica GTZ, disponibilizará recursos da ordem de 1 milhão de euros para o Projeto Solar Brasil, que visa utilizar e disseminar sistemas de aquecedor solar como fonte alternativa para aquecimento de água.
Tags: Alemanha, ANEEL, aquecedores solares, Bahia, Blue House Seal, Brasil, Brazil, Caixa Econômica Federal, Carlos Minc, certified wood, construção sustentável, eficiencia energética, Energy Efficiency, fluorescent lamps, geladeiras, Germany, GTZ, lâmpadas fluorescentes, madeira legal, Minha Casa Minha Vida, Neoenergia, Pernambuco, Procel, rational water use, refrigerators, Rio Grande do Norte, Selo Casa Azul, Solar Brazil Project, solar water heater, sustainable construction, sustainable housing, uso racional da água
Subscribe to My Comments Feed
Leave a Reply