« ANVISA Proposes Criteria for Recycling PET / Anvisa propõe critérios para reciclagem de plásticos PET | Home | Eye on Ads: Brazil's Initial TV Assault on Alcohol »
By Keith R | August 17, 2007
Topics: Energy Efficiency | No Comments »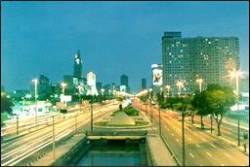 Synopsis in English: Brazil's certification entity, the National Institute for Meteorology, Standardization and Industrial Quality (Instituto Nacional de Metrologia, Normalização e Qualidade Industrial – INMETRO) recently announced that, starting in 2008, it and the mixed capital (but majority state-owned) electricity distribution company (the largest in Latin America) Eletrobrás a certification and labeling program for the most efficient public lighting.
Public lighting — along streets, in parks, etc. — constitutes 3-5% of the country's total energy consumption. The idea behind the program is to give further impetus for municipalities to switch to the most energy efficient lamps and lighting systems by letting the public know just how efficient (or not) their city lighting is utilizing an easily understandable rating system. By giving municipal governments more incentive to convert, they hope to lower expenses, energy consumption and greenhouse gas emissions.
A working group met in late July to put the final touches on the rules for the rating/certification rules, which will be offered for public comment soon, with finalization due by year-end and implementation slated at the beginning of 2008.
_____________________________________

Desde Agência Brasil e o Instituto Nacional de Metrologia, Normalização e Qualidade Industrial (INMETRO):
Luminárias públicas terão classificação por níveis de eficiência energética

As prefeituras brasileiras poderão experimentar, já a partir de 2008, uma significativa redução nos gastos com luminárias para iluminação pública, através da regulamentação de avaliação de desempenho para esse produto.

Trabalhos com esse objetivo estão sendo realizados pelo Instituto Nacional de Metrologia, Normalização e Qualidade Industrial (Inmetro), vinculado ao Ministério do Desenvolvimento, Indústria e Comércio Exterior, e a Eletrobrás, no âmbito do Programa Brasileiro de Etiquetagem (PBE). Este é um programa que visa prover os consumidores de informações que facilitem a otimização do consumo de energia dos equipamentos eletrodomésticos, através da seleção de produtos mais eficientes, possibilitando economia nos custos de energia.

Além de gerar uma economia para os cofres públicos, a idéia do projeto é melhorar a iluminação das ruas. "A gente está levantando também a chamada distribuição luminosa, de maneira que a rua se torne uniformemente iluminada, sem zonas escuras e claras. Essa medida diminui também a possibilidade de acidentes de trânsito, porque o motorista vai poder ver melhor, e a segurança da população", revelou hoje (20) à Agência Brasil o pesquisador da área de fotometria do Inmetro, Hans Peter Grieneisen.

Ele revelou que a iluminação pública nacional consome atualmente de 3% até 5% de toda a energia utilizada no país. "É uma fatia bastante grande", afirmou Grieneisen. Na próxima semana, o grupo técnico integrado pelo Inmetro e Eletrobrás, além de concessionárias de energia, fabricantes, importadores e laboratórios especializados em ensaios fotométricos se reúne em São Paulo pela segunda vez para dar andamento ao trabalho. "O grupo vai estabelecer as regras para o desempenho das luminárias que, então, recebem uma classificação, dentro do PBE".

Após essa fase, a matéria será colocada em consulta pública. A expectativa é que em 2008 o regulamento de avaliação de conformidade para etiquetagem das luminárias já esteja em vigor. Essas regras possibilitarão a classificação energética dos produtos, em níveis de eficiência.

"O que se procura é aumentar a luz numa luminária com uma certa quantidade de energia. Quer dizer, o rendimento óptico tem que ser maximizado. A gente fica mais eficiente no consumo de energia elétrica", explicou o pesquisador. Ele ponderou que a diminuição do consumo elétrico é uma necessidade hoje, não só devido a problemas econômicos, como também em razão da ecologia. "A gente tem que gastar o mínimo de energia e fazer com ela o máximo possível".

Hans Peter Grieneisen salientou que as luminárias cujo desempenho for considerado acima do mínimo prescrito receberão o selo do Programa Nacional de Conservação de Energia Elétrica (Procel), do governo federal, que destaca os produtos mais eficientes em termos de energia no país.

Segundo o especialista, as indústrias nacionais já estão se submetendo a testes voluntariamente, porque sabem que através da etiquetagem elas podem melhorar seus produtos, tornando-os mais eficientes. "Eles mesmos estão interessados em fazer um produto de alta qualidade porque também querem exportar e, para isso, têm que atender às exigências mínimas dos países importadores". De início, o regulamento não será obrigatório para os fabricantes mas, com o tempo, ele se tornará compulsório, como já sucede hoje em relação às lâmpadas, observou o físico do Inmetro.
Tags: alumbrado público, Brasil, Brazil, certificação, certification, consumo de energia, eficiencia energética, Eletrobrás, energy consumption, Energy Efficiency, etiquetado, etiquetagem, iluminação pública, INMETRO, labeling, lâmpadas, lamparas, lamps, Procel
Subscribe to My Comments Feed
Leave a Reply