« Brazil: Government & Industry Discuss Changes in Processed Foods | Home | Toward a Caribbean Public Health Agency »
By Keith R | August 11, 2008
Topics: Electronic/Electrical Equipment, Energy Efficiency | No Comments »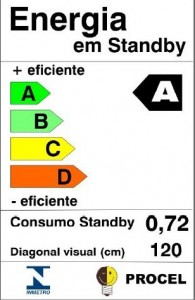 Quiz: Which is the first Latin American nation — and one of the few in the world at this point — that requires all new television sets with cathode ray tubes (CRTs) — whether locally made or imported — to bear a labeling disclosing to the consumer the standby power rating for the set?
Answer: Brazil, since 01 August.
The label design is a modified version of the general energy efficiency labels Brazil has been using for several years now, itself a rip-off of the EU energy efficiency labels. "A" is most efficient, "D" least. To achieve "A" status, a TV set must consume 1 watt or less while on standby (the standard used by Japan, South Korea and the United States' "Energy Star" program.
"B" (1-3.43 watts), "C" (3.44-5.86 watts) and "D" (5.7-8.2 watts) represent equal splits of the range between 1 watt and the highest range currently allowed under Brazilian law.
The label itself is not new — some manufacturers and retailers have been using it voluntarily for months. Now, however, its use is mandatory. The standards will be reviewed (and probably toughened) in two years.
The test methods and equipment used to measure the sets' standby consumption are the same ones utilized by the US Energy Star program.
Approval of labels for different TV models must be okayed by Brazil's entity in charge of enforcing technical specifications, the National Institute of Metrology, Standardization and Industrial Quality (Instituto Nacional de Metrologia, Normalização e Qualidade Industrial– INMETRO).
Sales of television sets in Brazil in 2007 were around 10 million. Officials hope that the labeling (and perhaps tightening of mandatory efficiency standards if the labeling doesn't do the trick) will get consumers to buy sets rated "A", saving about 23.94 kW per set every year based on Brazilian TV viewing habits, or about 239 GWh if everyone switched to an "A" television. No small savings, that.
TV sets with CRTs are, of course, only the leading edge of an overall labeling project for standby power in electronics in Brazil. Next will be LCD TVs, followed by plasma TVs, projection TVs, set-top boxes, VCRs, DVD players, sound equipment, and computer monitors.

Loading ...
Tags: aparelhos eletrônicos, atacadistas, Brasil, Brazil, cinescópio, CRTs, DVD players, eficiencia energética, Energy Efficiency, Energy Star, etiqueta, INMETRO, Japan, Japão, labeling, LCD screens, modo de espera, monitors, plasma TVs, projection TVs, rotulagem, set-top boxes, sound equipment, South Korea, standby power, television sets, televisor, varejistas, VCRs
Subscribe to My Comments Feed
Leave a Reply