« A Successful E-waste Collection Campaign in Jalisco | Home | OAS Helping St. Kitts & Nevis on Renewable Energy »
By Keith R | January 22, 2009
Topics: Electronic/Electrical Equipment, Energy Efficiency | No Comments »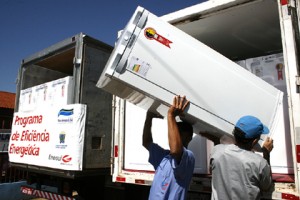 The government of the central Brazilian state of Mato Grosso do Sul (MS), in cooperation with the state electricity distributor Enersul, is handling out new top-rated (see the Procel energy efficiency seal on the upper right corner of that unit being offloaded from the truck?) energy-efficient refrigerators to low-income families in three cities — 250 on one day in the capital Campo Grande alone — in exchange for turning in their old, inefficient models.  Receiving families also receive compact fluorescent lamps for their homes and tips on energy conservation.
According to Enersul, this program will help these families save anywhere from 25% to 50% on their household electric bills. Of course, the exchange also means that Enersul frees up some demand, reduces greenhouse gas emissions and the government takes out of commission many old units containing ozone-depleting substances as refrigerants.
The collected refrigerators are sent to a facility in neighboring Paulínia, São Paulo, that is licensed to dismantle and recycle them.
This actually is not a new idea in Brazil — Bahia, Pará, Pernambuco, Rio de Janeiro and Tocantins have all had similar programs, although they vary somewhat in size and emphasis.  Most however have in common targeting low-income families, who are more likely to have older, inefficienct appliances that utilize CFCs as their coolants.
_____________________
Desde Noticias.MS:
Governo e Enersul entregam geladeiras para população de baixa renda

O governador André Puccinelli participa hoje (22) da entrega de geladeiras a 250 famílias de dois bairros da periferia de Campo Grande, ação que integra o Programa de Eficiência Energética desenvolvido pela Enersul – Rede Energia com a colaboração do governo do Estado de Mato Grosso do Sul e Assembléia Legislativa. A entrega está marcada para as 8h30, na Associação de Surdos (Assums/MS), à rua Prudentópolis, nº 548, Jardim Panorama. Puccinelli participa da cerimônia ao lado dos diretores da Enersul Sidney Simonággio (vice-presidente) e Edmir Bosso (diretor operacional).

A aplicação de parte da receita da distribuidora em ações pelo melhor uso da energia está previsto em resolução da Agência Nacional de Energia Elétrica (Aneel). O objetivo do programa executado pela concessionária Enersul é racionalizar o uso da energia, orientando o consumo consciente, principalmente nas comunidades de baixa renda do Estado. O programa consiste em ações de educação por meio de palestras, distribuição de cartilhas com dicas de economia, troca de lâmpadas incandescentes por lâmpadas do tipo compacta fria, e substituição de refrigeradores em estado precário de conservação por eletrodomésticos com certificação pelo selo "A" Procel de eficiência.

Segundo a distribuidora, as melhorias dão condições aos beneficiados de economizar de 25% a 50% nas contas de luz. Nesta quinta-feira, mais 250 famílias da periferia de Campo Grande vão receber o benefício do programa que nesta etapa substituiu as instalações elétricas das moradias, distribuiu 1.250 lâmpadas compactas e vai trocar mais 125 geladeiras antigas.

O ciclo atual do Programa de Eficiência Energética começou em julho de 2008 e vai até julho de 2009, contando com investimentos de R$ 4,8 milhões. Esse valor está distribuído em dois setores distintos. O primeiro abrange os consumidores da Classe Residencial/Subclasse Baixa Renda, contemplado com 71% dos recursos. O programa vai incluir os municípios de Campo Grande – com os bairros Vivendas do Parque, Panorama, Itamaracá, Vila Portal do Lago, Jardim Fluminense, Nova Lima e Inápolis, e também as cidades de Anastácio e Corumbá.

Para se contemplada, a unidade consumidora precisa estar classificada como de Baixa Renda; ter média de consumo nos últimos três meses entre 80kWh e 220kWh/mês; não ter débito com a concessionária; não ter indícios de fraude no padrão de medição, e possuir geladeira classificada como condenada, segundo avaliação dos técnicos do programa.

Na troca, o refrigerador condenado é recolhido e encaminhado para um processo de reciclagem, realizado por uma empresa certificada em Paulínia (SP). O mecanismo consiste num processo industrial que desmonta o refrigerador condenado e reutiliza cada uma das peças na manufatura de novos produtos dentro de um ciclo de reciclagem 100% sustentável.

O restante dos investimentos do programa de eficiência energética, 29%, será destinado para otimizar o consumo de energia elétrica em repartições públicos e uma unidade hospitalar de Campo Grande.
Tags: Anastácio, ANEEL, Brasil, Brazil, Campo Grande, CFCs, chlorofluorocarbons, Corumbá, eficiencia energética, Energy Efficiency, Enersul, geladeiras, Mato Grosso do Sul, neveras, ozone depleting substances, Paulínia, reciclagem, recycling, São Paulo
Subscribe to My Comments Feed
Leave a Reply