« BNDES Finances Stem Cell Research Centers / BNDES apoia a centros de pesquisa com células-tronco | Home | World Bank: "Climate Smart" World Possible / Banco Mundial: es posible lograr un mundo con enfoque climático inteligente / Banco Mundial: Um Mundo "Climaticamente Inteligente" É Possível »
By Keith R | September 15, 2009
Topics: Energy Efficiency | No Comments »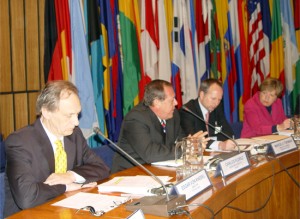 From the UN Economic Commission for Latin America and the Caribbean (ECLAC):
The Region is Before a Historical Opportunity to Heighten Energy Efficiency

Experts discussed the situation and future of energy use in Latin America and the Caribbean during an inter-governmental meeting at the Commission headquarters.

Latin America and the Caribbean are before a historical opportunity to strengthen their public policies on energy efficiency, stated ECLAC Executive Secretary Alicia Bárcena during the inauguration of an inter-governmental meeting on the issue at the Commission headquarters in Santiago, Chile.

The meeting "Situation and Perspectives on Energy Efficiency in Latin America and the Caribbean" is named after a study prepared by ECLAC and the Latin American Energy Organization (OLADE) presented during the event. The meeting was organized by ECLAC, OLADE and the German cooperation agency GTZ.

Participating in the inauguration were Chile's Minister of Energy Marcelo Tokman, OLADE Executive Secretary Carlos Florez and the Director of GTZ in Chile, Edgar Von Knebel.

Bárcena stressed that there are still few measures being taken in the region to make a more efficient use of energy. "The fiscal incentives our governments are now offering as a means to overcome the financial crisis should be used in this direction, linking them to investments related to energy efficiency. It is an opportunity we cannot let by," she said.

The region is ready to commit to reducing greenhouse gas emissions by 20% through energy efficiency, said Bárcena.

"The region should assume a more proactive position on this issue. Efficiency is perhaps the best means to achieve energy and climate security," she added.

Referring to Chile's experience, Energy Minister Tokman noted that the budget this year for improving energy efficiency is 40 times greater than in 2006. "We are strengthening our analytical capacity to design more effective measures. Therefore, all regional studies are welcome," he said.

Tokman stated that Chile is developing a plan that includes educating children on the importance of protecting energy, informing consumers so they may better select energy-consuming appliances, assisting the productive and public sectors to attain better practices, and providing subsidies to encourage the correct use of energy, among other measures.

Florez stressed the need to advance towards the creation of a database of energy indicators in the region to measure the results of energy efficiency initiatives.

Von Knebel said that his agency would continue to cooperate with projects that improve energy efficiency in the region through, for example, contests that award innovative ideas.

Representatives of the ministries of energy of 15 countries in the region and international organizations participated in the intergovernmental meeting.
_______________
Desde a Comisión Económica para América Latina (CEPAL):
La región tiene la oportunidad histórica de potenciar la eficiencia energética

Expertos discuten la situación y futuro del uso de la energía en América Latina y el Caribe en una reunión intergubernamental que se realiza en la sede de la Comisión.

América Latina y el Caribe tiene la oportunidad histórica de potenciar sus políticas públicas de eficiencia energética, afirmó la Secretaria Ejecutiva de la CEPAL, Alicia Bárcena al inaugurar una reunión intergubernamental sobre el tema en la sede de la Comisión, en Santiago de Chile.

El encuentro titulado "Situación y perspectivas de la eficiencia energética en América Latina y el Caribe", lleva el mismo título de un estudio que allí se presentó y que fue elaborado por la CEPAL y la Organización Latinoamericana de Energía (OLADE), los que organizan el evento junto a la Agencia de Cooperación del gobierno alemán GTZ.

En la inauguración participaron el Ministro de Energía de Chile, Marcelo Tokman; el Secretario Ejecutivo de OLADE, Carlos Florez, y el Director de la GTZ en Chile, Edgar Von Knebel.

Bárcena advirtió que aún se observan en la región pocas medidas relacionadas al uso más eficiente de la energía. "Hay que aprovechar los estímulos fiscales que hoy nuestros gobiernos aportan para salir de la crisis financiera y conectarlos a inversiones asociadas a eficiencia energética. Es una oportunidad que no podemos dejar pasar", afirmó.

Destacó que ve a la región lista para comprometerse a reducir las emisiones de gases de efecto invernadero en 20% mediante la eficiencia energética.

"Nos debemos posicionar como una región muy proactiva en este tema. La eficiencia es quizás la mejor vía para la seguridad energética y climática", agregó.

Al referirse a la experiencia chilena, Marcelo Tokman resaltó que desde el año 2006 y hasta la fecha el presupuesto destinado a mejorar la eficiencia energética se ha incrementado 40 veces. "Estamos fortaleciendo nuestra capacidad analítica para diseñar medidas más efectivas por lo que todos los estudios regionales son bienvenidos", dijo.

Tokman destacó que Chile desarrolla un plan que contempla educar a los niños sobre la importancia de cuidar la energía e informar a los consumidores para que sepan elegir mejor los artefactos que la consumen, asesorar a los sectores productivo y público para lograr mejores prácticas, y otorgar subsidios que estimulen un correcto uso de la energía, entre otras medidas.

Carlos Florez insistió, a su vez, en la necesidad de avanzar en la creación de una base de indicadores energéticos en la región que permita medir los resultados efectivos de las iniciativas en materia de eficiencia energética.

En tanto, Edgar Von Knebel aseveró que la Agencia GTZ seguirá colaborando con proyectos que mejoren la eficiencia energética en los países de la región, a través por ejemplo de concursos que premiarán ideas innovadoras.

En la reunión intergubernamental, que finalizará mañana, participan representantes de ministerios de Energía de 15 países de la región y de organismos internacionales.
Tags: appliances, CEPAL, ECLAC, eficiencia energética, electrodomésticos, Energy Efficiency, GTZ, OLADE
Subscribe to My Comments Feed
Leave a Reply