« Cleaning Up the Medellín River / Limpieza del río Medellín | Home | Brazil's Light for All Program Promotes Renewable Energy »
By Keith R | February 27, 2009
Topics: Energy & the Environment | 2 Comments »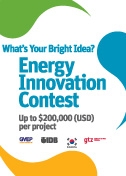 From the Inter-American Development Bank (IDB):
Hemispheric energy innovation contest announced

Donors offer up to $200,000 to finance multiple proposals for promoting energy efficiency and access to renewable energy in Latin America and the Caribbean

Novel ideas for improving energy efficiency and expanding access to renewable energy in Latin American and Caribbean countries will receive up to $200,000 in financing through a contest jointly announced today by the Inter-American Development Bank, GVEP International, GTZ and the Korean Government.

The Energy Innovation Contest seeks to jump-start the development of novel solutions to the energy shortages afflicting the region, particularly in rural and low-income areas. It will award a total of between US$4 million and US$6 million over the next three years to multiple projects, with a maximum of $200,000 per proposal.

Over the next month, a regional marketing campaign based on the slogan "What's your bright idea?" will urge individuals and organizations based in Latin American or Caribbean countries to submit proposals to the contest. Non-governmental organizations, civil society organizations, companies, foundations, think tanks, universities or development agencies may apply singly, or in partnership with entities based outside the region. Proposals may be submitted in English, Spanish, Portuguese or French.

The criteria for evaluation include degree of innovation, developmental impact (economic, social, environmental), scalability, replicability, financial sustainability, institutional capability and the quality of the proposal, implementation strategy and projected risks.

Proposals must be submitted by May 15, 2009, and the winners will be announced in August. Click on the links to the right for more information and an electronic application form.
[media id=17 width=320 height=240]
Tags: BID, Caribbean, Caribe, eficiencia energética, energía renovable, energia renovável, Energy Efficiency, GTZ, GVEP, IDB, Latin America, renewable energy, South Korea
2 Responses to "Energy Innovation Contest for LAC"
Biofuels Brazil Says:
March 30th, 2009 at 16:19

[…] are offering up to $200 000 for a prize winning idea in the Hemispheric energy innovation contest, according to the Tem…. The competition is based around ideas for energy innovation and efficiency in the Caribbean and […]

Eco Friendly Mag Says:
April 4th, 2009 at 22:49

[…] biofuel projects could share in $200 000 in Latin America Donors are offering up to $200 000 for a prize winning idea in the Hemispheric energy innovation contest, according to the Tem…. The competition is based around ideas for energy innovation and efficiency in the Caribbean and […]
Leave a Reply