« The World Bank on LAC and Climate Change / El Banco Mundial sobre ALC y el cambio climático | Home | Global Sustainable Tourism Criteria / Criterios Globales de Turismo Sostenible »
By Keith R | October 7, 2008
Topics: Biofuels, Energy & the Environment | No Comments »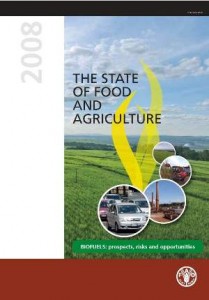 From the UN Food and Agriculture Organization (FAO):
Annual report weighs opportunities and risks of biofuels

Biofuel policies and subsidies should be urgently reviewed in order to preserve the goal of world food security, protect poor farmers, promote broad-based rural development and ensure environmental sustainability, FAO said today in a new edition of its annual flagship publication The State of Food and Agriculture (SOFA) 2008.

"Biofuels present both opportunities and risks. The outcome would depend on the specific context of the country and the policies adopted," said FAO Director-General Jacques Diouf today. "Current policies tend to favour producers in some developed countries over producers in most developing countries. The challenge is to reduce or manage the risks while sharing the opportunities more widely."

Biofuel production based on agricultural commodities increased more than threefold from 2000 to 2007, and now covers nearly two percent of the world's consumption of transport fuels. The growth is expected to continue, but the contribution of liquid biofuels (mostly ethanol and biodiesel) to transport energy, and even more so, to global energy use will remain limited.

Despite the limited importance of liquid biofuels in terms of global energy supply, the demand for agricultural feedstocks (sugar, maize, oilseeds) for liquid biofuels will continue to grow over the next decade and perhaps beyond, putting upward pressure on food prices.

Opportunities for the poor

If developing countries can reap the benefits of biofuel production, and if those benefits reach the poor, higher demand for biofuels could contribute to rural development.

"Opportunities for developing countries to take advantage of biofuel demand would be greatly advanced by the removal of the agricultural and biofuel subsidies and trade barriers that create an artificial market and currently benefit producers in OECD countries at the expense of producers in developing countries," Diouf said.

Other policy measures driving the rush to liquid biofuels, such as mandated blending of biofuels with fossil fuels, as well as tax incentives, have created an artificially rapid growth in biofuel production. These measures have high economic, social and environmental costs and should also be reviewed, according to the report.

Food security

Growing demand for biofuels and the resulting higher agricultural commodity prices offer important opportunities for some developing countries. Agriculture could become the growth engine for hunger reduction and poverty alleviation.

Production of biofuel feedstocks may create income and employment, if particularly poor small farmers receive support to expand their production and gain access to markets. Promoting smallholder participation in crop production, including for biofuel, requires investment in infrastructure, research, rural finance, market information and institutions and legal systems.

Among the risks, however, food security concerns loom large. High agricultural commodity prices are already having a negative impact on developing countries that are highly dependent on imports to meet their food requirements.

Particularly at risk are poor urban consumers and poor net food buyers in rural areas. Many of the world's poor spend more than half of their incomes on food. "Decisions about biofuels should take into consideration the food security situation but also the availability of land and water," Diouf said. "All efforts should aim at preserving the utmost goal of freeing humanity from the scourge of hunger," he stressed.

Greenhouse gases

When looking at the environmental dimension, the balance is not always positive. "Expanded use and production of biofuels will not necessarily contribute as much to reducing greenhouse gas emissions as was previously assumed," the report finds. While some biofuel feedstocks, such as sugar, can generate significantly lower greenhouse gas emissions, this is not the case for many other feedstocks.

The largest impact of biofuels on greenhouse gas emissions is determined by land-use change. "Changes in land use – for example deforestation to meet growing demand for agricultural products – are a great threat to land quality, biodiversity, and greenhouse gas emissions," Diouf noted.

Sustainability criteria based on internationally agreed standards could help to improve the environmental footprint of biofuels, the report states, but they should not create new trade barriers for developing countries.

Second generation

The next generation of biofuels currently under development but not yet commercially available, using feedstocks such as wood, tall grasses, forestry and crop residues, could improve the fossil energy and greenhouse gas balance of biofuels.

"There seems to be a case for directing expenditures on biofuels more towards research and development, especially on second-generation technologies, which, if well designed and implemented, could hold more promise in terms of reductions in greenhouse gas emissions with less pressure on the natural resource base," Diouf said.
________________________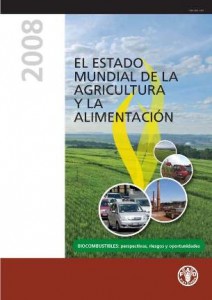 Desde la Organización de las Naciones Unidas para la Agricultura y la Alimentación (FAO):
La FAO pide una revisión de las políticas y subvenciones a los biocombustibles

Un informe anual sopesa las oportunidades y riesgos

Las políticas y subvenciones de los biocombustibles deberían ser reconsideradas con urgencia para mantener el objetivo de la seguridad alimentaria mundial, proteger a los campesinos pobres, promover un desarrollo rural de amplia base y asegurar la sostenibilidad medioambiental, afirmó hoy la FAO en una nueva edición de su principal publicación anual El Estado Mundial de la Agricultura y la Alimentación (SOFA, por sus siglas en inglés) 2008.

"Los biocombustibles ofrecen oportunidades pero también plantean riesgos. El resultado dependerá del contexto específico del país y de las políticas adoptadas", dijo Jacques Diouf, Director General de la FAO. "Las políticas actuales –explicó- tienden a favorecer a los productores de algunos países desarrollados frente a los de la mayoría de los países en desarrollo. El desafío reside en reducir o gestionar los riesgos compartiendo al mismo tiempo las oportunidades de forma más amplia".

La producción de biocombustibles basada en productos agrícolas creció más del triple entre 2000 y 2007, y ahora supone casi el dos por ciento del consumo mundial de combustibles para el transporte. Se espera que este crecimiento continúe, aunque la contribución de los biocombustibles líquidos (principalmente etanol y biodiesel) para la energía del transporte, y, más aún, para el consumo energético mundial, seguirá siendo limitada.

A pesar de la escasa importancia de los biocombustibles líquidos en términos del suministro energético mundial, la demanda de materias primas agrícolas (azúcar, maíz, semillas oleaginosas) para obtenerlos seguirá aumentando en la próxima década y quizás más adelante, incrementando la presión sobre los precios alimentarios.

Oportunidades para los pobres

Si los países en desarrollo pueden obtener beneficios de la producción de biocombustibles y éstos pueden llegar a la población pobre, una mayor demanda de biocombustibles podría ayudar al desarrollo rural.

"Las oportunidades para los países en desarrollo de beneficiarse de la demanda de biocombustibles podrían aumentar mediante la supresión de las subvenciones agrícolas y a los biocombustibles y de las barreras comerciales, que crean un mercado artificial y benefician actualmente a los productores de los países de la OCDE a costa de los productores de los países en desarrollo", afirmó Diouf.

Otras medidas políticas que impulsan el uso de biocombustibles líquidos, como la exigencia de que se mezclen con combustibles fósiles, así como los incentivos fiscales, han dado lugar a un rápido crecimiento artificial de la producción de biocombustibles. Según el informe, estas medidas tienen elevados costes económicos, sociales y medioambientales y deberían ser reconsideradas.

Seguridad alimentaria

La creciente demanda de biocombustibles y el consiguiente aumento del precio de los productos agrícolas ofrecen grandes oportunidades para algunos países en desarrollo. La agricultura podría convertirse en el motor de crecimiento para la reducción del hambre y la mitigación de la pobreza. La producción de las materias primas de los biocombustibles puede crear empleos y generar ingresos, especialmente si los pequeños campesinos pobres reciben ayuda para ampliar su producción y conseguir acceso a los mercados. Fomentar la participación de los pequeños agricultores en la producción de cultivos, incluyendo los destinados a biocombustibles, requiere inversiones en infraestructura, investigación, financiación rural, información de los mercados e instituciones y sistemas legales.

Sin embargo, entre los riesgos existentes, predomina la preocupación por la seguridad alimentaria. Los elevados precios de los productos agrícolas ya están teniendo un impacto negativo en los países en desarrollo que dependen en gran medida de las importaciones para satisfacer sus necesidades alimentarias. Los consumidores pobres de zonas urbanas y los compradores netos pobres de alimentos de las zonas rurales se encuentran especialmente en peligro. Una gran parte de la población pobre mundial gasta más de la mitad de sus ingresos en comida. "Las decisiones sobre los biocombustibles deberían tener en cuenta la situación de la seguridad alimentaria, pero también la disponibilidad de tierra y el agua", según Diouf. "Todos los esfuerzos –añadió- deberían encaminarse a mantener el principal objetivo: liberar a la humanidad del azote del hambre".

Gases de efecto invernadero

Si analizamos la dimensión medioambiental, el balance no siempre es positivo. "Una mayor producción y empleo de biocombustibles no contribuirá necesariamente a reducir las emisiones de gases de efecto invernadero tanto como previamente se había supuesto", revela el informe. Aunque algunas materias primas de los biocombustibles como el azúcar pueden generar unas emisiones de gases de efecto invernadero considerablemente inferiores, no sucede lo mismo con muchas otras.

El mayor impacto de los biocombustibles en las emisiones de gases de efecto invernadero viene determinado por el cambio del uso de la tierra. "Los cambios en el uso de la tierra – por ejemplo la deforestación para satisfacer la creciente demanda de productos agrícolas – son una gran amenaza para la calidad del suelo, la biodiversidad, y las emisiones de gases de efecto invernadero", apuntó Diouf.

El informe afirma que los criterios de sostenibilidad basados en las normas internacionales acordadas podrían ayudar a mejorar el impacto medioambiental de los biocombustibles, pero no deberían crear nuevas barreras comerciales para los países en desarrollo.

Segunda generación

La próxima generación de biocombustibles se encuentra actualmente en desarrollo pero aún no está disponible a nivel comercial. Utiliza materias primas como madera, pastos altos, desechos agrícolas y forestales, y podría mejorar el equilibrio de la energía fósil y los gases de efecto invernadero de los biocombustibles.

"Parece ser que hay una propuesta para destinar un mayor porcentaje de la inversión en biocombustibles en investigación y desarrollo, especialmente en tecnologías de segunda generación que, si son bien diseñadas y aplicadas tendrían un mayor potencial en términos de reducción de las emisiones de gases de efecto invernadero con una menor presión sobre la base de recursos naturales", afirmó Diouf.
Tags: agricultural commodities, azúcar, biocombustibles, biodiesel, biodiversidad, Biodiversity, Biofuels, calidad del suelo, crop residues, deforestación, deforestation, desechos agrícolas, etanol, ethanol, FAO, food security, forestry, gases de efecto invernadero, greenhouse gases, incentivos fiscales, maíz, maize, OCDE, OECD, oilseeds, pobreza, poverty, rural finance, seguridad alimentaria, semillas oleaginosas, sugar
Subscribe to My Comments Feed
Leave a Reply