« CEMIG Considers Electric Cars for Its Fleet | Home | IDEC Calls for National Do-Not-Call List »
By Keith R | March 27, 2009
Topics: Energy & the Environment, Renewable Sources | No Comments »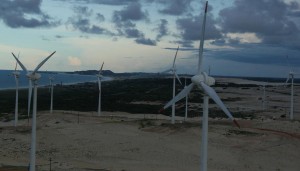 From the Brazilian Development Bank (BNDES):
BNDES executes agreement with KfW to borrow US$ 135 million

On March 23rd, the BNDES executed a US$ 135.58 million loan agreement with KfW Entwicklungsbank (the German Development Bank) to finance wind power plant projects to be installed in Brazil by Brazilian private companies. By executing this operation, the BNDES and the KfW reestablished their old partnership, which started in 1960. From the 60's until now, eleven agreements have been signed. The last funds borrowed by the German Bank from the BNDES took place in 2000.

The new loan is expected to meet the increasing demand in Brazil for financing projects for power generation from alternative sources so as to diversify the Brazilian energy grid.

The Federal Republic of Germany controls 80% of the financial group KfW, and the other 20% are controlled by German federal states. Established in 1948, the group aimed at financing projects to reorganize the German post-war economy. Since then, the KfW has diversified its activities by also financing investments outside of Germany. The support to developing countries is given by means of the Official Financial Cooperation, which is supported by the German Ministry of Economic and Development Cooperation (BMZ).

Since the 60's, the BNDES has executed eleven loan agreements with the KfW, amounting to US$ 590.48 million (restated amount). The last loan, executed in 2000, also amounted to US$ 150 million.

Having signed this agreement to build wind power plants, the BNDES and the KfW will carry on their strategic cooperation in renewable energy. Both institutions are interested in deepening their partnership which will allow them to carry out funding transactions and exchange knowledge and technologies in the environmental, energy efficiency and renewable energy areas.

The execution of this new loan agreement is under a cooperation relationship between the Brazilian and German governments in the power sector, sealed by an agreement between both countries on May 14th, 2008. At that time, a Power Cooperation Agreement was executed, focusing on renewable energies and energy efficiency.
______________
Desde o Banco Nacional de Desenvolvimento Econômico e Social (BNDES):
BNDES assina contrato com KfW para captação de US$ 135 milhões

O BNDES assinou ontem (26/3) contrato de empréstimo com o KfW Entwicklungsbank (Banco de Desenvolvimento da Alemanha), no valor de US$ 135,58 milhões, para o financiamento de projetos de usinas eólio-elétricas (UEE) a serem implantados no Brasil, por empresas privadas brasileiras. Com essa operação, BNDES e KfW retomam uma parceria iniciada na década de 1960 e que agora atinge total de onze contratos celebrados. A última captação de recursos do BNDES junto ao banco alemão havia sido feita em 2000.

O novo empréstimo contribuirá para atender à demanda crescente no Brasil por financiamentos de projetos destinados à geração de energia a partir de fontes alternativas, com vistas a diversificar a matriz energética brasileira.

O KfW é um grupo financeiro controlado em 80% pela República Federal da Alemanha e em 20% pelos seus estados federados. Foi criado em 1948 com o objetivo de financiar projetos de reconstrução da economia alemã no pós-guerra. Desde então, o KfW diversificou bastante suas atividades, passando também a financiar investimentos fora da Alemanha. O apoio aos países em desenvolvimento é realizado no âmbito de Cooperação Financeira Oficial promovida pelo Ministério alemão de Cooperação Econômica e do Desenvolvimento (BMZ).

Desde a década de 60, o BNDES contratou 11 operações de empréstimo com o KfW, no valor global de US$ 590,48 milhões, a preços corrigidos. O empréstimo anterior, contratado em fevereiro de 2000, atingiu o montante de US$ 150 milhões.

Com este acordo para usinas eólio-elétricas, o BNDES e o KfW darão continuidade à sua cooperação estratégica na área de energias renováveis. As duas instituições têm interesse em aprofundar a parceria, na qual, além de recursos financeiros, também poderão ser transferidos conhecimentos e tecnologias nas áreas de meio ambiente, eficiência energética e energias renováveis.

A celebração desse novo contrato de empréstimo está inserida em um contexto de cooperação entre o governo do Brasil e o governo da Alemanha no setor energético, conforme acordo celebrado entre os dois países em 14 de maio de 2008. Na ocasião, foi assinado Acordo para Cooperação no Setor de Energia, com foco em energias renováveis e eficiência energética.
Tags: Alemanha, BMZ, BNDES, Brasil, Brazil, energía eólica, energia renovável, KFW, renewable energy, usinas eólio-elétricas, wind energy, wind power
Subscribe to My Comments Feed
Leave a Reply