« Cell Phone Battery Agreement Signed in Colombia | Home | In Ethanol, as São Paulo Goes, So Goes Brazil? »
By Keith R | May 10, 2007
Topics: Biofuels, Energy & the Environment | No Comments »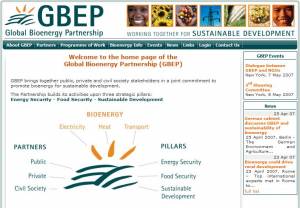 Temas Observation: It is curious that Mexico is one of the GBEP Partners, but Brazil is not. I wonder what Brasilia has to say about that?
From the United Nations Food and Agriculture Organization (FAO):
Global Bioenergy Partnership web site launched today

Promotes information sharing on bioenergy

The Global Bioenergy Partnership (GBEP) today unveiled its web site, which was launched at the GBEP's 3rd Steering Committee meeting, taking place in New York during the 15th session of the UN Commission on Sustainable Development.

The site provides information on the Partnership, which was created in May 2006 to promote the use of bioenergy and whose secretariat is hosted at FAO. It also offers links to sources of information on bioenergy and features news and a regularly updated list of bioenergy events.

Global forum

The mandate of the Partnership, which is supported by the Italian Ministry for the Environment, Land and Sea, is to provide a global political forum to promote bioenergy and encourage the sustainable production, marketing and use of "green" fuels, with particular focus on developing countries.

The Partnership works to facilitate exchanges of know-how and technology, promote supportive policy frameworks and identify ways of fostering investments and removing barriers to the development and implementation of joint projects.

The overall aim is to respond to the growing need to develop renewable energy sources in the light of high oil prices and climate change.

GBEP is currently preparing a report on bioenergy policies, data and best practices in its member countries. The report will be published on the GBEP web site later this year. GBEP also continues its focus on methodologies for measuring reductions of greenhouse gas emissions from bioenergy and on raising awareness and promoting information sharing.

The Partnership brings together public, private and civil society stakeholders. Current GBEP partners are Canada, China, France, Germany, Italy, Japan, Mexico, Russian Federation, United Kingdom, United States of America, FAO, IEA, UNCTAD, UN/DESA, UNDP, UNEP, UNIDO, UN Foundation, World Council for Renewable Energy and the European Biomass Industry Association.

Italy currently serves as Chair and Mexico as Co-Chair.
Tags: Alemanha, Alemania, bioenergía, bioenergy, Canada, China, EBIA, FAO, France, Francia, GBEP, Germany, Global Bioenergy Partnership, green fuel, IEA, Italy, Japan, PNUD, PNUMA, Russian Federation, UK, UN Foundation, UNCTAD, UNDP, UNEP, UNIDO
Subscribe to My Comments Feed
Leave a Reply