« Brazil Updates Mandatory Energy Label for Air Conditioners | Home | Brazil Producing Generic Version of Tamiflu »
By Keith R | August 2, 2009
Topics: Energy & the Environment | No Comments »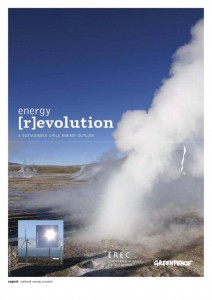 Greenpeace Chile recently presented to the government the Chilean version of its Energy [R]evolution scenario. To refresh memories, in the past GP [in cooperation with the European Renewable Energy Council (EREC)] released a report, Global Energy [R]evolution, to show, through scenarios (both global and regional), that a global energy revolution is technically and economically feasible that not only meets tough greenhouse gas emission goals and projected energy demands by 2030, but also phases out nuclear power and dependence on fossil fuels.
For more on the global report, see its entry in the Energy Section of the Temas Recommended Reading List.  Since it came out, GP has also released scenarios specifically geared to Brazil and Mexico; these are also reviewed in the Energy Section of the Reading List.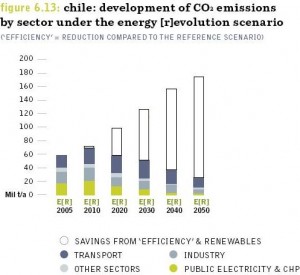 The Chilean report starts by articulating the goal GP thinks the country should strive for: stabilizing carbon dioxide (CO2) emissions from the nation's energy sector by 2020 and decreasing them 21% by 2050.  To achieve those targets, says GP, Chile will have to fully exploit the large potential for energy efficiency, tap all cost-effective renewable energy sources for heat and electricity generation, and ensure sustainable production of biofuels.
Renewable energy sources already account for 22.4% of Chile's primary energy demand — the rest is provided by fossil fuels.  The two main renewable sources presently used  by Chile are biomass ( for heating) and large hydroelectric facilities (for power generation).  The renewables' share of power generation is 49%.  The contribution of renewables to primary energy demand devoted to heat supply is around 32.4%.
GP's [R]evolution Scenario lays out what it considers to be a viable pathway to a sustainable energy future for Chile:
Energy Efficiency: Exploiting the existing substantial energy efficiency potential to retard a growth-led increase in primary energy demand from 1,182 petajoules per year (PJ/yr) [about 32.8 million megawatt hours (MWh/yr)]  to 2,389 PJ/yr (about 663.6 million MWh/yr) in 2050. Slowing down energy demand is crucial for achieving a significant share of renewable energy sources in the overall energy supply system and for reducing the consumption of fossil fuels.
Combined heat and power generation (CHP): Increasing the use of  CHP, mainly in the industrial sector, would increases the supply system's energy conversion efficiency. Substitute biomass and geothermal energy for fossil fuels in CHP. The availability of district heating networks is a key precondition for achieving a high share of decentralized CHP. In the long term, the decreasing demand for heat and the large potential for producing heat directly from renewable energy sources limit the further expansion of CHP generation.
Power Generation: increasing renewables' share of power generation until it provides around 174 terawatt hours per year (TWh/yr) (96.5% of projected total power generation) by 2050.
Heating and Cooling: replacing conventional systems with biomass, solar collectors and geothermal until they account for 84% of the total by 2050.
Transport: promote efficiency before introducing sustainable biofuels. Electric vehicles should play an increasingly important role from 2020 onwards.
Costs
The slightly higher specific electricity generation costs under the Energy [R]evolution Scenario are to a large extent compensated for by the reduced demand for electricity. Assuming average costs of 1.5 cent per kilowatt-hour (kWh) for implementing energy efficiency measures, the additional cost for electricity supply under the Reference Scenario will amount to a maximum of $ 11.6 billion/yr in 2050. The energy [R]evolution Scenario shows that by 2050 the average electricity generation cost will be 8.2 cents/kWh compared to 15.1 cents/kWh in the Reference Scenario.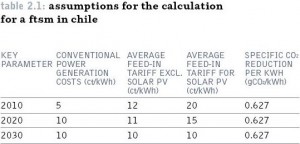 Development of CO2 emissions from fossil fuels
While energy-related CO2 emissions in Chile would triple under the Reference Scenario by 2050, under the Energy [R]evolution Scenario CO2 emissions would decrease from 59 million tons in 2005 to 25 million tons in 2050. Annual per capita emissions would drop from 3.6 t/capita to 1.2 t/capita.
In spite of the strong economic growth and a tripled electricity demand, CO2 emissions would decrease in the electricity sector enormously.
Efficiency gains and the increased use of renewable electricity for vehicles, along with some sustainable biofuel use, can stabilize CO2 emissions in the transport sector despite a increase in demand.  Even so, the transport sector would remain one of the largest sources of CO2 emissions in Chile, with a share of 63% of total CO2 emissions in 2050.
If Chile is to further reduce its carbon emissions, it would probably require developing less conventional renewable energy sources such as ocean energy, increasing energy efficiency measures, phasing out use of fluoridated gases, fully stopping deforestation, and increasing of the natural carbon sequestration potential by regenerating forests and promoting sustainable farming practices.
Tags: biocombustibles, Biofuels, biomass, carbon sequestration, Chile, CHP, CO2, deforestación, deforestation, eficiencia energética, electric vehicles, energía geotérmica, energía renovable, energía solar, Energy Efficiency, EREC, fossil fuels, gases de efecto invernadero, geothermal energy, greenhouse gases, Greenpeace, renewable energy, solar power, transport, vehículos eléctricos
Subscribe to My Comments Feed
Leave a Reply