« The Mercury Threat Posed by Mining in Guyana | Home | Power Plants Run on Grass »
By Keith R | July 23, 2007
Topics: Biofuels, Energy & the Environment | No Comments »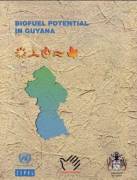 Not too long ago the UN Economic Commission for Latin America and the Caribbean (ECLAC) released a report assessing Guyana's potential as a producer of biofuels. The report did not receive much attention outside of Guyana at the time, so I thought I would provide a quick look at it here on The Temas Blog, as any effort by the government to implement its recommendations would cause profound changes in Guyana's agricultural, energy, trade and environment profiles. Now, with the recent announcement of an agreement with Brazil to develop Guyana's ethanol potential, I think it may be even more timely to take a look at the report's findings and recommendations.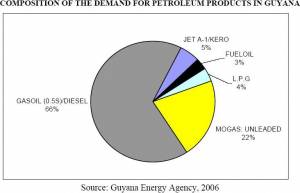 Most of Guyana's transport sector runs on imported (and more and more expensive) fuel. In 2005 fuel accounted for 29% of the country's import bill, and in all likelihood, this pecentage has increased since. Hence it is not surprising that the government decided to assess the implications of a large-scale shift of some of Guyana's sugar production into ethanol production.
It turned to ECLAC for help. ECLAC hired and supervised a specialist to produce the study, with funding from Italy's development cooperation agency, Cooperazione Italiana.
The key points of the resulting study can be summarized as follows:
While many different raw materials available in Guyana could be used for producing biofuel, costs, available technology and energy productivity suggest that sugarcane — probably molasses — would be Guyana's best option initially. Other possible sources could be tried later.
Using what the report considers to be a conservative scenario — use of final molasses to produce 8.8 liters of ethanol per ton of processed sugarcane — Guyana's sugarcane industry can produce 30.8 million liters of ethanol annually — nearly three times projected demand if Guyana switches to a 10% ethanol blend in vehicle fuel. If Guyana used sugarcane juice or primary molasses instead, the potential ethanol production would be much higher (double if primary molasses, almost nine times higher if juice).
Utilizing 2005 figures, the report concludes that, if recent trends continue, ethanol produced from final molasses would be competitive with imported gasoline (US$ 0.392 per liter vs. US$0.463 per liter).
To meet national demand for fuel, assuming a fuel mix with 10% ethanol, a distillery producing 65,000 liters daily would be needed. This would require an investment of about US$6.5 million (certainly doable). Projected net earnings would be about US$800,000 and the resulting annual savings from fuel imports would be about US$5.4 million (at 2005 prices).

The report warns that
The promotion of ethanol as a source of fuel in Guyana requires the collaboration of all institutions and stakeholders arriving at an operational mechanism for the introduction of ethanol within the energy sector. For such an initiative to be successful clear timelines should be established and commitments obtained. It should also include a component for building public awareness as well as involvement of the local science and technology community.
The report suggests that a biofuels executive committee be set up based on the Guyana Sugar Corporation (GUYSUCO) model, consisting of independent producers and the areas of government responsible for agriculture, energy and the environment. The main task of the committee would be to decide when ethanol blending should begin, at what initial proportion (probably between 5% and 10%) and how soon would it be stepped up to 10%.
— Keith R
Tags: Biofuels, CEPAL, Cooperazione Italiana, distillery, ECLAC, etanol, ethanol, gasoline, Guyana, GUYSUCO, molasses, petrol, sugarcane, transport
Subscribe to My Comments Feed
Leave a Reply