« Mini-Bins Make for Cleaner Beaches | Home | HP Opens First Printer Cartridge Recycling Facility in Latin America »
By Keith R | February 9, 2009
Topics: Energy & the Environment, Renewable Sources | No Comments »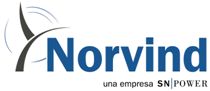 From the International Finance Corporation (IFC):
IFC Supports Construction of Chile's First Project-financed Wind Farm

IFC, a member of the World Bank Group, today signed an agreement to invest $61.5 million for the construction of the Totoral Wind Farm, advancing the development of renewable energy in Chile. The 46-megawatt wind project will support the country's objectives of promoting clean energy and diversifying its energy mix with a variety of renewable energy technologies.

The Totoral Wind Farm, situated 300 kilometers north of Santiago, will consist of 23 two-megawatt Vestas wind turbines. The project is expected to generate an average of 110 gigawatt hours per year of electricity for the Chilean central grid, relieving the significant supply constraints the country is experiencing. By increasing renewable energy generation, the Totoral Wind Farm will help reduce environmental pollution, improving the quality of life in the country.

The project will be the country's first-ever project-financed wind farm. IFC will invest $30.75 million for its own account and syndicate $30.75 million, to be funded by DnB NOR, the leading Norwegian financial services firm. The project developer is Norvind S.A., a special-purpose vehicle set up by the project sponsors, Statkraft Norfund Power Invest A.S, the Norwegian power developer, and its Chilean partner, Centinela. Centinela, controlled by the Pavez family, is an investment company with interests in a wide range of industries.

The Totoral Wind Farm is expected to be one of the largest operating wind farms in Chile when it is completed in 2009. It will also be the first renewable energy project to be financed under Chile's new "Non-Conventional Renewable Energy Law," which was passed in March 2008. IFC's financing monetizes the expected carbon revenues under the Kyoto Protocol's Clean Development Mechanism.

Bernie Sheahan, IFC Director for Infrastructure, said, "IFC expects the investment in Norvind to catalyze more project finance in non-conventional, renewable energy projects in Chile. We look forward to continuing our support for such sustainable energy projects in the country, including wind power, geothermal and small hydropower."

IFC is supporting the government of Chile's objectives of rapidly increasing and diversifying its energy supply. In the past five years, IFC has invested over $290 million in five projects with a focus on supporting the expansion of the country's traditional energy sources such as hydro, as well as less traditional energy sources such as wind.
____________________
Desde la Corporación Financiera Internacional (IFC):
IFC Apoya la Construcción del Primer Proyecto de Parque Eólico Financiado en Chile

IFC, miembro del Grupo del Banco Mundial, firmó hoy un acuerdo para invertir US$ 61,5 millones para la construcción del Parque Eólico Totoral, logrando con esto un avance en el desarrollo de la energía renovable en Chile. El proyecto de energía eólica de 46-megawatts respaldará los objetivos del país en términos de promover la energía limpia y diversificar su matriz de energía con diversas tecnologías renovables.

El Parque Eólico Totoral, situado a 300 kilómetros al norte de Santiago, estará compuesto por 23 turbinas eólicas Vestas de dos megawatts cada una. Se espera que este proyecto genere un promedio de 110 gigawatts hora/año de electricidad para el sistema interconectado central de Chile, lo que aliviará de manera significativa las restricciones de suministro enfrentadas por el país. Al aumentar la generación de energía renovable, el Parque Eólico Totoral permitirá reducir la contaminación ambiental, mejorando la calidad de vida de los habitantes del país.

Este proyecto será el primer parque eólico financiado de Chile a través de "Project Finance". IFC invertirá US$ 30,75 millones y sindicará US$ 30,75 millones que serán financiados por DnB NOR, empresa Noruega líder en servicios financieros . El desarrollador del proyecto es Norvind S.A. una empresa establecida por los patrocinadores del proyecto, Statkraft Norfund Power Invest A.S, generador de energía en Noruega, y su socio chileno, Centinela, específicamente para desarrollar este proyecto. Esta última, está controlada por la familia Pavez, y es una empresa de inversiones con participación en diferentes industrias.

Se espera que el Parque Eólico Totoral sea uno de los parques eólicos más grandes que operen en Chile cuando finalice su construcción en 2009. Asimismo, será el primer proyecto de energía renovable financiado según la nueva "Ley de Energía Renovable No Convencional" recientemente aprobada en Chile en Marzo de 2008. El financiamiento entregado por IFC permite obtener los ingresos esperados por concepto de bonos de carbono de acuerdo al Mecanismo de Desarrollo Limpio del Protocolo de Kyoto.

Bernie Sheahan, Director de Infraestructura de IFC , señaló: "IFC espera que la inversión en Norvind sea un catalizador para el financiamiento de más proyectos de energías renovables no convencionales en Chile. Esperamos continuar respaldando proyectos de energía sustentable en el país, entre los que se incluye energía eólica, geotérmica y proyectos hidroeléctricos de menor escala".

IFC respalda los objetivos del Gobierno de Chile de aumentar y diversificar rápidamente sus fuentes de suministro de energía. En los últimos cinco años, IFC ha invertido más de US$ 290 millones en cinco proyectos focalizados en respaldar la diversificación de las fuentes tradicionales de energía del país, tales como la energía hidroeléctrica, como asimismo de otras fuentes menos tradicionales como la energía eólica.
Tags: Banco Mundial, Centinela, Chile, clean development mechanism, DnB NOR, energía eólica, energía renovable, environment, IFC, Kyoto Protocol, mecanismo de desarrollo limpio, medio ambiente, Norvind, Parque Eólico Totoral, Protocolo de Kyoto, renewable energy, SN Power, Vestas, wind energy, wind farm, wind power, wind turbines, World Bank
Subscribe to My Comments Feed
Leave a Reply