« MERCOSUR Adopts Guidelines on Promotion, Advertising & Marketing of Pharmaceuticals | Home | $14 mil. to Sustainably Manage the Caroni River Watershed / US$14 millones para un el manejo sostenible de la cuenca del río Caroní »
By Keith R | December 31, 2008
Topics: Energy & the Environment, Renewable Sources | No Comments »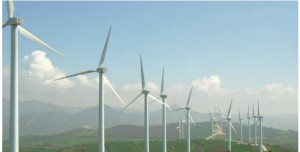 Synopsis in English: Uruguay's Ministry of Industry, Energy and Mining (MIEM) reports that the share of renewable sources of energy in Uruguay is growing steadily and should reach 6% during 2009, especially since the Nuevo Manantial de Rocha wind power park is joining the National Administration of Electrical Plant s and Transmissions' (Administración Nacional de Usinas y Trasmisiones Eléctricas – UTE) wind park at Sierra de los Caracoles in Maldonado department.  The Caracoles park has five 2MW Vestas turbines, which in recent weeks has generated 2,800 MWh for the Uruguyan grid.  MIEM currently is studying other good locations for wind parks.
As for other renewable sources, MIEM says that it has five biomass projects involving power production burning rice husks, forest residues or sugarcane bagasse.  MIEM also is studying the possibility of tapping wave power.
____________________
Desde la Presidencia de la Republica Oriental del Uruguay:
En 2009 Uruguay generará 6% de energía eléctrica a partir de fuentes renovables

La energía eólica continúa creciendo en nuestro país ya que al parque Nuevo Manantial de Rocha se le suma el parque eólico de UTE en Sierra de los Caracoles, aseguró el Ministro de Industria, Energía y Minería, Daniel Martínez, quien señaló que en 2005 Uruguay no generaba ningún tipo de energía renovable y que en 2009 se espera obtener un 6%, posicionándolo como el país de toda América con mayor porcentaje de generación.

Esto se logrará dado que existen varios proyectos eólicos que están a punto de ser adjudicados mediante una nueva licitación por parte de UTE, aseguró el Secretario de Estado. Agregó que éste es un objetivo estratégico que se deberá realizar de forma gradual debido a que este tipo de energía es relativamente más cara que la hidráulica, pero que es complementaria a esta fuente tradicional y necesaria dado los problemas que existen de pluviometría que obligan a contar con un respaldo de energías alternativas.

El parque instalado por UTE en Sierra de los Caracoles en el departamento de Maldonado, cuenta con 5 generadores de 2 MW cada uno, que en las últimas semanas inyectaron energía a la red por un total de 2800 MWh. Este hecho reviste importancia histórica, dado que por primera vez UTE genera energía en gran escala utilizando el viento como fuente primaria.

En operación industrial el parque generará energía, con la cual se podría abastecer el consumo de la ciudad de San Carlos. El lugar elegido para el parque es un paraje ubicado 16 km. al Norte de la ciudad de San Carlos. Las máquinas, que visualmente se asemejan a un 'molino', son Aerogeneradores Vestas, modelo V 80, que se ubican sobre columnas a 67 metros de altura y cuyas aspas tienen 40 metros de largo, resultando un diámetro del rotor de 80 metros y una altura total de 107 metros. El aerogenerador tiene un peso aproximado de 224,7 toneladas; la góndola pesa 67,5 toneladas, la torre 120 y el rotor (buje con las tres aspas), 37,2 toneladas. Se conectan al Sistema Interconectado de Alta Tensión Nacional mediante líneas de trasmisión de 31,5 kV a través de la Estación San Carlos. Los aerogeneradores son de 'paso variable y velocidad variable' lo que significa tecnología de punta, en lo que compete a la generación eólica.

Este es un primer paso en la incorporación de esta fuente por parte de UTE, que le permite ganar experiencia y consolidar una estrategia que va en línea con la diversificación energética y el desarrollo de fuentes autóctonas, renovables y amigables con el medio ambiente.

En relación a otras formas de generación de energía renovable, Daniel Martínez dijo que actualmente se encuentran en ejecución cinco proyectos de generación de biomasa a partir de la quema de cáscara de arroz, residuos forestales o la generación de energía con el excedente de la quema de bagazo de caña de azúcar que está desarrollando ALUR. Además, se está trabajando en la realización de estudios de la energía undimotriz que se genera a través del movimiento de las olas del mar, así como en otros proyectos energéticos, para lo cual el conocimiento tecnológico necesario aún está en pleno desarrollo. El Ministro Martínez aseguró que si se suma todas las posibles fuentes de energía, el país podrá contar con un paquete energético diversificado, lo cual es el objetivo estratégico del MIEM.

Igualmente, el objetivo más cercano es llegar a generar 6% de energías renovables en 2009, con lo cual Uruguay será el único país de toda América -incluyendo Canadá y Estados Unidos- que tenga mayor porcentaje de generación de energía eléctrica en base a fuentes de energía renovables no tradicionales.
Tags: bagasse, bagazo, biomasa, biomass, caña de azúcar, energía eólica, energía renovable, energía undimotriz, Maldonaldo, MIEM, Nuevo Manantial de Rocha, parque eólico, renewable energy, rice husks, San Carlos, Sierra de los Caracoles, sugarcane, Uruguay, UTE, Vestas, wave power, wind energy, wind farms, wind power, wood waste
Subscribe to My Comments Feed
Leave a Reply