« A MERCOSUR Car Run on Biogas and Electricity? | Home | More on Brazilian Attitudes About the Environment »
By Keith R | July 11, 2007
Topics: Energy & the Environment, Energy Efficiency, Renewable Sources | No Comments »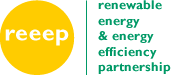 The Renewable Energy and Energy Efficiency Partnership (REEEP) recently announced that in its sixth funding round it will fund 35 new clean energy projects, including several in Latin America and the Caribbean (LAC) (see chart of LAC-related projects below).
REEEP is "an active, global public-private partnership that structures policy and regulatory initiatives for clean energy, and facilitates financing for energy projects." It is backed by more than 200 national governments, businesses, development banks and nongovernmental organizations (NGOs). The funders for the various rounds of projects vary; for the Sixth Round, the key ones (particularly as far as projects affecting LAC nations are concerned) were the governments of Norway and the UK.
You might recall that I mentioned in my discussion of the Panama Declaration on Energy that the Organization of American States (OAS) serves as the regional technical secretariat for REEEP.
Unlike prior funding rounds, which tended to focus more on good individual energy projects, this round includes several that enter the clean energy strategy realm and/or replication and scale-up of past successful project models. These include projects to work closely with the governments of Argentina and Ecuador in formulating national renewable energy policy and legislation. Regarding the former, the REEEP-funded project will allow Argentina's Energy Secretariat to:
Identify energy policy actions to remove barriers to develop Renewable Energy;
Improve the quality of information on natural resources and projects, especially related to biomass residues (from Forestry and Agriculture);
Adapt the present legal framework to foster the introduction of distributed generation;
Evaluate and propose alternatives to improve project knowledge.
As for Ecuador, the Ministry of Energy and Mines has asked for technical help in reviewing and revising its draft law on renewable energy.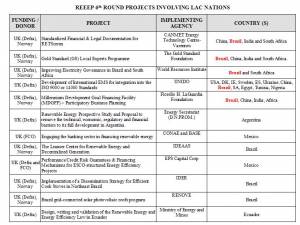 The bulk of the other projects involving LAC nations (click on chart) primarily benefit Brazil. One multi-country project that includes Brazil will fund The Gold Standard Foundation to train clean development mechanism (CDM) experts in several countries; another would standardize financial and legal documentation for RETScreen, the renewable energy project evaluation software developed by Canada; a third would help Brazil to participate in the UN Industrial Development Organization's (UNIDO) efforts to draft a consolidated approach to energy management emphasizing energy efficiency that can eventually be used as the basis for formulating an ISO energy management standard (EMS).
Brazil-focused projects include those on formulating policies and rules giving incentives to grid-connected solar photovoltaic roofs, and another to disseminate efficient cook stoves in northeast Brazil (primarily Ceará).
The other LAC beneficiary of REEEP's Sixth Round will be Mexico. One project will seek to stimulate Mexican bank lending for renewable energy projects, while a second will develop a credit risk guarantee and financing mechanism energy efficiency projects executed via Mexico's energy service companies (ESCOs).
— Keith R
Tags: Argentina, biomasa, biomass, Brasil, Brazil, Canada, Ceará, clean development mechanism, cook stoves, credit risk guarantee, Ecuador, energía renovable, energia renovável, energy management, Escos, Gold Standard Foundation, ISO, mecanismo de desarrollo limpio, mecanismo de desenvolvimento limpo, Mexico, Norway, OAS, OEA, Panama Declaration, photovoltaics, REEEP, renewable energy, RETScreen, UNIDO
Subscribe to My Comments Feed
Leave a Reply